Many titles here are based on real-life events, from Dutch resistance fighter Truus Wijsmuller's rescue of endangered children from World War II Europe to Giuseppe Tomasi's struggle to finish the magisterial The Leopard. And Marilyn Monroe really did go to Korea.
Clayton, Meg Waite. The Last Train to London. Harper. Sept. 2019. 464p. ISBN 9780062946935. $27.99; ebk. ISBN 9780062946966. HISTORICAL
In 1930s Vienna, playwriting Jewish teenager Stephan enjoys a close friendship with whip-smart Christian girl Žofie-Helene, whose mother edits an anti-Nazi newspaper. Everything changes horribly with the Anschluss, and Stephen and Žofie-Helene are just two of the many endangered children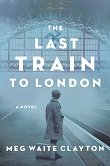 smuggled out of continental Europe by Truus Wijsmuller, a member of the Dutch resistance who went so far as to confront Adolf Eichmann. New York Times best-selling author Clayton draws on Wijsmuller's real-life story; with a 200,000-copy first printing.
Donati, Sara. Where the Light Enters. Berkley. Sept. 2019. 752p. ISBN 9780425271827. $27; ebk. ISBN 9780698140684. HISTORICAL
"Wilderness" author Donati continues the story told in the internationally best-selling The Gilded Hour as she returns to late 1800s New York, where obstetrician Sophie Savard tries to remake her life after her husband's death while continuing her work with disadvantaged women. Meanwhile, the detective-sergeant husband of cousin and close friend Anna, also a doctor, needs the help of both women on two difficult cases. Mystery-twisty and double-billed as romance, but the focus is historical.
Fox, Hester. The Widow of Pale Harbor. Graydon House: Harlequin. Sept. 2019. 352p. ISBN 9781525834264. pap. $16.99; ebk. ISBN 9781488036620. HISTORICAL
Trying to recover from his wife's death, Gideon Stone moves from Massachusetts to Pale Harbor, ME, in 1846 and takes up his ministry there. But all is not calm, with disturbing events around town blamed on the widowed Sophronia Carver, reputedly a witch. Soon, Gideon recognizes that these disturbances echo the works of Edgar Allan Poe and rushes to save the town from its own delusions before something really bad happens. Following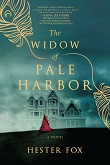 The Witch of Willow Hall, a big-hit debut from 2018; with a 150,000-copy first printing.
Lee Ji-min. The Starlet and the Spy. Harper Paperbacks. Sept. 2019. 192p. tr. from Korean by Chi Young Kim. ISBN 9780062930262. pap. $15.99; ebk. ISBN 9780062930279. lrg. prnt. HISTORICAL FICTION
Though the Korean War has been over for a year, Seoul remains devastated, and Alice J. Kim, a Korean translator and typist for the remaining U.S. forces, mourns the sundering of her country. Then she learns that she's to be Marilyn Monroe's translator when the transcendent star visits Korea on a four-day USO tour. From a respected Korean screenwriter and novelist; with a 150,000-copy first printing.
Price, Steven. Lampedusa. Farrar. Sept. 2019. 224p. ISBN 9780374212247. $26; ebk. ISBN 9780374720667.
Award-winning Canadian author Price (By Gaslight) writes a novel about writing a novel, chronicling the twilight years of Giuseppe Tomasi, the last prince of Lampedusa, as he struggles to complete his only work, The Leopard. Published posthumously, that Strega Prize winner is regarded as a masterpiece of Italian literature. The portrait of a mind at work and of wicked, sun-soaked 1950s Sicily.

Stewart, Amy. Kopp Sisters on the March. Houghton Harcourt. Sept. 2019. 368p. ISBN 9781328736529. $26; ebk. ISBN 9781328736543. HISTORICAL
In this next outing in the New York Times best-selling series, Constance Kopp leaves behind her sheriff's badge and with her sisters joins one of the military-style training camps created by women who want to serve as the country's entrance into World War I looms. Soon, Constance is persuaded to run the camp, which worries one of her tent-mates, the real-life Beulah Binford, who is running from a troubled past. With a 35,000-copy first printing.