Featuring five author-editor teams: Leah Greenberg and Ezra Levin with Julia Cheiffetz (We Are Indivisible: A Blueprint for Democracy After Trump, One Signal: Atria), Andrew Krivak with Erika Goldman (The Bear, Bellevue Literary), E.R. Ramzipoor with Erika Imranyi (The Ventriloquists, Park Row: Harlequin), Mychal Denzel Smith with Katy O'Donnell (Stakes Is High: Life After the American Dream, Bold Type: Hachette), and Kevin Wilson with Zachary Wagman (Nothing To See Here, Ecco: HarperCollins).
Teacher, friend, mender, tender, rewriter, cheerleader, therapist: the editor's job is complex and ever-changing, and what editors do can make all the difference for a book. In talks with their editors that originated at United for Libraries' first-ever "Editors' Panel" at the American Library Association conference in Washington, DC, six authors with five hot new titles reveal just how those books came about and how the editorial push-pull contributed to the effort.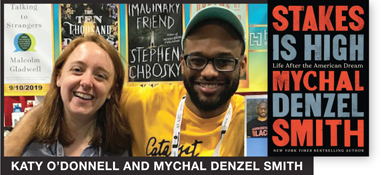 "It's a collaborative process," says Mychal Denzel Smith of his work with Katy O'Donnell, senior editor at Bold Type: Hachette. While Smith's widely acclaimed Invisible Man, Got the Whole World Watching investigated black male identity from a personal perspective, his new book, the incisive and fiercely argued Stakes Is High: Life After the American Dream (Jan. 2020), broadens the focus to a study of American political identity following the 2016 election. As he explains, "There are similar questions at play: How have we defined this in the past? What are the ideologies underpinning the definition? Who and what do they serve? Is it possible for them to change? How? But what I'm doing now is directly addressing the American mythologies that our identity is constructed around." Those mythologies are largely defined by white people, but they obviously affect everyone.
To crack open our mythologies, explains O'Donnell, she and Smith are continuing the process that worked well with his first book, which entails "lots of conversation and back and forth before Mychal puts words on the page. We get to the point where we have a clear, shared vision for each chapter or essay and for the full book." What results is a strong first draft that could look different from its starting point; Smith's new book was originally conceived as a series of linked essays but has taken on a different shape as O'Donnell "pokes and prods" and Smith thinks and nods (or not) and writes. "The end product is going to be my vision," he confirms, "but what Katy is so good at is refining that vision—understanding it first and then pushing in the places that need pushing so that it's a fully realized project."
The Right Details
For The Ventriloquists (Aug. 2019), debut fiction based on fact about Belgian Resistance fighters and dissident journalists risking all to put out a newspaper (Faux Soir) satirizing the Reich, author E.R. Ramzipoor and Erika Imranyi, editorial director of Harlequin's Park Row imprint, engaged in a different kind of waltz. Ramzipoor chose to fictionalize a true story not only because little information was available (though she observes trenchantly, "I don't think it counts as a spoiler to say that most participants didn't make it out alive") but also to make a point.
"The Ventriloquists completely upends the traditional World War II story, which often features men with guns performing heroic deeds on the battlefield," she explains. "Instead, the heroes of The Ventriloquists are characters we would traditionally consider 'the oppressed': LGBT people, the disabled, Jews, women, children." In the end, as readers become increasingly absorbed, they see that "the backbone of the resistance has always been people like you and me: readers, writers, thinkers, nerds."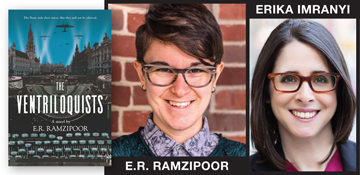 Writing richly is an occupational hazard for those presenting historical fiction; the desire to authenticate the world being created is irresistible. Says Ramzipoor, who stumbled upon the story of Faux Soir while working on a thesis about underground media, "My tendency is to add more color, more plot, more dialog, more characters. Erika is an excellent foil for me because she knows how to balance out my excess." (She notes further that, like her characters, she is a precocious child at heart.) As Imranyi clarifies, "Historical detail can sometimes come at the cost of narrative drive,…and our challenge was trying to figure out how to tighten and streamline without losing essential details."
Though she ruefully describes herself as a butcher, Imranyi also acts as coach and champion as she guides Ramzipoor through the inevitably knotty publishing process. For instance, "There were concerns among the publishing team that the title didn't cue historical; books in this category tend to have more lyrical titles," explains Imranyi. A panicky moment, but in the end, everyone agreed the title was perfect—and that The Ventriloquists was perfect for Park Row's list of strong, fresh voices with a mainstream appeal. Ramzipoor herself sees her audience as including not just historical fiction fans but those who want love stories or rat-a-tat heist stories, those "eager…to cheer on queer heroes…in mainstream fiction," and, most tellingly, those who "will enjoy the characters' struggles to uncover their voices in a world that has become hostile to free expression."
In the award-winning, New York Times best-selling Kevin Wilson's Nothing To See Here (Nov. 2019), the protagonist unguardedly agrees to nanny a former roommate's two stepchildren, who have an unfortunate tendency to burst into flame when upset. That's fitting, for as Wilson explains, "Every book I write is really focused on family and particularly children, who are born without being asked. The other thing I write about again and again is spontaneous combustion," which he adds earnestly if humorously, is "a wide-open genre."
Growing up, says Wilson, "I had a weird energy inside me I had to get out; I was always afraid I was going to burst into flames, and then as a teenager I wished that I could." It was not until adulthood that he was diagnosed with Tourette's syndrome, and once his son began to exhibit symptoms he became especially protective of both him and children generally. "The idea is that the strong protect the weak," he says urgently, "but I think in the world we live in that is not true. I think the strong will protect the weak if it serves their interest or if that is what they feel like, but generally they don't care. What I have learned as a parent is that the weak protect the weaker"—an idea that emerges in his writing and particularly his new book.
This is Wilson's third book with Zachary Wagman, executive editor, Ecco: HarperCollins, who claims that he was writing fan letters to Wilson's agent even before he came to Ecco. Of Wilson's two previous novels, Wagman observes that while The Family Fang is wickedly funny and Perfect Little World about the artifice of family, "Nothing To See Here is a perfect amalgamation of both books. So I don't see it as anything other than a natural trajectory of Kevin's own fascination with family and parents and children."
If Wagman sees this new novel as "the essence of Kevin Wilson," reflecting his human touch and insistence on treating everyone with a big heart, he also sees it as more spontaneous in feel. But spontaneity can take work. As Wagman clarifies, "Kevin's characters are so vibrant that sometimes supporting characters seem to feel similar, and in the last two novels the main characters are not good people." Wagman encouraged a more nuanced approach and also some tighter writing, and Wilson responded. His previous novel came in as "500 pages about babies" and had to be cut—"and I didn't want to go through that again!" Of course, some Wilson fans would be happy to see him write 500 pages about anything.
An Editor's Gift
Sometimes, an editor doesn't just coach, shape, and wrangle but actually gets an author started. That's what happened with Andrew Krivak's The Bear (Feb. 2020). Explains Erika Goldman, publisher and editorial director, Bellevue Literary Press, "When things happen as they should between editor and author, trust and even friendship develop over a conversation about that author's work. Although Andrew moved on to a commercial press after his National Book Award finalist distinction for The Sojourn, we stayed in touch and continued to talk about books we love. Since he had young children at the time, I sent him a copy of one of my favorite children's books: poet Randall Jarrell's The Animal Family, illustrated by Maurice Sendak. Apparently, inspired by that book, Andrew began to invent his own stories for his kids—which ultimately evolved into our next adult title together."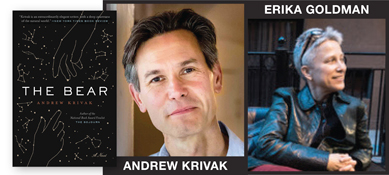 The Bear portrays a father, completely alone in the world but for his daughter after civilization's ruin, who teaches her how to survive and tells her fantastical—or maybe not so fantastical—stories about bears. It's not grimly postapocalyptic but filled with a sense of rootedness and lush joy. Says Krivak, "I try in all my novels to write about nature as though it's a character itself. I wanted to push that idea in The Bear and turn the end-of-humans story on its head. No battle-scorched landscape here; the earth is beautiful, Eden-like. It's a future that has returned to a deep past, and nature itself carries with it the same capacity for myth that the ancients believed in."
Alarmed by our having increasingly distanced ourselves from the capacity to wonder and from our place in the larger world, Krivak uses an exquisitely balanced blend of natural detail and talking ursines to prod us back there. If he sees his novel as a classic coming-of-age story, it also brings us face-to-face with our immediate concerns. Notes Goldman, "While we don't ever learn what cataclysm occurred to undermine the human species in The Bear, it's hard to read the book without thinking of our fears about climate change."
The Political Moment
Some books start with research, others with a gift from a friend, but Leah Greenberg and Ezra Levin's We Are Indivisible: A Blueprint for Democracy After Trump (Nov. 2020) started with a movement. Deeply dismayed by the 2016 elections, the former congressional staffers published a strategic blueprint for resisting Donald Trump's policies. Called the Indivisible Guide, it has inspired thousands of grassroots "Indivisible" groups nationwide, and its creators find themselves coexecutive directors of the juggernaut Indivisible movement.
That's when publishing came calling. Says Julia Cheiffetz, founder and publisher of the brand-new One Signal imprint at Atria, "We read about the problems in Washington on a daily basis, so I'm excited to publish a book with proposed solutions. Indivisible has played a leading role in resisting the Trump agenda, and we hope to add fuel to their fire with We Are Indivisible." But even with a guide under their belts, the coauthors did not find writing a full-length book a cakewalk.
"It's so different!" they proclaim. "We wrote most of the guide in a weekend and then spent a couple of weeks editing it with the help of friends and family. A lot more goes into a book, and it's not just the number of words." To provide the best strategies, they interviewed hundreds of Indivisible members across the country, surveyed hundreds more Indivisible leaders, and talked with academics, think-tankers, and others involved in civic leadership. Then there was the process of putting the whole work together.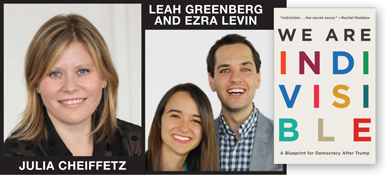 With the guide, Greenberg and Levin had explicit lessons to impart, but while their book also contains lessons, they reasoned that "nobody wants to read a textbook." Instead, they aimed for "an engaging narrative about the role of constituent power and the stories of Indivisible groups and leaders while drawing out lessons so that stories amount to more than the sum of the stories." (There are lighthearted asides, too.) Not surprisingly, it took plenty of rewrites to strike an easy balance between narrative and instruction, just as it took plenty of in-house debate to settle on the right cover. Unusually, the cover does not include the coauthors' names, instead "[optimizing] the cover for the reader," says Cheiffetz, by hammering home the main point as summed up by the title.
If We Are Indivisible is a battle plan for the future meant to waylay the forces that gave rise to Trump, how does Smith's Stakes Is High fit into the political moment? Responds Smith, "The campaign season is an afterthought….What ails us won't be rectified in one election cycle, both because no single election holds that much power and because our current electoral system is not meant to produce the kind of changes we need." While he acknowledges that the 2016 election shocked many people, Smith insists that "if we are more honest we will see this as a product of a narrative we have consistently spun around America and American exceptionalism." Going forward, we will need to consider how that narrative has failed us—"even where we think of ourselves as progressive"—and how we can construct new and better ones.
That, of course, brings us back to books. As Goldman notes while citing the "fascinating" works presented by her nonfiction colleagues, "it occurs to me how anchored all of our books—including the fiction—[are] in the pressing political and social issues of our current moment." The position of those weakest and the crucial role of parenting, the slide we're riding down owing to social conflict and environmental degradation, the lessons we can learn from the past about resistance in the future, the new narratives we can frame as we explode old mythologies—these are the insights delivered by the authors of these five big forthcoming books. With the help of their editors.