LJ's inaugural horror column kicks off with truly terrifying tales from Scott Carson, Stephen Graham Jones, Alma Katsu, Mark Matthews & Co., Richard Marsh, K.J. Parker, and Danielle Trussoni.
Welcome to LJ's inaugural horror column. As a subgenre of sf/fantasy, horror has traditionally been reviewed in the general sf/fantasy section, but the genre is rising, enjoying renewed popularity and garnering critical acclaim across literature, film, and popular culture. Now is an ideal time to highlight emerging voices (see our spotlight on author Darcy Coates) and truly terrifying tales. Look for future columns in the April and October issues, and for more Readers' Advisory, visit my websites RA for All (raforall.blogspot.com) and RA for All Horror (raforallhorror.blogspot.com).
---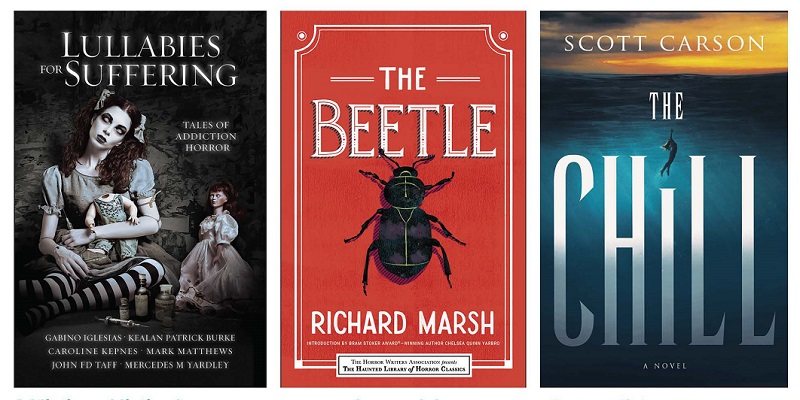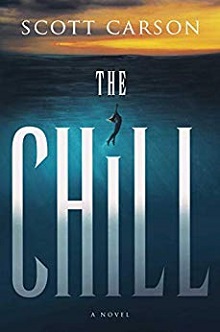 Carson, Scott. The Chill. Emily Bestler: Atria. Feb. 2020. 448p. ISBN 9781982104597. $27. Horror
The Chilewaukee Reservoir upriver from New York City, aka "The Chill," has a dark past. Under its waters lies the drowned town of Galesburg, which residents were forced to evacuate in order to create the reservoir, all in the name of progress. A century later, many of their descendants remain, but so, too, does a patiently waiting evil. Told from multiple points of view, this latest from pseudonymous author Carson provides a wealth of historical details on everything from engineering to legends. The details build as the perspective switches, adding suspense, quickening the pace, and ratcheting up the terror until everyone and everything in the story seems as if it might burst.
­VERDICT Based on the true history of a drowned town and inspired by recent articles about the state of New York City's water tunnels, this novel provides an alluring mix of truth and ghost story which will draw interest and keep readers hooked. Read-alikes include Christopher Golden's "Ben Walker" series and the novels of Jennifer McMahon, where humans clash against a monster from the past seeking revenge.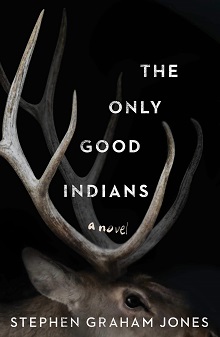 Graham Jones, Stephen. The Only Good Indians. Saga: S. & S. May 2020. 320p. ISBN 9781982136451. $26.99. Horror
Ten years prior to the start of this story, four young Blackfeet went hunting on tribal lands normally reserved only for the elders and ended up killing a female Elk, oddly pregnant during the wrong time of year. Now, as adults with families and responsibilities, the men still carry the heavy guilt of that day, as well they should—the spirit of the Elk has been waiting to make each one of them pay the ultimate price. This classic tale of revenge horror oscillates among eerie moments, violent action, and an overarching sense of dread. With close narrations from three of the four men, one of their teen daughters, and the Elk herself, there is an intensity, a breathless desperation that lurks just under the story's surface, giving the sense that everything that is about to happen, no matter how terrible, is inevitable and cannot be stopped. It is also a heartbreakingly beautiful story about hope and survival, grappling with themes of cultural identity, family, and traditions.
VERDICT One of the most anticipated horror titles of 2020, Jones's latest does not disappoint. While fully entrenched within the genre, its well-developed cast, lyrical language, and heightened suspense will have broad appeal. Fans of Paul Tremblay, Victor LaValle, and Samanta Schweblin will be delighted.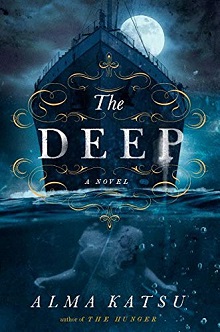 Katsu, Alma. The Deep. Putnam. Mar. 2020. 432p. ISBN 9780525537908. $27. Horror
Continuing her critically acclaimed formula of melding well-researched and compelling character-focused historical fiction with occult horror, Katsu ( The Hunger) takes on a pair of catastrophic moments in history: the sinking of the Titanic and the fate of its equally doomed sister ship, the Britannic. Switching among multiple points of view, the story centers on Irish maid Annie and moves back and forth between her time on both ships in 1912 and 1916. Annie has a troubled past and is clearly an unreliable narrator, but readers will be drawn to her as she tries to be "a good girl." Something evil, however, and not entirely human, has joined the passengers aboard the great ocean liners and is out to cause mortal harm, but to whom and why? In the 1912 storyline, readers meet the rich and famous aboard the ill-fated ship, learning their darkest secrets. In the 1916 time line, Annie, who has survived the Titanic and is serving as a nurse on the Britannic, must come to terms with her part in the tragedies.
VERDICT A riveting, seducti9781492699712vely menacing tale of love, loss, and betrayal set amid the glamour of the Titanic, filled with seances, sea witches, and second chances. Hand to fans of Dacre Stoker, J.D. Barker's Dracul , or Lauren ­Owen's The Quick.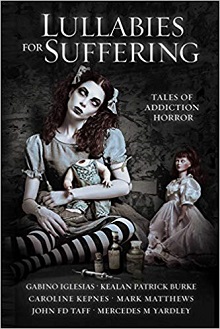 Lullabies For Suffering: Tales of Addiction Horror. Wicked Run. Jan. 2020. 258p. ed. by Mark Matthews. ISBN 9780578588841. pap. $14.99. Horror
Matthews, a recovering addict who works in the field of substance abuse treatment, has been vocal about how horror has helped him through his addiction struggles. As he states in the introduction, "Horror has the capacity to speak to trauma in a unique fashion...and what better way to capture the epidemic of addiction." In this second collection of addiction horror (following Garden of Fiends), Matthews chose to broaden his scope, including fewer authors but asking each of them to provide longer, more emotionally immersive works. The result is a diverse group of voices, including Gabino Iglesias, Caroline Kepnes, Kealan Patrick Burke, John FD Raff, and Mercedes Yardley, with each story using different techniques and tropes from the genre, resulting in a volume that is chilling and thought provoking.
VERDICT This under-the-radar indie title is recommended for all collections, as it could make a difference in readers' lives, especially those in recovery, who know someone who is struggling, or have lost someone to the struggle.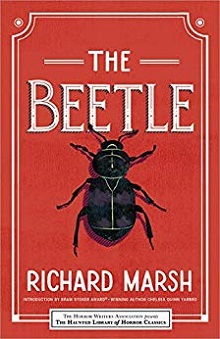 Marsh, Richard. The Beetle. Poisoned Pen: Sourcebooks. (Haunted Library of Horror Classics). Apr. 2020. 400p. ed. by Chelsea Yarbro & Les Klinger. ISBN 9781492699712. $14.99. Horror
Originally published the same year as Bram Stoker's Dracula, in 1897, Marsh's chilling story was more popular than the classic vampire novel during its time. This reissue includes broader historical context, lists of further reading, and discussion questions. Drawing on a Victorian fascination with the dark powers of the Egyptian scarab, the tale begins with Holt, a homeless man, who enters a deserted building. He sees an insect transform into a deformed man. The man then commands Holt to break into the home of a member of Parliament, setting the stage for a tale of intrigue, love, and revenge told through four narrators, each describing their personal encounters with the mysterious, shape-shifting Beetle, all while a visceral threat to the whole of England emerges. The plot itself, while bordering on silly at times, nevertheless manages to tackle some serious issues of class, gender, sexual, and ethnic identity while still providing plenty of satisfying chills.
VERDICT Like many Victorian-era gothic tales, this will appeal to a wide range of readers. The universal ick factor of creepy crawlies additionally ensures that this crowdpleaser from the past will continue to strike fear in the hearts and minds of 21st-century readers.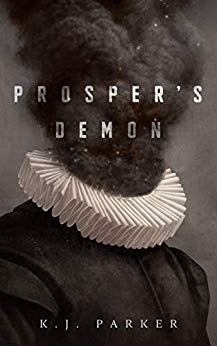 Parker, K.J. Prosper's Demon. Tor.com. Jan. 2020. 104p. ISBN 9781250260512. pap. $11.99. Horror
An unnamed and morally ambiguous narrator begins this eerie and darkly humorous novella by explaining his prowess as an exorcist. Providing multiple, successful exorcisms a week, he does not care if the human client lives or dies. His job is to banish the demon from their bodies, no matter the cost or the mess. Elsewhere in this medieval world, life is harsh, dark, and violent, but Prosper of Schanz, one of the era's greatest thinkers, knows that science can be the antidote. To prove his point, he will raise the baby Prince to be a pure and perfect example of humanity. And while Prosper may not believe in demons, our narrator knows that both he and the baby are possessed. Readers will be surprised by how much fun they have while reading such an unsettling story and how they will continue to ponder the themes and their implications in our modern world. VERDICT With a fresh take on the well-trod demonic possession trope, solid worldbuilding, high-court politics, and an engaging narrator, this short tale will draw in fans of dark speculative fiction, especially admirers of Martha Wells and Grady Hendrix.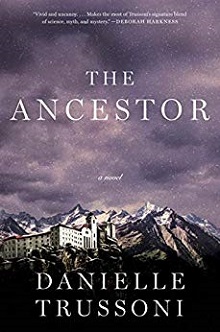 Trussoni, Danielle. The Ancestor. Morrow. Apr. 2020. 400p. ISBN 9780062912756. $27.99. Horror
Alberta "Bert" Monte receives a letter at her upstate New York home, claiming she is the last member of an Italian noble family. With some trepidation, she is whisked off via private jet to her ancestral castle tucked deep in the Italian Alps. The chance to escape to a life of luxury and leave a community in which she was never quite accepted. Once she arrives, however, questions about her ancestors' dark secrets and why she is among the last survivors of this centuries-old family tree start to pile up, and her search for answers seems to be leading to monstrous ends. Told completely from Bert's perspective, the story will sweep readers up in the awe and wonder, asking us to examine our own ­complicated ancestry.
VERDICT The rags-to-riches theme paired with long-buried secrets and a claustrophobic setting in which monsters can hide in plain sight makes this title appealing to a wide range of readers, especially in this age of ubiquitous DNA testing. Pair it with Jennifer Egan's backlist gem, The Keep.
---
Becky Spratford is a Readers' Advisory (RA)specialist in northern Illinois and the author of The Readers' Advisory Guide to Horror (2d ed., ALA). She runs the popular blogs raforall.blogspot.com and raforallhorror.blogspot.com. Readers can connect with her on Twitter @RAforAll