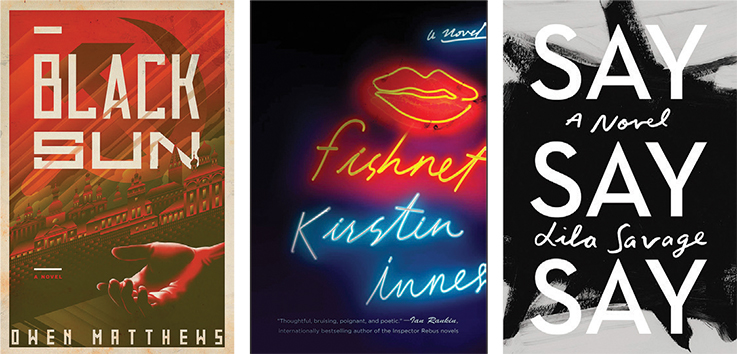 Drawing on news and reviews, personal reading and publishers' insights, LJ seasonally gathers the best forthcoming novels for your perusal. In this list, "Books To Get" covers titles published from June through September that have received the imprimatur of LJ reviewers, while "Books To Anticipate" ranges all the way to February 2020 to highlight the most promising titles, ones you should be considering now. As always, there are trends to note—a continuing boom in strong sf/fantasy titles, a concern with family, awareness of important contemporary issues from the refugee crisis to #MeToo, and more own-voices writing. For more June titles, see "Books To Antipcate" in Winter/Spring Bests," LJ 3/19.
---
Books To Get
General Fiction
Coates, Ta-Nehisi. The Water Dancer. One World. Sept. 2019. 256p. ISBN 9780399590597. $27; ebk. ISBN 9780399590603. LITERARY/HISTORICAL
National Book Award winner Coates portrays the enslaved Hiram Walker, guided by mysterious powers, who eventually rescues the family he made for himself at the Walker Plantation. "Coates cites Toni Morrison and E.L. Doctorow as huge influences in writing this book, and the scope and seriousness on display here would make them both proud." (Forthcoming LJ review)
Dukess, Karen. The Last Book Party. Holt. Jul. 2019. 256p. ISBN 9781250225474. $27; ebk. ISBN 9781250225467. LITERARY
Aspiring writer Eve Rosen catches a break when she gets invited to an event at the Cape Cod home of New Yorker writer Henry Grey and his poet wife, eventually becoming Grey's research assistant and landing at the couple's oh-so-chic Book Party. But is publishing really that glamorous? "The ideal summer read for book people." (Web Exclusive, 6/14)
Folarin, Tope. A Particular Kind of Black Man. S. & S. Aug. 2019. 272p. ISBN 9781501171819. $26; ebk. ISBN 97150111826. LITERARY
A Caine Prize winner and Rhodes Scholar, Nigerian American Folarin explores the difficulties of assimilation through the life of Tunde Akinola, whose family has immigrated to Utah. "Folarin deepens our understanding of cultural identity and race within the caustic malaise that is modern American culture." (LJ 7/19)
Horrocks, Caitlin. The Vexations. Little, Brown. Jul. 2019. 464p. ISBN 9780316316910. $28; ebk. ISBN 9780316316934. LITERARY/HISTORICAL
Plimpton Prize winner Horrocks chronicles Erik Satie, the French composer whose elusive music helped usher in a new era, showing us a genius who could be a prickly friend, lover, and brother. "Horrocks turns what could have been a maudlin retelling into a heartbreakingly beautiful novel about the sacrifices people make for what they hold dear." (LJ 7/19)
Koe, Amanda Lee. Delayed Rays of a Star. Nan A. Talese: Doubleday. Jul. 2019. 384p. ISBN 9780385544344. $27.95; ebk. ISBN 9780385544351. LITERARY/HISTORICAL
In 1928 Berlin, photographer Alfred Eisenstaedt captures rising stars Marlene Dietrich and Anna May Wong and soon-to-be-vilified director Leni Riefenstahl in a single frame, from which Koe spins a tale of racism, fascism, and the price of stardom. "Koe's flawless and enchanting writing draws the reader directly into…this superb novel." (Forthcoming LJ review)
Montag, Kassandra. After the Flood. Morrow. Sept. 2019. 432p. ISBN 9780062889362. $27.99; ebk. ISBN 9780062889393. LITERARY/DYSTOPIAN
With America a mere string of mountaintop islands after massive flooding, Myra survives with her younger daughter by fishing and barter, then dodges pirates as she sets out to find her older daughter, taken by her husband to the cold North. "This postapocalyptic novel reads like a fast-paced screenplay: intense, visceral, and relentless." (Forthcoming LJ review)
Prescott, Lara. The Secrets We Kept. Knopf. Sept. 2019. 368p. ISBN 9780525656159. $26.95; ebk. ISBN 9780525656166. LITERARY/THRILLER
Two secretaries pulled from the mostly Seven Sisters–educated CIA typing pool are tasked with smuggling a manuscript of Boris Pasternak's Doctor Zhivago out of the Soviet Union, their efforts intertwined with the love story of Pasternak and his mistress, Olga Ivinskaya. "Prescott writes with astonishing assurance, keeping the reader enthralled with tales of secret agents and intrigue, love and betrayal." (Forthcoming LJ review)
Ramzipoor, E.R. The Ventriloquists. Park Row: Harlequin. Aug. 2019. 544p. ISBN 9780778308157. $26.99; ebk. ISBN 9781488035142. HISTORICAL
In 1943 Brussels, a group of dissident journalists and resistance fighters captured by the Germans are told to write Nazi propaganda but instead risk everything as they secretly produce a single-edition newspaper called Le Faux Soir lampooning Hitler. "First-novelist Ramzipoor bases her engrossing novel on real-life events and extensive research. Highly recommended." (Forthcoming LJ review)
Tomar, Ruchika. A Prayer for Travelers. Riverhead. Jul. 2019. 352p. ISBN 9780525537014. $27; ebk. ISBN 9780525537038. LITERARY
In a hardscrabble desert town, Cale's friend Penny has gone missing. But the real mystery is Cale herself, raised by her grandfather, friendless in high school, then looped into arrogant her former classmate's glow until one fierce, mysterious moment shoves them apart and sends Cale on a quest to find her Penny. "Gorgeous if relentless and heart-ripping." (Forthcoming LJ review)
In the Family
Bobotis, Andrea. The Last List of Miss Judith Kratt. Sourcebooks Landmark. Jul. 2019. 320p. ISBN 9781492678861. pap. $15.99; ebk. ISBN 9781492678878. HISTORICAL
Bobotis unfolds the complicated relations binding the white Kratt family and African American members of their South Carolina community in a saga that's both deeply affecting and thrillerlike twisty as it discloses dangerous secrets the characters have held close over decades. Finally, there's the question, Who killed Judith's brother, Quincy? "Rich in detail, this novel will transport readers between past and present, presenting historical issues of race, class, and belonging." (LJ 6/19)
Raheem, Zara. The Marriage Clock. Morrow Paperbacks. Jul. 2019. ISBN 9780062877925. pap. $15.99; ebk. ISBN 9780062877932. FAMILY LIFE
Leila Abid's parents want to find a husband for her in their South Asian–Muslim American community, so Leila finally agrees that if she can't find true love in three months, they can play matchmaker. "This charming and humorous novel will appeal to a wide audience." (Web Exclusive, 6/14/19)
Savage, Lila. Say Say Say. Knopf. Jul. 2019. 176p. ISBN 9780525655923. $24; ebk. ISBN 9780525655930. LITERARY/FAMILY LIFE
Nearing 30, once-aspiring artist Ella wonders if she's wasting her capabilities by working as a caregiver yet feels she makes a difference every day. Currently, she tends to sixtyish, brain-injured Jill, who can barely speak yet whose retired carpenter husband Bryn shows her a tenderness that teaches Ella a lesson about enduring love. "Graced with quiet drama." (Forthcoming LJ review)
Smith, Sarah Elaine. Marilou Is Everywhere. Riverhead. Jul. 2019. 288p. ISBN 9780525535249. $26; ebk. ISBN 9780525535263. COMING OF AGE
Scraping by in rural Pennsylvania with two older brothers after their mother finally wanders off for good, 14-year-old Cindy is mistaken for vanished glamour-queen teen Jude by Jude's burnt-out hippie-artiste mom and enters a whole new life. But it's not a lush Cinderella story. "Unexpectedly hard-edged and engrossing." (Forthcoming LJ review)
Tilley, Jim. Against the Wind. Red Hen. Sept. 2019. 296p. ISBN 9781597098359. pap. $16.95. LITERARY/FAMILY LIFE
Six characters, from a transgender teen being raised by his grandparents to a Quebec separatist politician caught between her French Canadian lover and English Canadian suitor, grab at second chances. "Unbelievably, this is a first novel from an author with a Ph.D. in physics from Harvard. One can hope there will be many more." (Forthcoming LJ review)
Vatner, Jonathan. Carnegie Hill. St. Martin's. Aug. 2019. 352p. ISBN 9781250174765. $27.99; ebk. ISBN 9781250174772. FAMILY LIFE
Newly married Penelope, still unfocused at age 33, has married Rick despite her parents' misgivings. Now she's looking at other couples in her fancy Chelmsford Arms building in New York's Carnegie Hill neighborhood, wondering how they manage their relationships. "An excellent read for those seeking an explorative look at marriage in all of its various stages." ( LJ 7/19)
Wall, Cara. The Dearly Beloved. S. & S. Aug. 2019. 352p. ISBN 9781982104528. $26.99; ebk. ISBN 9781982104542. LITERARY
Two men are appointed co-ministers of a much-loved New York City church in the 1960s, with Charles a true believer though his wife is an atheist and James more interested in the social change religion can bring though his wife is a traditionalist. "Written with compassion and care, this book will be beloved by book clubs." (Forthcoming LJ review)
Sf/Fantasy
Beckett, L.X. Gamechanger. Tor. Sept. 2019. 576p. ISBN 9781250165268. $26.99; ebk. ISBN 9781250165244. FANTASY
In a 22nd-century world that has "bounced back" from 2060's environmental devastation, people embrace highly regulated stability over privacy, and Rubi, a famed VR gamer–turned–lawyer for the mentally ill, finds newest client Luciano Pox a challenge. "Richly imagined, fast-paced climate change fiction." (LJ 7/19)
Buxton, Kira Jane. Hollow Kingdom. Grand Central. Aug. 2019. 320p. ISBN 9781538745823. $27; ebk. ISBN 9781538745816. lib. ebk. ISBN 9781538732571. FANTASY
Buxton introduces a brave, smart, loyal, and caustically witty domesticated crow named S.T. (that's short for Shit Turd), who wheels into action in hopes of saving owner Big Jim—and finally the whole human race—when apocalypse-by-virus hits. The result is an intriguing and humbling animals' perspective on our world and just as intriguing a view on theirs. "Buxton's unique sense of dark humor takes center stage." (LJ 5/19)
Fehst, Zach. American Magic. Atria. Aug. 2019. 320p. ISBN 9781501168611. $27; ebk. ISBN 9781501168628. FANTASY
Incantations posted on the dark web could allow people to use magic—for evil as well as fun. So the CIA yanks back a difficult operative they let go and asks him to contain the problem. "Jack Reacher and Jack Ryan meet Harry Potter in this wild thrill-a-minute ride." (LJ 7/17)
Muir, Tamsyn. Gideon the Ninth. Tor.com. Sept. 2019. 448p. ISBN 9781250313195. $25.99; ebk. ISBN 9781250313171. FANTASY
In a world of lesbian necromancers and reanimated skeletons, an indentured young orphan named Gideon could win her freedom serving as the swordswoman for the Ninth Necromancer, herself answering the emperor's call to fight. "At once sarcastic, sincere, heart-wrenching, and honest pulpy enjoyment, … Muir's debut is a fantastic sf/fantasy blend." (LJ 7/19)
Naslund, Brian. Blood of an Exile. Tor. (Dragons of Terra). Aug. 2019. 416p. ISBN 9781250309631. $29.99; pap. ISBN 9781250309648. $16.99; ebk. ISBN 9781250309624. FANTASY
A disgraced if brilliant dragon fighter is asked by Princess Ashlyn to rescue her kidnapped sister and, coincidentally, assassinate the Balarian emperor, who wants to drive up the price of dragon oil by killing all the dragons coming to breed in his kingdom. "Dynamic characters…, and the environmental impact of dragon extinction adds a new dimension" ( LJ 7/19)
Turnbull, Cadwell. The Lesson. Blackstone. Jun. 2019. 275p. ISBN 9781538584644. $26.99; ebk. ISBN 9781538584668. SF
Technically advanced aliens called the Ynaa have landed on St. Thomas in the Virgin Islands, declaring peaceful intentions yet ferociously ripping apart any human who crosses them. Then, on the first anniversary of a teenager's killing by an Ynaa, a vividly depicted group of interlinked characters are drawn into the escalating anger. "A compelling read....The author, who crafts speculative stories featuring black characters on par with Octavia Butler, is definitely one to watch." (LJ 5/19)
Suspense
Matthews, Owen. Black Sun. Doubleday. Jul. 2019. 320p. ISBN 9780385543408. $26.95; ebk. ISBN 9780385543415. SUSPENSE
In early Cold War days, as the Soviet Union races to create its own atomic bomb, a key engineer appears to have committed suicide via radiation poisoning, and the KGB sends a special agent to investigate. "Based on the lives of real dissident Soviets, [this novel] balances techno-thriller realism with human ambition, greed, and ultimately, love." (LJ 7/19)
Nieh, Daniel. Beijing Payback. Ecco: HarperCollins. Jul. 2019. 320p. ISBN 9780062886644. $26.99; ebk. ISBN 9780062886668. crime
When Victor Li finds a letter among his murdered father's possessions confessing that he wasn't just a hard-grubbing restaurateur but part of a globe-stretching Chinese crime syndicate he eventually defied, Victor determines to take up what his father couldn't do. "Nieh's tale grabs the reader early and doesn't readily let go." (LJ 6/19.)
Vilhauer, Ruvanee Pietersz. The Mask Collectors. Little A: Amazon. Jun. 2019. 352p. ISBN 9781503903678. $24.95; pap. ISBN 9781503903661. $14.95; ebk. ISBN 9781503958654. SUSPENSE
When former classmate Angie Osborne is found dead, Grace McCloud learns to her dismay that Angie, a journalist, had been investigating the miracle drug Grace's anthropologist husband is now being asked to endorse. And the race to uncover a conspiracy is on. "An unsettling and visionary novel of suspense." (LJ 6/19)
Books To Anticipate
Angelo, Megan. Followers. Graydon House: Harlequin. Jan. 2020. 432p. ISBN 9781525836268. $26.95. ebk. ISBN 9781488051296. SPECULATIVE
Dream-dashed Orla must blow off her literary fiction to write about movie stars and yoga influencers until she and new roommate Floss come up with a mind-blowing social media plan that pushes past current online ethics (such as they are). Decades later, in a sealed-off California village, the government-proclaimed famous live their entire lives on camera: "The black gem on her wrist nicked her gently. " I have a message from production, came the voice in her brain. I should return to an on-camera space….I have lost seventy-eight followers during this off-camera-time. " A deftly drawn futuristic setting creating au courant shivers.
Bump, Gabriel. Everywhere You Don't Belong. Algonquin. Feb. 2020. 272p. ISBN 9781616208790. $25.95; ebk. ISBN 9781643750224. LITERARY
Young African American Claude Mackay Love comes of age on Chicago's South Side, raised by his Civil Rights–era grandmother and contending with the strains caused by vanished parents, familial expection, school bullies, a struggling neighborhood, and all-American racism. A riot convinces him that he had better leave, and he heads to journalism school in Missouri. But Claude will spend a lot of time trying to find where he belongs. "And my life went on like that: people coming and going, valuable things left in a hurry." An affecting story told in brisk, sometimes witty language with dialog that positively snaps, crackles, and pops off the page.
Colvin, Jeffrey. Africaville. Amistad. Dec. 2019. 384p. ISBN 9780062913722. $25.99; ebk. ISBN 9780062913739. LITERArY/HISTORICAL
Moving from the Great Depression to Sixties social protest to the economically unsettled 1980s, Colvin's story of family, race, identity, and aching dreams unfolds in a small town in Nova Scotia settled by former slaves. "Not a single grandparent that she can remember was ever as mean as her parents," reflects put-out young Kath Ella as the narrative begins, and we see he life shaped by struggle and the continuing prejudice against those with dark skin, even as her son and grandson move beyond their home and family. An openly written, finely wrought family saga.
Goldin, Megan. The Escape Room. St. Martin's. Aug. 2019. 352p. ISBN 9781250219657. $26.99; ebk. ISBN 978125021967. THRILLER
Vincent, Jules, Sylvie, and Sam are hyper-competitive Wall Streeters who wouldn't think of refusing a weekend summons to corporate headquarters, where they are thrown into one of those ubiquitous team-building exercises. This one features escape from a locked room, but it "[takes] the concept up a notch by putting the experience in an actual elevator," with participants eventually tearing one another apart in that small space as a dark secret wills out. A twisty, harrowing tale of comeuppance with a backstory highlighting the divide between the rich and the rest.
Innes, Kirstin. Fishnet. Gallery: Scout: S. & S. Oct. 2019. 352p. ISBN 9781982116156. $27. ebk. ISBN 9781982116170. THRILLER/PSYCHOLOGICAL
On the outs with her own life, Fiona gathers steam as she begins investigating the sex industry and those sucked into it from all sides. She's just learned that her sister had been working as a prostitute before her disappearance six years previously. "When does it slide over? When do the walls rebuild themselves around you? The first time you have sex for money?" Published in Scotland in 2015, this Not the Booker Prize winner is caustic, arresting, and vividly written in multiple interlocked narratives.
Lefteri, Christy. The Beekeeper of Aleppo. Ballantine. Aug. 2019. 304p. ISBN 9781984821218. $27; ebk. ISBN 9780593128169. LITERARY
In fluid, forthright language, Lefteri brings us humbly closer to the refugee experience as beekeeper Nuri and his wife, an artist named Afra who has gone blind from the horrors she's witnessed, escape Aleppo and travel dangerously to Great Britain. "If they see me again, and I don't join them, they'll kill me. They said I should find someone to take my body," says Nuri to persuade the stubborn Afra to leave. There's no overloading the deck with drama; this story tells itself, absorbingly and heartrendingly.
Pufahl, Shannon. On Swift Horses. Riverhead. Nov. 2019. 320p. ISBN 9780525538110. $27; ebk. ISBN 9780525538134. LITERARY
In post–World War II San Diego, restless newlywed Muriel misses rural Kansas and wry, sly brother-in-law Julius, now working in a Las Vegas casino. While Muriel quells her anxieties by sneaking off to the Del Mar racetrack—"When she begins, secretly, to bet on the horses and, shockingly, to win, she feels strangely unready to share"—Julius goes looking for secret love Henry, who's been run out of town. Smoothly written and attentive to detail, with an insightful focus on LGBTQ+ life in mid-century mid-America.
Reid, Kiley. Such a Fun Age. Putnam. Jan. 2020. 320p. ISBN 9780525541905. $26; ebk. ISBN 9780525541929. LITERARY
Following a late-evening emergency involving her family, high-profile white blogger Alix calls her African American babysitter, Emira, who leaves a birthday party to babysit toddler Briar, wheeling her off to a fancy neighborhood market. It doesn't take long for another customer to suspect a kidnapping, security gets involved, and soon Emira is on the phone with Alix's husband: "In the same controlled panic that started her night, she said, "...They think I stole Briar.' " What follows is a contemporary drama of social mores and racial attitudes, told in sharp, sparkling prose.
Russell, Kate Elizabeth. My Dark Vanessa. Morrow. Jan. 2020. 384p. ISBN 9780062941503. $27.99; ebk. ISBN 9780062941527. LITERARY
When Vanessa was 15, she entered into a relationship with her 42-year-old English teacher, Jacob Strane, who claimed to love her for her emotional intelligence and writing skills. Now, nearly two decades later, he's been accused of sexual harassment by another former student, and Vanessa must decide whether she was a willing participant or a victim. "I hang my head, suck in my cheeks. What does this mean, what he did to me?" Rich, dramatic, and emotionally involving.
Watt, Holly. To the Lions. Dutton. Sept. 2019. 440p. ISBN 9781524745455. $27; ebk. ISBN 9781524745479. THRILLER
Topnotch reporter Casey Benedict overhears a conversation in a London nightclub about the suspect suicide of a wealthy young man and follows the clues to a refugee camp in North Africa, a group of too-powerful men, and terrible acts that will shake readers to their bones. Meanwhile, Casey's own actions raise ethical issues worthy of consideration. "Your trip out to Libya. Sounds pretty wild what you get up to out there," says one character, and it is. Fraught, swiftly written, and chilling.