Bolaño, Roberto. The Spirit of Science Fiction. Penguin Pr. Feb. 2019. 208p. tr. from Spanish by Natasha Wimmer.  ISBN 9780735222854. $24; ebk. ISBN 9780735222861. Downloadable. LITERARY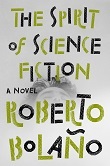 Recently unearthed, this early work by the Latin American star functions as a precursor to The Savage Detectives, making it the perfect read for fans of that masterpiece while serving as a good introduction for Bolaño newbies. In Mexico City, young Jan and Remo are equally obsessed with poetry and science fiction, but while Jan remains in their rooftop apartment writing fan letters to science fiction greats, Remo runs around with a group of rebellious young writers and hangs out in dusky, seen-better-days cafés and bathhouses. Insights into the artist as a young man and his subsequent writing; Bolaño always creates a stir.
Flannery, Tim. Europe: A Natural History. Atlantic Monthly. Feb. 2019. 288p. ISBN 9780802129161. $27. NATURAL HISTORY
Having spanned the globe (and made us intimately aware of global warming in the process), top-notch scientist and internationally best-selling Australian Flannery (Atmosphere of Hope) gives us a natural-history education focused on Europe. Starting 100 million years ago, when the island archipelago now called Europe was formed by a wrestling match among Asia, North America, and Africa, Flannery proceeds to the emergence of distinctly European organisms (the midwife toad has been around since then), the consolidation of a single
landmass, the disappearance of key fauna like the woolly rhino and the giant elk within 30,000 years of human arrival, and Europe's leading role today in wildlife restoration; how cool would it be if gene-editing wizards brought back the woolly mammoth?
Han Kang. The White Book. Hogarth. Feb. 2019. 176p. tr. from Korean by Deborah Smith. ISBN 9780525573067. $22. LITERARY
Having shaken us awake with The Vegetarian and the even more startling Human Acts, Korean phenomenon Han returns with a new work, short-listed for the 2018 Man Booker International Prize. As usual, it's distinctive in both form and content, exploring sorrow through the color white. During a writer's residency in Warsaw, a nameless narrator moves between the blank white worlds of the page demanding text and the city's snow-covered streets, imagining the journey that might have been undertaken by a sister who died in their mother's arms when only a few hours old. Swaddling bands, sugar cubes, a baby's rice cake–hued skin—the traditional Korean color of mourning predominates as the narrator considers how this death has shaped her family.
Harper, Jane. The Lost Man. Flatiron: Macmillan. Feb. 2019. 320p. ISBN 9781250105684. $27.99; ebk. ISBN 9781250105691. CD. MYSTERY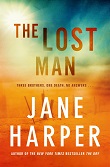 Australia's remote outback can be unsettling, as two brothers well know; each other's nearest neighbor, though at four hours' drive apart, they're now standing at the fence separating their two cattle ranches with their middle brother—manager of the family homestead—lying dead for no discernible reason. The family pulls together, but the eldest brother senses that one of their number has cracked under the weight of isolation. A stand-alone from the author who splashed down big with The Dry, followed by A Force of Nature.
Li, Yiyun. Where Reasons End. Random. Feb. 2019. 192p. ISBN 9781984817372. $25; ebk. ISBN 9781984817389. Downloadable. LITERARY
Granted PEN/Hemingway, MacArthur fellow, and New Yorker "20 Under 40" honors, Li (The Vagrants) has the wherewithal to take on a tough writing task: she imagines a mother (who is also a writer) conducting a conversation with the son she has just lost to suicide. Li has been forthright about her own suicide attempts and the pain that caused them, which should make this a many-layered and resonant read.