Ahmad, Aeham. The Pianist from Syria: A Memoir. Atria. Feb. 2019. 288p. tr. from German by Emanuel Bergmann ISBN 9781501173493. $28. MEMOIR
Syrian pianist Ahmad, born in the Yamouk district of Damascus, an unofficial Palestinian refugee camp to which his grandparents and father fled during the Israeli–Palestinian conflict, was recognized as musically gifted and trained by his blind violinist father.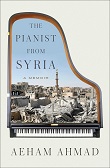 When war came to Syria, he initially played his piano in the ruins but was eventually forced to escape to Germany and leave his family behind. Brilliant pianism, a distinctive look at the ongoing refugee crisis and the triumph of hope: my perfect book. Ahmad won the 2015 International Beethoven Prize for Human Rights, and translator Bergmann is an esteemed novelist in his own right (The Trick).
Conklin, Tara. The Last Romantics. Morrow. Feb. 2019. 368p. ISBN 9780062358202. $26.99; ebk. ISBN 9780062358226. lrg. prnt. LITERARY FICTION
In this new work by Conklin, who came blastingly to our attention when she debuted with the New York Times best-selling The House Girl, poet Fiona Skinner reveals a story of sibling tumult when asked about the inspiration for her celebrated The Love Poem. After a family funeral, she and Renee, Caroline, and Joe experienced what they call the Pause, bonding during a freewheeling summer in their Connecticut town. Two decades later, betrayal shreds those ties. With a 200,000-copy first printing.
James, Marlon. Black Leopard, Red Wolf. (The Dark Star Trilogy, Bk. 1.) Riverhead. Feb. 2019. 720p. ISBN 9780735220171. $30; ebk. ISBN 9780735220195. Lrg. prnt. CD/downloadable. HISTORICAL FANTASY
Evocative language, intensive architecture, an epic sensibility, and a strong feeling of time and place: the qualities defining the Man Booker Prize–winning A Brief History of Seven Killings (and his other titles) should make for great fantasy, even if this first in a trilogy book goes its own special way. At its heart is Tracker, asked to find a boy who disappeared three years previously and nonplussed to find himself attached to a search party, not his usual, independent-minded style. Among the party is a shape shifter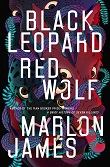 named the Leopard, and as they move from thick forests to ancient cities, the searchers face attack by strange creatures. Drawing on African mythology; I love Marlon James!
McCracken, Elizabeth. Bowlaway. Ecco. Feb. 2019. 384p. ISBBN 9780062862853. $27.99; ebk. ISBN 978006286287. lrg. prnt. LITERARY FICTION
A National Book Award finalist and Story Prize winner for her most recent work, Thunderstruck, McCracken introduces us to Bertha Truitt, found unconscious in a Massachusetts cemetery at the turn of the 20th century and revived by Dr. Leviticus Sprague, whom she later marries. She reveals nothing of her past and, perhaps because she is found with a bowling ball and candlepin, soon opens a successful bowling alley. Then she dies suddenly in an accident, and a man claiming to be her son arrives in town, ready to grab Truitt Alleys as his own. With a 100,000-copy first printing.
Morrison, Toni. The Source of Self-Regard: Selected Essays, Speeches, and Meditations. Knopf. Feb. 2019. 384p. ISBN 9780525521037. $27.95. LITERATURE
Nobel Prize winner Morrison here presents four decades' worth of acutely reasoned essays, speeches, and meditations on society and culture, dividing them into three sections. The first is prefaced by a prayer for those who died in 9/11, the second by reflections on Martin Luther King Jr., and the third by a celebration both heartwarming and heartbreaking for James Baldwin. Thoughts on reverberant social issues, art in society, and language itself; a big library push.