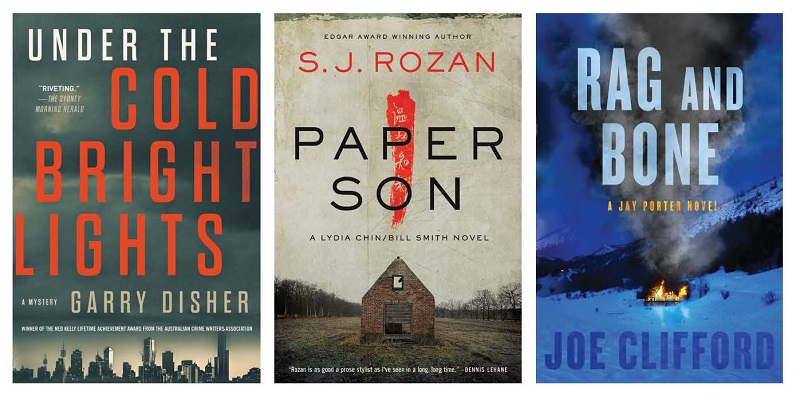 Bourland, Barbara. Fake Like Me. Grand Central. Jun. 2019. 368p. ISBN 9781538759516. $28; ebk. ISBN 9781538759509. SUSPENSE
In 1996, the nameless first-person narrator—then a 19-year-old sophomore art student—has a memorable encounter with Pine City, the collective of five beautiful young artists in New York City. Carey Logan, the most famous of the group for her sculptures made of casts of body parts, speaks to the narrator while casting her hand and becomes her artistic lodestar. Years later, Logan has given up sculpture for performance art; her final piece is filming her suicide. The narrator, having achieved some success with her abstract billboard-sized paintings, is mere months from an exhibit in Paris when her loft burns down, taking with it six of her seven exhibition works. Frantic to find space for reconstructing two years of art in three months, she wangles her way into Pine City's upstate New York retreat, landing in Logan's former studio and in the heart of Tyler Savage, ­Logan's former boyfriend, as she seeks ­Carey's real story.
VERDICT The creative process confronts reality in this compelling literary thriller centering on art, identity, and deception, as told in Bourland's ( I'll Eat When I'm Dead) sharp prose. A must for those with an artistic bent, a sheer reading pleasure for all. —Michele Leber, Arlington, VA
Candlish, Louise. Those People. Berkley. Jun. 2019. 368p. ISBN 9780451489142. $26; ebk. ISBN 9780451489159. THRILLER
Lowland Way is the perfect street in a perfect South London neighborhood. The homes are spotless, the lawns immaculate, and the neighbors get along. So much so that they have "Play Out Sundays," in which they close the street so the kids can have some fun. All this perfection ends when Darren moves in and immediately starts rehabbing his house. If the construction noise wasn't enough, Darren plays loud metal music at all hours and is possibly running an illegal car dealership. Worst of all, Darren refuses to respect Play Out Sundays. When attempts to reason with him fail, the neighbors turn to the council and the police. When these efforts come to naught, the community takes matters into its own hands. With callbacks to Agatha Christie's Murder on the Orient Express, Candlish's thriller examines suburban perfection and what happens when someone questions and disturbs this ideal.
VERDICT While no character can be described as likable, readers will be able to identify with their struggle and increasing desperation. As in her previous title, Our House, Candlish adds some last-minute twists to produce a solid domestic thriller.—Lynnanne Pearson, Skokie P.L., IL
Carlisle, Kate. The Book Supremacy. Berkley Prime Crime. (Bibliophile, Bk. 13). Jun. 2019. 336p. ISBN 9780451491404. $25; ebk. ISBN 9780451491428. M
While on their honeymoon in Paris, book-restoration expert Brooklyn Wainwright Stone buys her husband, Derek, a gift that seems appropriate, a first edition of Ian Fleming's James Bond novel, The Spy Who Loved Me. They run into Ned Davies, an old friend of Derek's from his days with MI6, and she shows him the gift. The newlyweds come home to San Francisco, and then learn that Ned has died. Brooklyn wonders if the stranger she saw observing them in Paris has anything to do with it. She lets it slide as she works with the owner of a spy shop to put her new Bond treasure on display. Then someone is killed in the spy shop and surveillance video reveals an intruder trying to steal the book. Multiple deaths and stories of spies and blackmail all seem to circle back to the novel. Unconventional and intricately plotted, this mystery builds in intensity, while the suspense is relieved by moments involving books, friends, and food.
VERDICT Fans of the "Bibliophile" series will enjoy catching up with the courageous couple in this 13th installment (after Buried in Books). Readers of Carolyn Hart's "Death on Demand" series will also appreciate. —Lesa Holstine, Evansville Vanderburgh P.L., IN
Castillo, Linda. Shamed. Minotaur: St. Martin's. (Kate Burkholder, Bk. 11). Jul. 2019. 304p. ISBN 9781250142863. $26.99; ebk. ISBN 9781250142887. M
In Painters Mill, OH, police chief Kate Burkholder responds to a crime scene at a deserted farm where she finds a five-year-old child covered in blood. The butchered body of the youth's Amish grandmother is inside the house, and another child is missing, a seven-year-old girl with special needs. This kind of case brings law enforcement units from all over, but the family trusts Kate because she was once Amish. Then a child accidentally blurts out something that convinces Kate that the family has secrets. She's shocked to discover that responsible people in the Amish community, two bishops and a midwife, may have set a crime spree in motion by their actions seven years earlier. As shots are fired, and bodies pile up, Kate comes too close to a man who wants revenge, and the tension mounts before a shocking attack and a gripping conclusion.
VERDICT Castillo's latest, following A Gathering of Secrets, is another violent, fascinating story. Readers who are unfamiliar with the gritty series may be surprised that this is not an Amish cozy, but fans of Castillo's "Kate Burkholder" series will be satisfied with this recent installment. [See Prepub Alert, 1/7/19.] —Lesa Holstine, ­Evansville Vanderburgh P.L., IN
Clifford, Joe. Rag and Bone. Oceanview. (Jay Porter, Bk. 5). Jun. 2019. 256p. ISBN 9781608093267. $26.95; ebk. ISBN 9781608093274. M
Ten months ago, Jay Porter disappeared because he was wanted for murder in his hometown of Ashton, NH. Now that two men were arrested, he's back, but he's lost everything. His ex-wife is remarried with a baby. The antiques he'd stored in a warehouse have been sold for rent. No one will hire him except for a friend who gives him a few handyman jobs. However, Jay is still on a seven-year mission to bring down two brothers, Adam and Michael Lombardi. He blames his addict brother's death on them. Jay is convinced the brothers have poisoned soil and are behind the fire that destroyed a farm. He's so obsessed with the Lombardis that he alienates everyone in his life with his search for revenge. When he can't find proof of the brothers' crimes, Jay crosses the line to set them up. The gritty, painful story features a cast of authentic characters struggling to survive in a depressing world.
VERDICT Jay is an obsessed, flawed character in the latest grim book by the Anthony Award–nominated author of Give Up the Dead. The bleak outlook, for the story and for Jay, will appeal to fans of noir fiction. —Lesa Holstine, Evansville Vanderburgh P.L., IN
Disher, Garry. Under the Cold Bright Lights. Soho Crime. Jul. 2019. 312p. ISBN 9781641290579. $26.95; ebk. ISBN 9781641290586. M
In his latest title, Australian crime writer Disher introduces retired detective Alan Auhl, called back to service to check out cold cases in which his experience is an asset. One of Disher's strengths has always been an eye for detail and detail is what cold case investigation is all about. Auhl's juggling three cases. A skeleton is found under a concrete slab, long dead. John Elphick's daughters insist their father was murdered and call Auhl every year to ask him to look into the case again. Then there's the doctor whose first two wives conveniently died just when he got tired of them. Auhl knows he killed them, but he's lawyered up so what can he do? The doctor's tiring of his third wife now. What happens next? There's a side drama involving a lodger where Auhl lives: her abusive husband is trying to take her daughter away. Auhl has to step outside the law to resolve this one.
VERDICT In any novel by old pro Disher ( Port Vila Blues), the characters have substance, the plots are strong, the action is credible and swift. This outstanding work will appeal to all ­detective-o-philes.—David Keymer, Cleveland
Frear, Caz. Stone Cold Heart. Harper. Jul. 2019. 368p. ISBN 9780062849885. $26.99; ebk. ISBN 9780062849922. M
In this follow-up to Frear's debut, Sweet Little Lies, Det. Cat Kinsella and partner ­Luigi ­Parnell investigate the death of a young woman, who recently moved to London from Australia and had very few social connections, leaving no obvious motive for her murder. The investigation eventually leads to Joseph Madden, owner of a coffeeshop whom Cat has previously encountered. His narcissistic behavior presents a vastly different image than who he really is, but does that mean he's a murderer? Meanwhile, Cat's contentious family dynamics threaten to expose her relationship with boyfriend Aiden, which she must keep secret owing to a conflict of interest with her career. Readers need not have read the previous book to enjoy the mystery, but some aspects of Cat's behavior and personal relationships may not be as well appreciated. Frear once again excels at creating memorable characters and realistic dialog. Cat's snarky attitude and youthful brashness are nicely balanced with her passion for justice and investigative skills. ­
VERDICT Highly recommended for fans of police ­procedurals with compelling detectives. [See Prepub Alert, 1/7/19.] —Anitra Gates, Erie Cty. P.L., PA
Graham, Scott. Arches Enemy. Torrey House. (National Park, Bk. 5). Jun. 2019. 288p. ISBN 9781948814058. pap. $15.95; ebk. ISBN 9781948814065. M
Archaeologist Chuck Bender brings his wife, paramedic Janelle Ortega, and his two stepdaughters with him for a secret job at Arches National Park, UT. Yet before he can get far into the project, charting a cave with connections to Native American history, one of the sandstone arches collapses, taking a woman with it. Although the woman wasn't supposed to be on the arch, Chuck blames the seismic trucks that are exploring for oil and natural gas. He suspects a cover-up of that death, but it's hard to ignore the other fatalities in the park. While he tries to protect his family from violence, Chuck discovers the mastermind behind the environmental damage might be closer than he expects. The emphasis is on natural beauty, the history of the arches and the area, and the possible devastation of the environment by the greed of politicians and the petroleum industry. However, the fifth in the series (after Yosemite Fall) also points to others' responsibility for brutality and destruction.
VERDICT Fans of Nevada Barr's "Anna Pigeon" series or readers of environmental mysteries may appreciate this lush tale, but those who read for character may dislike the sometimes sarcastic, sometimes unlikable protagonist. —
Lesa ­Holstine, Evansville Vanderburgh P.L., IN
Houston, Victoria. Dead Big Dawg. Gallery: S. & S. (Loon Lake, Bk. 19). Jun. 2019. 208p. ISBN 9781440598838. pap. $16.99; ebk. ISBN 9781440598852. M
The shooting death of an elderly woman is the first sign of trouble in Loon Lake, WI. Next, police chief Lewellyn Ferris and her friend Dr. Paul Osborne track their grandchildren to a neighboring farm where the FBI has set up a cybersecurity post. With problems involving drunk young people and a burgeoning summer population, Lew's three-member police team rely on help from other forces when a power couple from Chicago are found shot in their home. Then a woman's body is recovered from the water, and Lew can't turn around without another murder occurring. But a neighboring fishing guide starts to ­connect the dots, and although Lew always has time to teach others about fly-fishing, this character-driven mystery is anything but leisurely paced. There's a strong sense of place in this descriptive story set in a wilderness community dependent on fishing, hunting, and tourism.
VERDICT Houston's latest, following Dead Firefly, may appeal to Sean ­McCafferty's readers, fans of fly-fishing, and wilderness mysteries. At the same time, readers who appreciate Steven F. Havill's tales of close-knit communities may also want to try. —Lesa Holstine, Evansville ­Vanderburgh P.L., IN
Lepionka, Kristen. The Stories You Tell. Minotaur: St. Martin's. (Roxane Weary, Bk. 3). Jul. 2019. 352p. ISBN 9781250309358. $26.99; ebk. ISBN 9781250309365. M
Private investigator Roxane Weary heads to her brother Andrew's place when he calls her in the middle of the night with a strange story about a girl he used to work with, Addison Stowe, who showed up at his place in a panic, begging to use the phone, and then ran out. Roxane and Andrew trace her to the shabby nightclub Nightshade, where she worked as a DJ, but the club is inexplicably closed. Although Roxane keeps the police in the loop, her brother is arrested, a cop is discovered dead in the river, and a possible witness is cornered and shot by the SWAT team. Addison is the only link to the three men. As Roxane digs for more on the missing young woman, she finds there are other men connected to Addison through a dating app called BusPass.
VERDICT Building to a chilling and surprising conclusion, the third book in Lepionka's Shamus Award–winning series (The Last Place You Look) is both intricately plotted and character-driven, with a complicated protagonist. Suggest for fans of detective novels with unconventional sleuths. [See Prepub Alert, 1/7/19.] —Lesa Holstine, Evansville Vanderburgh P.L., IN
Nieh, Daniel. Beijing Payback. Ecco: HarperCollins. Jul. 2019. 320p. ISBN 9780062886644. $26.99; ebk. ISBN 9780062886668. THRILLER|
DEBUT Victor Li is a 22-year-old California student and a fervid basketball player. His Chinese father, owner of four successful restaurants, has been killed in his office, leaving Victor a letter that turns his life upside down. Vincent Li had been living a lie. He was one of a brotherhood of four in China involved in shady dealings. They had sent him to America to extend their business. When he refused a project called ICE, one supported him, but the other two arranged his death. Victor, accompanied by new friend Sun, his father's protégé and bodyguard, goes to China seeking answers and revenge. He finds danger and unexpected allies and learns the truth about his father and the killer. First-time novelist Nieh is a Chinese-English translator and widely traveled, and his Beijing scenes are gritty and scary. Some plot elements may leave readers confused, but the narrative moves briskly and the characters are well developed. ­
VERDICT This late-coming-of-age thriller, in which Victor learns just what he is capable of doing, grabs readers early and doesn't readily let go. [See Prepub Alert, 1/23/19.] —Roland Person, formerly with Southern Illinois Univ. Lib., Carbondale
North, Alex. The Whisper Man. Celadon. Aug. 2019. 368p. ISBN 9781250317995. $26.99; ebk. ISBN 9781250317971. THRILLER
DEBUT North's first novel explores the life of a father raising his young son after the tragic death of his wife mixed with a town in turmoil owing to kidnappings in the area. Frank Carter, known as the Whisper Man, was responsible for abducting five young men and was eventually captured and incarcerated. Tom Kennedy moves to a house to get a fresh start for him and son Jake, but their arrival coincides with the disappearance of a young boy in a manner eerily similar to those of Carter's previous crimes. Has the Whisper Man returned? Did Carter have an accomplice? Then Jake starts hearing whispering near his bedroom window. North has written a powerful and scary story that will haunt readers long after the final page is turned. The terrifying villain and characters who seem authentic only add to the horror. Lyrical writing also helps make the story truly haunting.
VERDICT Fans of Thomas Harris or Kevin O'Brien will enjoy this dive with a new voice in suspense. [See Prepub Alert, 2/11/19.] —Jeff Ayers, Seattle P.L.
Rozan, S.J. Paper Son. Pegasus Crime. (Lydia Chin & Bill Smith, Bk. 12). Jul. 2019. 320p. ISBN 9781643131290. $25.95; ebk. ISBN 9781643131900. M
This 12th series entry from Rozan (after Ghost Hero). Lydia is independent-minded but still lives at home in New York with her mother, who is domineering and intolerant of anyone not Chinese. When Jefferson Tam, Lydia's cousin four times removed, is arrested for murder in Mississippi, her mother issues orders. No relative of theirs could possibly be guilty of murder. Lydia must go to Mississippi at once and prove him innocent. Bill must go along to keep her from trouble. A century back, Jefferson's great-grandfather entered the country as a "paper son," a false adoption—thus Tam instead of Chin. But that's just one bit of weirdness in a case of escalating near-chaos. Mississippi is different from what Lydia expected. She meets new relatives but racism is rampant. Lydia and Bill run around following false leads but eventually solve the case, and in the process, discover new meaning for the phrase "paper son."
VERDICT Rozan's detective stories have won every prize in the book, so expect mystery lovers to flock to this one. —David Keymer, Cleveland
Sandlin, Lisa. The Bird Boys. Cinco Puntos. (Delpha Wade & Tom Phelan, Bk. 2). Jul. 2019. 306p. ISBN 9781947627130. pap. $16.95; ebk. ISBN 9781947627147. M
Sandlin's second Delpha Wade and Tom Phelan mystery (after The Do-Right) features private investigator Tom and his ex-convict secretary Delpha. After a brief reminder of Delpha's conviction for murder, and how it still haunts her, a new client hires Tom to find his long-lost brother to mend wounds of the past before it's too late. Tom and Delpha know immediately that their new client, using an alias and disguise, is not completely forthcoming about why he wants to find his brother. Set in 1970s Beaumont, TX, the story unfolds as the investigators rely on traditional methods—phone books, libraries, public records, ruses, and hunches—to solve the case. But the truth may come too late as they weigh their ethical obligation to their client with the impact reuniting the brothers may have. During the process, as Delpha demonstrates her talents and Tom begins to acknowledge her as an investigative partner, they both sense there is more to their relationship.
VERDICT Reminiscent of classic mysteries by Raymond Chandler and Dashiell Hammett, with more character development and a strong, capable female lead, this will appeal to fans of Lou Berney, Walter Mosley, and Kent Anderson. —George Lichman, Rocky River, OH
Vilhauer, Ruvanee Pietersz. The Mask Collectors. Little A: Amazon. Jun. 2019. 352p. ISBN 9781503903678. $24.95; pap. ISBN 9781503903661. $14.95; ebk. ISBN 9781503958654. SUSPENSE
DEBUT While Grace McCloud and her husband, Duncan, are attending her class reunion in New Jersey, one of her fellow alumni, journalist Angie Osborne, is found dead. Duncan is deeply disturbed by the death scene and can't stop thinking about it. Meanwhile, Cinosat, the pharmaceutical company Duncan works for, is preparing to introduce a new miracle drug. Although Duncan was initially skeptical about the drug, he finds himself feeling hopeful, mostly for personal reasons. However, Grace discovers that prior to her classmate's strange death, Angie may have been investigating Cinosat. When Cinosat, capitalizing on Duncan's anthropological expertise, sends him on a fateful trip to Sri Lanka, Grace investigates Angie's possible connection to the pharmaceutical giant. The heart-pounding race to uncover a shockingly diabolical conspiracy is thrilling and suspenseful. However, the novel may also stimulate the debate over the healing connection between faith and the power of suggestion.
VERDICT Although some suspension of belief is required on occasion, debut novelist Vilhauer has written an unsettling and visionary novel of suspense. [See "Unmasking Motives," LJ 5/19.] —Julie Whiteley, Stephenville, TX
Walker, Martin. The Body in the Castle Well. Knopf. (Bruno, Chief of Police, Bk. 12). Jun. 2019. 352p. ISBN 9780525519980. $25.95; ebk. ISBN 9780525519997. M
In the 12th outing for Walker's Chief Bruno, (after A Taste for Vengeance) we find him enjoying his small-town life in southwest France. Busily planning the town's summer events, he is called away to look for a missing American graduate student who didn't return home from a lecture at the local hilltop castle ruins–turned–park. It's Bruno who notices the cover is missing from the well being repaired and who goes down to look. The deceased young woman was studying French Renaissance art with the famous local art historian, who had been crippled as a Resistance member during the war by a collaborator. Her father is also close friends with the U.S. president, so Bruno and his colleagues receive a lot more scrutiny than usual. Yet he still finds time while solving the murder to plan a Josephine Baker tribute concert, learn about falconry, exercise his horse and basset hound, and cook regional dishes such as a red onion tarte tatin and a navarin of lamb. He also enjoys time with friends and inspects the fine local wines and the famous pate de Perigueux.
VERDICT This will satisfy fans of the series, and also those who enjoy intricate mysteries in unique settings with plenty of local details. —Dan Forrest, Western Kentucky Univ. Libs., Bowling Green
Ware, Ruth. The Turn of the Key. Scout: S. & S. Aug. 2019. 352p. ISBN 9781501188770. $27.99; ebk. ISBN 9781501188794. M
Ware demonstrated a flair for the modern gothic in The Death of Mrs Westaway; here the author puts her spin on Henry James's The Turn of the Screw. The classic tropes—a nanny left alone with two children in a remote house, a bitter housekeeper, a mysterious caretaker, unexplained noises, a locked door that's never been opened—are combined with 21st-century creepiness. The house runs on smart technology, which can be activated by anyone with the right passcodes. As Rowan Caine explains in letters to a lawyer written from prison, she took the position as live-in nanny to the Elincourts to get out of a demoralizing job and a difficult roommate situation. The pay was generous and the two young girls were well behaved. But when the parents left immediately after she arrived, the girls were a lot less amiable, and the home's smart controls were wonky. Temperatures would drop in the middle of the night or alarms would blare with no way of shutting them off. When Rowan starts hearing noises behind the locked door in her bedroom, she wonders if there's more here than meets the eye.
VERDICT Ware hits another one out of the park. Fans of hers or anyone with a taste for the disturbing will stay up late devouring this. —Stephanie Klose, Library Journal
Weston, Julie. Moonscape. Gale Cengage. (Nellie Burns & Moonshine, Bk. 3). Jun. 2019. 244p. ISBN 9781432858216. $25.95; ebk. ISBN 9781432858223. M
Weston's third "Nellie Burns & Moonshine" mystery (Basque Moon ; Moonshadow) is set in a still untamed 1920s Idaho, which is as much a character in this novel as any of its human protagonists. This time, Nellie and her faithful Labrador Moonshine team with the Basque sheriff Charles Asteguigoiri to find out what happened to a trio of people who disappeared in the "moonscape," a vast and dangerous area of ancient lava fields, tubes, and caves. Sheriff Charles has employed Nellie to take crime scene photos, but to complicate matters, some romantic feelings may also be brewing between them. As they navigate the hazardous landscape they come across some equally dangerous characters who may or may not be polygamists or just money-hungry. Nellie and Moonie find themselves in mortal danger more than once.
VERDICT This mystery should flourish in collections where the author's other novels did well. Fans of Western or historical mysteries may also want to give this series a try. —Kristen Stewart, Pearland Lib., Brazoria Cty. Lib. Syst., TX
COZY CORNER
Connolly, Sheila. Killer in the Carriage House. Minotaur: St. Martin's. (Victorian Village, Bk. 2). Jul. 2019. 336p. ISBN 9781250135889. $26.99; ebk. ISBN 9781250135896. M
Kate Hamilton's hometown of Asheboro, MD, is broke, and she has ideas about saving it from further decline. With the Barton Mansion the focus of the town, Kate envisions an authentic Victorian Village, if the townspeople and shop owners will cooperate. She hopes some documents might help them find financial support. Kate and friends moved them to the closed library, but she is disturbed when a young man asks to get into the building. The next morning, Kate and a researcher uncover that young man's body. On the surface, he appears to have broken into the library, but both women suspect murder. In the follow-up to Murder at the Mansion, death seems to be only a distraction, with the murder not occurring until a third of the way in and seemingly a minor event. The focus of this slow-paced cozy is the search for answers to the puzzle that was Henry Barton, owner of the town's shovel factory and the Barton Mansion. Kate comes across as absentminded, and she blurts out secrets to everyone. ­
VERDICT The mystery might appeal to those interested in historical renovations of towns, but is mostly suggested only for fans of the author or the previous book. —Lesa Holstine, Evansville Vanderburgh P.L., IN