A must for those seeking an intimate documentation of the life and times of this first-class, popular artist; this is the finest overall consideration of Bearden's ouevre yet, and a fulsome tribute to a justly revered artist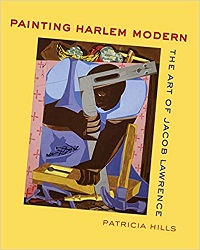 Hills, Patricia. Painting Harlem Modern: The Art of Jacob Lawrence. Univ. of California. Feb. 2019. 368p. illus. notes. bibliog. index. ISBN 9780520305502. pap. $39.95. FINE ARTS
Hills (emerita, art history, Boston Univ.; Modern Art in the USA) ardently addresses the work of artist Jacob Lawrence (1917–2000) in this rerelease of a previously out-of-print 2010 title that details the context of the period and Lawrence's social influences during the 1930s–90s. Hills interprets the artist's narrative imagery and style with authority, including her own personal perspective. The topical layout is simple yet packed with heavily documented biographical sources, including interviews between Hills and the artist, and other principals. The work's attractiveness beckons with well-captioned, beautiful color plates telling black history stories that viewers may have missed. The author's style is approachable even as she reveals, for example, the complex sociopolitical circumstances and cultural struggles that contributed to the artist's realization of the universality of his themes.
VERDICT A must for those seeking an intimate documentation of the life and times of this first-class, popular artist. Hills expertly places her subject in history, with his tales of the champions as well as the commonplace.—­Marianne Laino Sade, ­Washington Coll., Chestertown, MD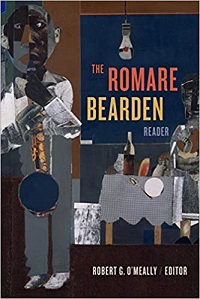 The Romare Bearden Reader. Duke Univ. Jun. 2019. 416p. ed. by Robert G. O'Meally. illus. notes. index. ISBN 9781478000440. $104.95; pap. ISBN 9781478000587. $28.95; ebk. ISBN 9781478002260. FINE ARTS
The prolific output of painter-collagist ­Romare Bearden (1911–88) spanned the post–World War II years, culminating after 1960 with his intriguing assemblages. Often capturing a quintessence of the black experience, particularly in settings such as industrial Pittsburgh or the Depression-era South, Bearden's work often looks like a cross between cubist painting and medieval altarpieces. Studying briefly under German émigré George Grosz, he lived and worked in the heady settings of prewar (Renaissance) Harlem, and the Paris of James Baldwin. Bearden and jazz scholar O'Meally (Zora Neale Hurston Professor of English and Comparative Literature, Columbia Univ.; Antagonistic Cooperation; Uptown Conversation) assembled this collection, including tributes by luminaries such as Toni Morrison, August Wilson, and Ralph Ellison, each of whom speak to Bearden's effect on their writing. A 1977 New Yorker profile by Calvin Tompkins precedes pieces by the artist himself, while fewer than a dozen plates wanly illustrate the work. But the varied voices here make this a go-to resource for constructing meaning from Bearden's enigmatic, seductively structured art.
VERDICT Although the best biography remains Myron Schwartzman's Romare Bearden: His Life and Art, this is the finest overall consideration of Bearden's ouevre yet, and a fulsome tribute to a justly revered artist.—Douglas F. Smith, Oakland P.L.