Arseneault, Pierre C. Poplar Falls: The Death of Charlie Baker. Artemesia. Mar. 2019. 212p. ISBN 9781932926682. pap. $14.95; ebk. ISBN 9781932926705. M
The murder of former porn star Charlie Baker leaves everyone in Poplar Falls astonished, even police detectives Franklin Dodge and Roxanne Tilley. From the moment his body is discovered bound and spread-eagled on the bed, gossip spreads around town. While the police and the small CSI team investigate footage of Charlie's many sexual encounters, the women who were close to him mourn. Indeed, the Naughty Knitters Club, a therapy group for sex addicts, has plenty to discuss. There's the day care owner who was one of Charlie's lovers, and her gay husband, and a female realtor who is interested in any attractive women, including ¬Tilley. Even the police harbor secrets as they struggle with two cases now, Baker's death and the Panty Bandit they failed to catch two months ago.
VERDICT The author of Dark Tales for Dark Nights claims he wrote this book for those who don't like scary stories. But readers who expect a police procedural will be surprised to find a town filled with sex addicts and scandalous behavior. Only for mystery fans with a sense of humor and a penchant for extensive sexual content. —Lesa Holstine, Evansville Vanderburgh P.L., IN
Berry, Steve. The Malta Exchange. Minotaur: St. Martin's. (Cotton Malone, Bk. 14). Mar. 2019. 416p. ISBN 9781250140265. $28.99; ebk. ISBN 9781250140272. THRILLER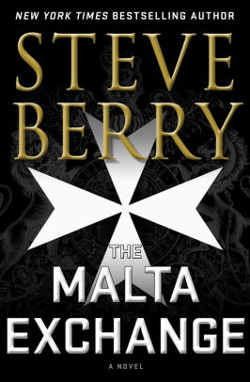 In his 14th escapade (after The Bishop's Pawn), former Justice Department agent Cotton Malone tangles with twin brothers, one of whom wants to be the next pope. Called from retirement by British intelligence to Malta, Malone thinks he is to recover a satchel of damning letters between Benito Mussolini and Winston Churchill, but mighty complications arise. In the vertiginous mix are the Knights of Malta with their covert minions, Malta's secret service, and the Vatican's intelligence service dubbed the Entity. Berry traces 900 years of church history as the backdrop to his immensely byzantine plot highlighting a lost parchment written by Constantine the Great as the artifact that lured notables over the centuries to find it. Malone, aided by former boss Stephanie Nelle and Magellan Billet agent Luke Daniels, performs the familiar yet fresh magic of unravelling a historical secret while surviving deadly attacks with adroit aplomb.
VERDICT Thrillers abound, but Berry has the lock on making history zing with breathless suspense and galloping action. Malta and the Vatican are superb settings for this ecclesiastical extravaganza. [See Prepub Alert, 9/17/18.] —Barbara Conaty, Falls Church, VA
Fergus, Charles. A Stranger Here Below. Skyhorse. (Gideon Stoltz, Bk. 1). Mar. 2019. 272p. ISBN 9781510738508. $24.99; ebk. ISBN 9781510738515. M
DEBUT At 22, Gideon Stoltz is a little young to be sheriff of Colerain County, PA, in 1835. Because he's Pennsylvania Dutch, he's viewed as a foreigner, although he married a local woman. His only friend, and mentor, is Judge Hiram Biddle. So when Biddle is found dead from an apparent suicide, Gideon's lost and confused. Reading the judge's journals, Gideon wonders if his friend had been brooding about a hanging that occurred 30 years earlier. Mocked and jeered at, even by his in-laws, Gideon begins to ask questions about the local history. Despite warnings from his wife and the most powerful men in town, he stubbornly investigates. Then another murder occurs and two disreputable strangers convince the sheriff that the truth may lie in the past.
VERDICT With an atmospheric setting and strong sense of place, this leisurely paced historical mystery introduces a religious, reflective protagonist with a strong sense of duty and will be appreciated by readers who enjoy stories about the early development of the United States. The rich details of the experience and treatment of outsiders recalls Eleanor Kuhns's "Will Rees" stories. —Lesa Holstine, Evansville Vanderburgh P.L., IN
Hénaff, Sophie. Stick Together. Quercus. (Awkward Squad, Bk. 2). Apr. 2019. 320p. ISBN 9781635060157. $26.99; ebk. ISBN 9781635060171. M
After solving a cold case that exposed a fellow officer ( The Awkward Squad), Commissaire Anne Capestan and her "awkward squad" of rogues and misfits have become even bigger pariahs among their colleagues on the Paris police force. It comes as a surprise when she's called to the scene of a high-profile murder, until she discovers the victim is Commissaire Serge Rufus, the estranged father of her ex-husband. Her team is asked to assist the investigation, though the lead officers make it clear they neither want nor value the help. When a Provençal businessman is murdered in a similar fashion, it's clear the deaths are related. A third murder ties the cases to a man convicted of an old bank robbery in Lyon who was recently released from prison. As they track down a murderer, the squad confronts their own personal ties to the original case. Will they pursue all leads no matter the outcome or turn a blind eye to protect their own?
VERDICT Quirky and engaging characters elevate a somewhat predictable mystery in this humorous novel that is sure to please fans of Jussi Adler-Olsen's "Department Q" stories. —Portia Kapraun, Delphi P.L., IN
Hepworth, Sally. The Mother-in-Law. St. Martin's. Apr. 2019. 352p. ISBN 9781250120922. $27.99; ebk. ISBN 9781250120946. SUSPENSE
Fine is not the verdict Lucy is hoping for when she overhears her future husband ask his mother, Diana, what she thinks of Lucy. Motherless herself, Lucy had been hoping for a warm relationship with Diana; her hopes are worse than dashed when she instead gains a mother-in-law who is cold and controlling. Known only to the reader is that Diana underwent a trauma that left her emotionally unable to function with others except in the most cautious way and frightened to help her children financially, even though she's rich, lest they become as vulnerable as she was. When Diana is found dead—perhaps by suicide but police mount a murder investigation anyway—the drama ramps up as family members and other characters take their turns under the microscope. Infertility issues play a large role in this Australian story and add to the tiptoeing around and agonizing that Hepworth (The Family Next Door) illustrates so well; the conversations among characters are another high point in the writing.
VERDICT This absorbing, cleverly written tale is ideal for fans of Emily Elgar's If You Knew Her. [See Prepub Alert, 10/29/18.]—Henrietta Verma, Credo Reference, NY
Leon, Donna. Unto Us a Son Is Given. Grove Atlantic. (Guido Brunetti, Bk. 28). Mar. 2019. 320p. ISBN 9780802129116. $26; ebk. ISBN 9780802146823. M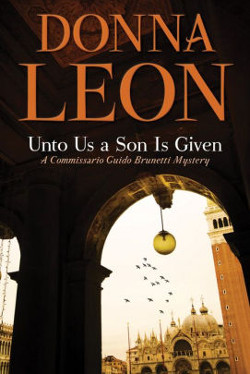 Each year brings the delight of a new Commissario Guido Brunetti novel, and this 28th book (after The Temptation of Forgiveness) featuring the ever-reflective Venetian detective does not disappoint. While the title suggests a Christmas motif, the theme could hardly be further from holiday festivity. Rather, Leon explores matters of human vanity and frailty. Brunetti's powerful father-in-law, Count Falier, requests that Brunetti intervene in the affairs of Gonzalo, an old family friend, in order to prevent irrevocable folly. The elderly and openly gay Gonzalo has set about adopting the attractive, much younger Pucetti, so that Pucetti can inherit his wealth. It is clear to the Count that Gonzalo has been duped into loving Pucetti, who fails to reciprocate. As always, the skillful Leon weaves deft plot threads culminating in the inevitable exposure of Pucetti as a callous gold digger. Along the way, murder and perfidy abound, providing Brunetti with numerous investigative challenges. Ultimately, Brunetti muses about the profound nature of family ties and the danger of family secrets, inviting readers to do likewise.
VERDICT Ideal for aficionados of Louise Penny's Kingdom of the Blind. [See Prepub Alert, 10/1/18.] —Lynne Maxwell, West Virginia Univ. Coll. of Law Lib., Morgantown
McGuinness, Patrick. Throw Me to the Wolves. Bloomsbury USA. Apr. 2019. 336p. ISBN 9781620401514. $27. M
A young girl is strangled on the banks of the Thames, her dismembered body stuffed in bin bags. The prime suspect is a former teacher at the elite Chapelton College. He's savaged in the press, as well as on social media. Ander, one of the detectives assigned to the case is an "old boy" of the college who remembers the teacher. The story unfolds in two strands, one detailing the media frenzy, the other with the detective's memories of his time at the school in the 1980s with its rampant bullying and political and social troubles. McGuinness settles on what might be the perfect metaphor for his grim portrait of British society, a fatberg, that sewer-blocking, congealed, pulsating body of greasy detritus wrapped around discarded personal hygiene items and garbage bags.
VERDICT Familiar plot elements are reinvigorated by McGuinness (a prize-winning poet and author of a previous novel, The Last Hundred Days, longlisted for the Man Booker Prize), his piercingly acute descriptions and telling sense of detail. This novel has the touch of a flayed poet about it, and that's meant in the best sense. [See Prepub Alert, 10/8/18.] —Bob Lunn, Kansas City, MO
McMahon, Jennifer. The Invited. Knopf. Apr. 2019. 368p. ISBN 9780385541381. $25.95; ebk. ISBN 9780385541398. SUSPENSE
Helen and Nate Wetherell attempt to escape their dull lives by moving to a village in Vermont, where they will build their dream home. It's even more alluring that the adjacent bog holds stories of hauntings. Helen, a historian, collects artifacts from the town's past and builds them into the house—a beam hewn from the tree used to hang Hattie Breckenridge for witchcraft in 1924, blackened bricks from a deadly fire, a carved maple mantel. She soon realizes the objects "remember" and reveal secrets of the Breckenridge family. Young neighbor Olive Kissner and her mother knew they could find Hattie's treasure, hidden in the bog 100 years earlier. When her mother leaves town mysteriously, Olive continues the search alone. Since Helen and Nate now own the bog, she decides to scare them away and quickly discovers that her own family's secrets are strangely connected to Hattie. Will Helen's home be the in-between meeting place for the dead and the living? And will Olive uncover the treasure and the key to her mother's disappearance?
VERDICT The latest from McMahon ( Burntown) is like a nesting doll—a thriller inside a murder mystery inside a ghost story—and will chill readers with every sideways glimpse of a passing shadow.—K.L. Romo, Duncanville, TX
Pavone, Chris. The Paris Diversion. Crown Archetype. May 2019. 384p. ISBN 9781524761509. $27; ebk. ISBN 9781524761523. THRILLER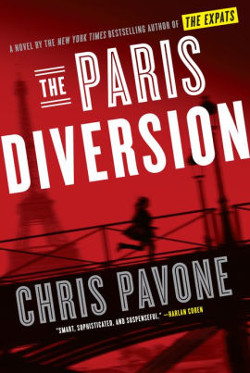 A good thriller isn't so much written as built, and Pavone is one of the genre's most consistently dazzling architects. This follow-up to The Expats and The Travellers finds wife, mother, and spy handler Kate Moore in the middle of a terrorist scare in front of the Louvre. As she digs for answers, she finds that the entire operation might be a cover for another move entirely: an international conglomerate is preparing a big move worth millions, and Kate's cash-strapped financier husband, Dexter, stands to make—or lose—a fortune on the announcement. Feelings of domestic betrayal simmer, and the focus on Kate's role as family caretaker conflicting with her job as a spy offers an excellent hook that elevates this novel above the standard catch-the-bad-guy fray.
VERDICT Pavone gives us a fresh, pulsating, and introspective thriller that delivers on its tourist-heavy Parisian setting and expands and connects territory from his previous novels. An ensemble cast with alternating points of view enhances the wheels-within-wheels plot and are sure to please fans of Daniel Silva or Stella Rimington. Absolutely not to be missed. [See Prepub Alert, 11/12/18.]—Gregg Winsor, Johnson Cty. Lib., Overland Park, KS
Raybourn, Deanna. A Dangerous Collaboration. Penguin. (Veronica Speedwell, Bk. 4). Mar. 2019. 336p. ISBN 9780451490711. $26; ebk. ISBN 9780451490735. M
In the fourth entry of this historical mystery series (after A Treacherous Curse), Victorian-era sleuth Veronica Speedwell and Tiberius, the brother of Veronica's colleague Stoker, head to a weekend house party on a remote island off the coast of Cornwall. Tiberius bribes her with the promise of a rare butterfly to add to her collection and suggests they pose as an engaged couple, to preserve her reputation. Temporarily on the outs with Stoker, Veronica agrees to the scheme, but naturally Stoker shows up. Turns out they are all really there to investigate the disappearance of their host's wife, who vanished three years earlier on her wedding day. Did Rosamund run away or was she murdered? Tiberius, who had secretly been in love with her, needs to know what happened. Veronica fearlessly dives in, as usual ignoring all the warning signs.
VERDICT As there's little substance to the mystery, readers can concentrate on the slowly developing relationship between the fiercely independent Veronica and Stoker, who is still reeling from his wife's betrayal. Those new to the series should read the books in order. [See Prepub Alert, 9/10/18.] —Laurel Bliss, San Diego State Univ. Lib.
Winspear, Jacqueline. The American Agent. Harper. (Maisie Dobbs, Bk. 15). Mar. 2019. 416p. ISBN 9780062436665. $27.99; pap. ISBN 9780062894953. $17.99; ebk. ISBN 9780062436696. M
The Blitz is in full swing in the newest "Maisie Dobbs" mystery by Winspear (To Die but Once). Maisie and best friend Priscilla are driving their ambulance with young American reporter Catherine Saxon, who believes firsthand experience will help her get work with Edward Murrow on BBC radio. The day after this ride-along, Maisie receives a call from Scotland Yard and the American embassy requesting her investigative services for Catherine's murder. Maisie begins this sudden investigation while the stresses of the adoption process for her young ward, Anna, weigh on her mind. Maisie must collaborate closely with Mark Scott, the agent attached to the American embassy, whom she worked with in Berlin before the war. But as the case progresses, she feels romantically drawn to him, all while uncovering secrets about Catherine.
VERDICT This is a fantastic read for historical mystery fans who enjoy complex and flawed characters. Highly recommended for all public libraries. —Kristen Stewart, Pearland Lib., Brazoria Cty. Lib. Syst., TX
COZY CORNER
Gates, Eva. Something Read, Something Dead. Crooked Lane. (Lighthouse Library, Bk. 5). Mar. 2019. 320p. ISBN 9781683319504. $26.99; ebk. ISBN 9781683319511. M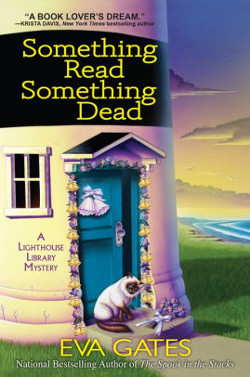 Lucy Richardson and her friends are excited to help her favorite cousin Josie O'Malley plan her wedding until Josie's grandmother and the New Orleans relatives descend on North Carolina's Outer Banks. It's enough to make Josie hide out in her bakery to avoid turning into bridezilla. Her wedding shower at the lighthouse library might even be a fiasco if cousin Mirabelle has her way. But Mirabelle dies of poisoning soon after the shower, and now Josie's bakery is closed, she's the primary murder suspect, and the wedding may not take place. With the town investigators sidelined by the state police, Lucy turns sleuth because she knows the locals. Unfortunately, it isn't only the wedding in danger. The historic lighthouse library, Lucy's home and place of employment, has a crack in the wall, and the cost of fixing it may be more than the community can afford. Even Lucy's relationship with the village mayor is a little rocky at the moment.
VERDICT This follow-up to The Spook in the Stacks once again casts Lucy and her close-knit, supportive group of friends in an engaging mystery. Readers who enjoyed Miranda James's "Cat in the Stacks" mysteries will discover this series similarly entertaining, complete with a library, a cat, and a captivating location and sleuth.—Lesa Holstine, Evansville Vanderburgh P.L., IN
Lang, Essie. Trouble on the Books. Crooked Lane. (Castle Bookshop, Bk. 1). Mar. 2019. 336p. ISBN 9781683319818. $26.99; ebk. ISBN 9781683319825. M
Shelby Cox returns to her childhood home of Alexandria Bay in upstate New York to help her Aunt Edie, who's recovering from surgery. Aunt Edie is part owner of two local bookstores, including one in Blye Castle on Blye Island. After a run-in with Loreena Swan, the castle curator, Shelby discovers the woman's body in the island grotto. Because Edie is worried that the local police chief will try to railroad the groundskeeper at the castle, she asks Shelby to poke around the area. Shelby knows few people in town, but that doesn't stop her from asking questions, annoying the neighbors, the police chief, the state police, and even a handsome Coast Guard agent. Convinced the murder may be linked to the castle's history of smuggling, Shelby's imagination runs wild, as anyone could be a suspect.
VERDICT Lang has written previous cozies as Linda Wiken (Roux the Day) and Erika Chase. In this new series, the setting is more enticing than the sleuth. Shelby lacks people skills, hasn't become part of the community, and is uptight and nosy. Readers looking for book-centric mysteries featuring more likable sleuths should be steered toward Eva Gates or Jenn McKinlay.—Lesa Holstine, Evansville Vanderburgh P.L., IN
McPherson, Catriona. Scot & Soda. Midnight Ink. (Last Ditch, Bk. 2). Apr. 2019. 312p. ISBN 9780738754123. pap. $15.99; ebk. ISBN 9780738755540. M
It's Halloween, and Scottish-born therapist Lexy Campbell is hosting her first American holiday for her friends at the Last Ditch Motel. It's a fun time until they try to lift the keg that's chilling in the water in the slough where Lexy's houseboat is anchored. Instead of beer, they pull up a dead body. Because he's dressed as a Scot, everyone assumes the death is associated with Lexy. But all bets are off in this convoluted mystery that finds Lexy and her friends driving around Cuento, CA, hunting for clues related to the ghost story "Tam O'Shanter." Only a Scottish therapist with a shaky grasp of American colloquialisms could manage to tangle up a ghost story, a 50th class reunion, and a search for a cat groomer.
VERDICT McPherson stands apart in her ability to tell a hilarious tale while balancing the ramifications of crime. The author follows up Scot Free with another riveting cozy starring Lexy and her quirky yet fiercely loyal friends. This time, however, the deadpan humor is countered by a somber resolution and a story about consequences. —Lesa Holstine, Evansville Vanderburgh P.L., IN
Meade, Amy Patricia. Cookin' the Books. Severn House. (Tish Tarragon, Bk. 1). Mar. 2019. 219p. ISBN 9780727888495. $28.99. M
With the help of a couple friends from college, Tish Tarragon plans to open a restaurant and catering business with a literary theme, the Cookin' the Books Café. Before the doors open, her landlord mentions that he gave her name to Binnie Broderick, the executive director of the Hobson Glen library. The overbearing Binnie demands a three-course dinner for 300 for a fundraiser. When Tish learns there's been trouble at the library over 500 books that Binnie tossed out, and watches her insult people at the dinner, she's not surprised when Binnie keels over dead. Tish fears for the future of her café, so she and her friends sneak around town asking questions, while the local sheriff observes with amusement.
VERDICT This amusing series debut from Meade (Straighten Up and Die Right) contains a number of literary puns and eccentric supporting characters who steal the show. Additional development is needed for Tish, however, who's a little insecure as the lead. Recommend to readers of Tamar Myers's entertaining titles.—Lesa Holstine, Evansville Vanderburgh P.L., IN
Shelton, Paige. The Loch Ness Papers. Minotaur: St. Martin's. (Scottish Bookshop, Bk. 4). Apr. 2019. 320p. ISBN 9781250127815. $26.99; ebk. ISBN 9781250218858. M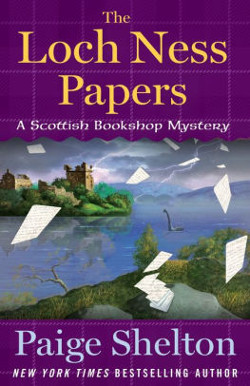 Bookseller Delaney Nichols is rushing into church to prepare for her wedding when she bumps into an older man leaving. He drops a pack of cards showing the Loch Ness Monster. Delaney returns the cards and feels an immediate connection to Norval Fraser, who is obsessed with Nessie. He invites Delaney to take over his collection of papers about the monster. She's fascinated by his stories, but doesn't trust his great-nephew Gavin. When Gavin is found murdered, the police suspect Norval. Although her family is arriving from Kansas for the wedding, Delaney feels obliged to prove Norval isn't a killer. The delightful characters, immersive Scotland setting, and the mystery of Loch Ness combine for one of the most enjoyable installments in this series.
VERDICT The intriguing Scottish bookshop and wedding details will satisfy fans of Amanda Flower's "Magic Garden" mysteries. Readers who relish eccentric characters and bookstores, as seen in Vicki Delany's "Sherlock Holmes" bookshop series, will savor this fourth entry (after Lost Books and Old Bones) in an atmospheric series. —Lesa Holstine, Evansville Vanderburgh P.L., IN
Weiss, Kirsten. Chocolate à la Murder. Midnight Ink. (Perfectly Proper Paranormal Museum, Bk. 4). Mar. 2019. 312p. ISBN 9780738757131. pap. $15.99; ebk. ISBN 9780738757353. M
Maddie Kosloski, owner of the paranormal museum in San Benedetto, CA, has the perfect exhibition for the town's Wine and Chocolate Days. But the delicacies ordered from Reine Chocolates haven't arrived, so Maddie offers to pick them up for her business and her friend's tea room. Yet no one seems to be at Reine, other than a picketer. Maddie suddenly loses her taste for chocolate when she finds a man covered in it behind the vats, and the 911 operator asks her to do CPR. She can't forget the murder. And although she's dating a police detective, she asks enough questions that someone attempts to run her over, and she believes she's being followed. Despite warnings from her mother, the police, and even signs from her cat, Maddie's convinced that by finding the body, she's supposed to be part of solving the murder.
VERDICT Weiss's follow-up to Deja Moo blends a strong sense of place with paranormal elements in a small-town cozy mystery. Fans of Juliet Blackwell or Christy Fifield will enjoy the supernatural aspects, while Dorothy St. James's chocolate-loving readers will want to sample this one. —Lesa Holstine, Evansville Vanderburgh P.L., IN

---
These reviews were originally published in the Library Journal's March 2019 issue.