Perfect for the Season It might only be October, but in publishing, the winter holidays have already arrived in full force. And when it comes to romance, the choices are endless—just check out this year's releases. Although at the moment cowboys and idyllic small towns seem to be all the rage, the frozen North, Seattle's bustling culinary world, and an isolated mountain resort make solid use of the seasonal theme—and for readers who fancy a trip across the pond, a lively English romp with an assortment of dogs and a Christmas-averse heroine in rural Devon are made to order. The current offerings of holiday romances are pure delight, so stir up the fire, pour the mulled wine, and settle down with the "perfect" book. Check out the romance preview for upcoming titles in all categories.

All I Want for Christmas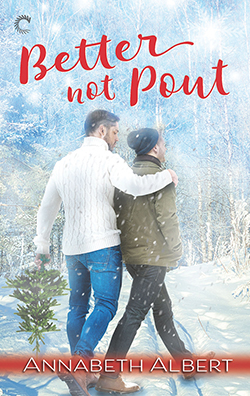 Albert, Annabeth. Better Not Pout. Carina: Harlequin. Dec. 2018. 288p. ISBN 9781335924841. pap. $8.99; ebk. ISBN 9781488038686. CONTEMPORARY ROMANCE
After 30 years of military police service, Sgt. Major Nicholas Nowicki can't wait to retire from snowy upstate New York to Florida in only one more month. But when his commanding officer asks him to fill in for her ailing husband as Santa for a celebration in nearby Mineral Springs, he can't refuse—and is surprised to be attracted to charity director Teddy MacNally. Naturally, a serious relationship is out of the question—Teddy is far too young for him and, anyway, Nick will be leaving soon. But fate has other plans, and as their relationship deepens, Nick is forced to reassess his skeptical views about love as they try to sort out the future.
VERDICT This gently witty, over-the-top sexy M/M romance overflows with family, friends, and good cheer and hits most of the right holiday notes. Albert (Tight Quarters) lives in the Pacific Northwest.
Cox, Natalie. Mutts and Mistletoe. Putnam. Oct. 2018. 320p. ISBN 9780525539193. pap. $13; ebk. ISBN 9780525539230. CONTEMPORARY ROMANCE
DEBUT Thirty-one, recently unattached, and temporarily homeless owing to a gas explosion in her apartment building, tech-savvy Charlie reluctantly leaves London and heads to a small Devon village with her animal-loving cousin Jez for the holidays. Never mind that she hates dogs and doesn't think much of the holidays, either—the country is peaceful and all will be well. Then Jez takes off for a potentially romantic rendezvous in Lapland, leaving Charlie in charge of Cozy Canine Cottages, Jez's luxury pet business, and suddenly "peace" is a thing of the past. A diverse cast of intriguing characters and their assorted issues keep the plot on track, while an annoying but gorgeous country vet—who has a thing for cows!—adds a romantic touch.
VERDICT Brimming with humor, Christmas cheer, and a few dogs (plus a litter of puppies), this offbeat romp sparkles with fun and will appeal to fans who enjoy their holiday fare with a British vibe. Newcomer Cox divides her time between London and the Brecon Beacons in Wales.
Hill, Sandra. The Forever Christmas Tree. Avon. (Bell Sound, Bk. 1). Oct. 2018. 353p. ISBN 9780062854070. pap. $7.99; ebk. ISBN 9780062854087. CONTEMPORARY ROMANCE
Twelve years ago, Ethan Rutledge's high school sweetheart Wendy Patterson left Bell Cove on North Carolina's Outer Banks without a word. It was his fault, and he knew it, but he still holds a grudge. Yet this year for the first time, Wendy, now a high-powered Navy WEAL (female SEAL), is coming home for Christmas, and Ethan, a widowed single dad and successful Christmas tree farmer, is more uptight than ever. Tempers flare as they sort out the past and try to deal with the inconvenient truth that their feelings for each other have never died. A picture postcard town with a bell-making history; a quirky assortment of meddlesome townsfolk, family, and navy personnel; and a holiday celebration complete with a Grinch contest and outrageous Christmas traditions provide the perfect backdrop for this heart-tugging romance.
VERDICT Sassy, spicy, and often hilarious, this holiday charmer is infused with all the seasonal spirit one tiny town can muster. In the disastrous wake of Hurricane Florence, this title with its Outer Banks setting is especially poignant. Hill (Cajun Persuasion) lives in Pennsylvania.
Macomber, Debbie. Alaskan Holiday. Ballantine. Oct. 2018. 225p. ISBN 9780399181283. $20; ebk. ISBN 9780399181290. CONTEMPORARY ROMANCE
When Josie Avery takes the chef's position at the Caribou Lake Lodge in tiny Ponder, AK, she's only marking time before she accepts her dream job as sous-chef at a trendy restaurant in Seattle. But her arrival and their growing friendship are a sea change for Ponder native and master swordsmith Palmer Saxon, who's been trying to get up the courage to ask Josie to marry him. Reluctantly, she turns him down only to end up missing the last ferry out of Ponder until spring, a situation that could cost her the new job if she doesn't find another way to get there. With Palmer's assistance, she makes it out only to find that the job is not what she'd hoped for and she's missing Alaska—and Palmer—far more than she imagined. Lively dialog, likable characters (a crusty old codger with a 150-year-old sourdough starter is memorable), and stunning descriptions are pluses.
VERDICT Life in the Alaskan wilderness takes on new dimensions as a well-matched pair discover the importance of love in this tender romance lightly brushed with holiday magic. Macomber (Cottage by the Sea) lives in Port Orchard, WA.
Roberts, Sheila. Winter at the Beach. Mira: Harlequin. (Moonlight Harbor, Bk. 2). Oct. 2018. 363p. ISBN 9780778369950. pap. $7.99; ebk. ISBN 9781488082139. CONTEMPORARY ROMANCE
Frustrated by the lack of tourists in Moonlight Harbor during the off season, Jenna Jones, divorced mom of a teenager and manager of the Driftwood Inn, comes up with a brilliant idea: Seaside with Santa, a holiday festival just before Christmas, complete with a parade. Armed with chamber of commerce approval, Jenna and her committee spring into action, making plans for events, publicity, and all the extra tourists they hope will come to town. As the excitement builds, Jenna knows it will be perfect. What she doesn't plan on is the weather literally raining on her carefully orchestrated parade—or the wind kicking up, the power going out, and other assorted problems. A colorful mix of family, friends, and townsfolk, including an annoying ex and two attractive but polar opposite men, add to the general tumult and bring the town to life.
VERDICT Funny and chock-full of holiday appeal, this small-town tale is more general fiction than romance, but it will please fans of both. Roberts (Welcome to Moonlight Harbor) lives in the Pacific Northwest.
Schaler, Karen. Christmas Camp. Morrow. Oct. 2018. 346p. ISBN 9780062883698. pap. $14.99; ebk. ISBN 9780062883681. CONTEMPORARY ROMANCE
In line for a big promotion contingent upon landing a major toy company contract, Haley Hanson, branding expert extraordinaire and Christmas avoider, agrees to attend a weeklong Christmas Camp in the mountains in order to be allowed to pitch her idea to the boss. Her goal? To complete all the activities and get her "certificate." The result? A life-changing experience. The relationship that develops between Haley and architect Jeff Jacoby, the son of the retreat's owner, is both tense and romantic, and the Holly Peak Inn setting and campers are thoroughly endearing—particularly the dog Max and two teens.
VERDICT A charming movie-to-book crossover that would be right at home on the Hallmark Channel and a winner for fans looking for a touching holiday read. Schaler (A Christmas Prince) divides her time between New York City and Scottsdale, AZ.
Thayne, RaeAnne. Season of Wonder. HQN: Harlequin. (Haven Point, Bk. 9). Oct. 2018. 266p. ISBN 9781335947932. pap. $16.99; ebk. ISBN 9781488096464. CONTEMPORARY ROMANCE
Veterinarian, former foster kid, and single mom of two Daniela Capelli has relocated to Haven Point, ID, from Boston to give her girls a better life. While Daniela is loving her internship with the town vet, teenaged Silver and younger sister Mia are having a harder time. Daniela is determined to carve out a new life—and that doesn't include men—so her attraction to her next-door neighbor and boss's son Deputy Sheriff Ruben Morales doesn't help a bit. But the attraction goes both ways, and despite Dani's puzzling reticence, Ruben's not about to give up, even when she tells him something she knows he can never forgive. Misplaced guilt and a closely held secret keep things tense, while a teenage graffiti spree, holiday festivities, a Secret Santa family tradition, and a cast of appealing characters (Silver and Mia are especially engaging) add to the enjoyment.
VERDICT A guarded heroine and a strong, perceptive hero find love despite all odds in this uplifting holiday heart-warmer. Thayne (The Cottages on Silver Beach) lives in the Northern Utah Mountains. all year long
All Year Long
Burrowes, Grace. My One and Only Duke. Forever: Grand Central. (Rogues to Riches, Bk. 1). Nov. 2018. 342p. ISBN 9781538728956. pap. $7.99; ebk. ISBN 9781538728932. HISTORICAL ROMANCE
Sentenced to be hanged on a trumped-up charge, wealthy banker Quinn Wentworth is startled when his rather elegant Newgate Prison cell is invaded by preacher's daughter Jane Winston; she only needs a place to wait while her father ministers to the inmates. Quinn soon figures out that Jane, widowed, pregnant, and totally dependent on her judgmental, impractical parent's whims, needs much more than that, so he offers her marriage and financial security, with both of them fully aware that he will be dead and she will be widowed within a week. When Quinn is discovered to be the heir to a dukedom and is literally snatched from the hangman's noose, their plans change in ways they could never have predicted. A self-made hero driven by justice and intent on revenge and a caring heroine determined to turn her hasty marriage into something more join forces to see that a truly despicable villain gets his just desserts. A well-developed supporting cast add color and enchantment—a smart, loyal guttersnipe and the hero's eccentric sisters are unforgettable—and the attention paid to social and women's issues of the time is sure to resonate with readers.
VERDICT Skillfully crafted and exquisitely written (the classical allusions are delightful), Burrowes's latest is pure gold; a brilliant launch to a promising series. Burrowes (A Rogue of Her Own) lives in rural Maryland.
Jackson, Brenda. Love in Catalina Cove. HQN: Harlequin. (Catalina Cove, Bk. 1). Nov. 2018. 459p. ISBN 9781335005649. pap. $7.99; ebk. ISBN 9781488096419. CONTEMPORARY ROMANCE
After 14 years away, New York hotel executive Vashti Alcindor never thought she'd be back in Catalina Cove. She's inherited her aunt's beloved yet rundown seaside resort and learns that some of the townsfolk are trying to stop her sale of the property to a developer, leaving her no alternative but to head to the small coastal Louisiana town where she was once happiest—and the most miserable. Of course, a speeding ticket from no-nonsense but seriously hot Sheriff Sawyer Grisham doesn't improve her mood. When she discovers that the same by-the-book lawman is also on the zoning board, she knows it will only get worse. A surprising welcome, a dash of nostalgia, a sizzling yet inexplicable romantic attraction, and a stunning offer soon have her rethinking her plans for the old resort—and her future as well. A heroine struggling to make peace with her past and a widowed sheriff raising a teenage daughter have their lives and their budding relationship thrown into chaos when the past bursts into the present.
VERDICT A cruel lie revealed, a profusion of realistic locals, and a startling coincidence that shocks the characters but not readers add up to a heartwarming romance, enhanced by a dusting of Creole culture and a plot that leaves no ends dangling. Jackson (At Long Last) lives in the Jacksonville, FL, area.
Novak, Brenda. Before We Were Strangers. Mira: Harlequin. Oct. 2018. 395p. ISBN 9780778369943. pap. $15.99; ebk. ISBN 9781488082979. ROMANTIC SUSPENSE
Twenty-three years ago, Sloane McBride's mother vanished without a trace. Most people thought she'd just walked out on her difficult marriage, but five-year-old Sloane heard something that night that still makes her wonder. Now a world-famous model, Sloane is back in the small Texas town she fled at 18, determined to get some answers, even if they rip apart what's left of her family. Fearing her powerful, autocratic father is somehow responsible but hoping she's wrong, Sloane begins her search only to be challenged at every turn by those who will do anything to see that the past stays buried. But Sloane won't give up, and as the danger grows, the passion between her and police officer Micah Evans, her high school ex, flares back into life, adding romance to a tale rife with jealousy, dysfunction, and deception.
VERDICT Realistic, often deeply flawed characters; well-handled multiple viewpoints; and a dark, twisty plot that will leave readers unsure until the very end keep the pages turning in this engrossing, insightful romantic thriller. Discussion questions are included. Novak (Face Off) lives in the Sacramento, CA, area.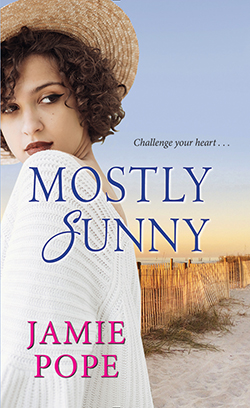 Pope, Jamie. Mostly Sunny. Dafina: Kensington. Oct. 2018. 352p. ISBN 9781496718259. pap. $7.99; ebk. ISBN 9781496718266. CONTEMPORARY ROMANCE
Abandoned by her unstable mother and in the foster care system from the age of eight, social worker Sunshine Gibson is determined to ensure that other children avoid her fate. So when the anonymous birth mother of eight-year-old Soren (whom Sunny secretly thinks might be her sister) begins sending letters and money, Sunny fears the woman might interfere with Soren's new life and upcoming adoption, and she's not about to let that happen. But Julian King, the ex–football star and high-profile attorney she hopes will assist her, resists all the way. First, he doesn't do family law; second, he doesn't do pro bono work; and third, Sunny is far too appealing—and falling for someone is not on his agenda. Then everything changes. Zingy dialog and surprising humor lighten the powerful emotions that weave throughout this story that addresses some serious child abuse and foster care–related concerns.
VERDICT Strong but conflicted protagonists, each with abandonment issues, come to terms with their pasts as well as their feelings in this hard-hitting, appealingly sexy story that will have fans waiting for the next in this duology. Pope (Love Blooms) lives in Poughkeepsie, NY.
Putney, Mary Jo. Once a Scoundrel. Zebra: Kensington. (Rogues Redeemed, Bk. 3). Oct. 2018. 368p. ISBN . pap. $7.99; ebk. ISBN 9781420140491.
HISTORICAL ROMANCE
The last place Gabriel Hawkins, privateer, intrepid blockade runner, and captain of the trusty Zephyr, ever wanted to be was back on the Barbary Coast. Yet when lovely, quick-witted, alarmingly independent Lady Aurora Lawrence is kidnapped by pirates and held for ransom, he knows he can't leave her to the mercy of men like those who had once held him captive. What he didn't wish was to find Rory and her companion in the hands of Malek Reis, a corsair with whom he has a history, or to end up streaking across the Mediterranean with a boatload of exotic animals to rescue Malek's wife and children from a truly evil villain. Ripples of humor, high-seas adventure, and sigh-worthy romance are here in full measure in a nonstop escapade that puts a refreshing spin on a tale that is far more than the classic Barbary pirate/harem romance.
VERDICT A vibrant heroine with a warrior maiden mind-set and a bold, undaunted hero who makes peace with his past find love amid mayhem in a story that redeems another rogue and sows the tantalizing seeds for the next in the series. Putney (Once a Rebel) lives in Baltimore.
Rose, Karen. Death Is Not Enough. Berkley. (Baltimore, Bk. 6). Oct. 2018. 624p. ISBN 9780399586705. pap. $7.99; ebk. ISBN 9780399586712. ROMANTIC SUSPENSE
For years, defense attorney Thomas Thorne has secretly adored Gwyn Weaver, his friend and business partner, but for many reasons has hesitated to make a move. Now he's begun quietly to warn off her potential suitors. When Gwyn heads to his house to confront him, she finds him passed out in bed with a dead woman and sheets covered in blood. It quickly becomes clear that he's being set up. As the details unfold, Thomas learns that someone is using secrets from his past to bring him down and is willing to hurt, kill, or torture anyone to do it. Myriad interconnecting plot threads, a tight time frame (often minute-by-minute), fully realized characters, and multiple viewpoints draw readers deep into a complex story that becomes more intricate and terrifying with the turn of each page.
VERDICT With flair and precision, Rose delivers another taut, vividly detailed, and violent thriller that will keep readers enthralled. The core story stands on its own, but owing to the ongoing character relationships, readers may benefit from experiencing the series in order. Rose (Edge of Darkness) lives in Florida.
Ward, J.R. Consumed. Gallery: S. & S. (Firefighters, Bk. 1). Oct. 2018. 416p. ISBN 9781501194900. $26.99; ebk. ISBN 9781501194924. ROMANTIC SUSPENSE
Forced to give up her job as a firefighter when she loses a hand in a near-deadly disaster, Anne Ashburn is putting her life back together as a fire inspector as fiercely as she once fought the flames. She just wishes Danny Maguire, the hotshot, brave-to-a-fault firefighter who feels responsible, could do the same. A series of seemingly connected blazes soon have Anne on the trail of a deadly arsonist, and when she becomes a target herself, Danny vows to do anything to keep her safe. Rugged heroes and heroines battle fierce emotions and infernos and routinely deal with tragedy and heartbreak in a story brought to stunning life by rough, realistic detail, passion, and snarky, sometimes gallows humor. A pair of perfectly matched protagonists learn to deal with their demons and reach well-deserved love along the way.
VERDICT Raw, gritty, and gripping, this adrenaline-laced tale whips along at lightning speed and is impossible to put down. An impressive, "consuming" launch to Ward's widely anticipated series. Ward (The Thief) is noted for her popular "Black Dagger Brotherhood" titles; she lives in Kentucky.
---
Kristin Ramsdell is Librarian Emerita, California State University, East Bay. She is the author or Romance Fiction: A Guide to the Genre. 2d ed. (Libraries Unlimited, 2012) and editor of The Encyclopedia of Romance Fiction (Greenwood, Sept. 2018)