Adamczyk, Laura. Hardly Children: Stories. FGS Originals. Nov. 2018. 240p. ISBN 9780374167899. pap. $15; ebk. ISBN 9780374718688. F
DEBUT Up-and-comer Adamczyk (her story "Girls" won the 2014 Dzanc Books/Disquiet International Literary Program Award) writes imaginatively off-kilter, slice-of-life stories meant to make readers uncomfortable. In the title story, for instance, children deemed bad (if only for hanging out or strutting around in tennis shoes) are being taken away by a mysterious group of men. Angry townsfolk are shocked that the narrator, a disaffected teacher, refuses to get involved, but eventually she joins a demonstration and does a small bit of good, even if the situation remains unresolved. Also unresolved: the story of Ronnie, Frannie, and Mary, who grow "lean and hard, then thin and thinner," given their single mother's abysmal paycheck. We don't know what happens to them but are left with Frannie's uncertainty; when grown, she swears they once met a strange man in a tucked-away room in their grandmother's house, but her sisters don't remember.
VERDICT A man hanged from a gallery ceiling, the disposition of a gun in a play, a college professor's untoward relationship with a virginal truck driver—all are creepy stories that don't make for light reading but definitely get under your skin.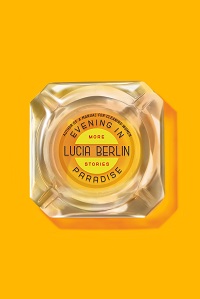 Berlin, Lucia. Evening in Paradise: More Stories. Farrar. Nov. 2018. 256p. ISBN 9780374279486. $26; ebk. ISBN 9780374718312. F
Following the posthumous collection A Manual for Cleaning Women, which received major attention, here is a selection of Berlin's remaining stories proving that she should have been better known. Opening in the Southwest and Latin America, then spreading throughout the country, these works capture human relationships and interactions with care and grace, making the ordinary extraordinary and the extraordinary achingly familiar. Two young girls, one of Syrian descent, get into trouble selling chances on a Musical Vanity Box (sneaking into Juarez didn't help); in Chile, 14-year-old American Laura visits an estate and has a sexually charged encounter with an older man that she doesn't fully understand. In New York, a wife constantly corrected by her husband for saying postman rather than mailman sweetly announces, "on the way home I murdered the postman"—and gets corrected again. Her response—"David. Please talk to me"—says everything about the marriage. In a story about Aunt Zelda's inconvenient Christmas visit, a teenager admonished for his drinking shoots back, "I'm old for my age. Thirty-five is young to be a burnout."
VERDICT Beautifully realized stories with good, old-fashioned virtues. [See Prepub Alert, 5/14/18.]
Bhuvaneswar, Chaya. White Dancing Elephants. Dzanc. Oct. 2018. 208p. ISBN 9781945814617. pap. $16.95; ebk. ISBN 9781945814907. F
DEBUT Winner of the Dzanc Books Short Story Collection Prize, this volume proves its worth from the start with an affecting piece about a woman wandering about London, having just lost the baby she was carrying. She's barely able to focus (people keep asking whether she is all right), yet she can imagine the life her child might have led. From exploited orphans in India and slaves in Renaissance Portugal to Jagatishwaran ("lord of worlds"), trapped in a corner room by mental illness and parental concern but looking outward, and a young boy wondering of his vanished sister "Where did go? But also: How do I bear it, that she left for good?" even as he reads the fable of a woman bargaining with Death over the husband he sent her, imagination is key. Yet the stories remain firmly grounded in physical detail, boldly exploring moments of oppression and violence, and Bhuvaneswar's persuasive, readable style will keep readers absorbed.
VERDICT A strong collection from a writer on the rise.
Boyko, C.P. The Children's War: Stories. Biblioasis. Sept. 2018. 390p. ISBN 9781771962131. pap. $16.95; ebk. ISBN 9781771962148. F
Canadian author Boyko (Novelists) offers a volume of stories for readers who like their collections big and bold. "Andrew and Hillary," for instance, is virtually novella-length, opening with the magic realism–touched childhood friendship of smart, commonsense Hillary and more contentious Andrew, then detailing how each ended up (separately) at a war being fought off the mainland. The story methodically reveals the difficult conduct of combat and is well crafted even as it interestingly defies narrative logic in portraying what finally happens to these characters. "Infantry," also about war (of course), depicts battle fought solely among women combatants, and in their rough-and-readiness they are both like and unlike their male counterparts. Boyko bravely wades into topical issues, though from unexpected angles. "Birth Pangs" shows us parents struggling with a child who's troubled from birth while touching on the frustrations of modern medicine. "Year-End" describes labor strife at a fading factory in dialog format (of equalization of wages, one character says, "Sure. Your salary's as low as mine").
VERDICT Dense but readable, these stories are well developed and sufficiently tilted in content to attract a range of serious readers.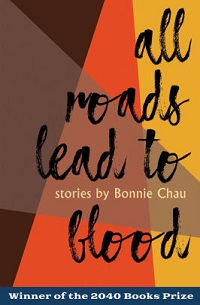 Chau, Bonnie. All Roads Lead to Blood. 2040: Santa Fe Writers Project. Sept. 2018. 166p. ISBN 9781939650870. $15.95; ebk. ISBN 9781939650894. F
DEBUT "All roads lead to blood," that is, to family and heritage, with which one is unshakably connected, and to the inevitable hurts of life. A Kundiman fellow and assistant web editor at Poets & Writers, Chau articulates these truths in luscious and biting language, exploring the experiences of second-generation Chinese American women in smart, tightly telescoped vignettes. The opening story, "Monstrosity," exemplifies both theme and mood here as the narrator struggles when she's told, "They're your people" of Chinese drivers, wondering "if they were the aliens or I was the alien." Later, having sex, she splits apart and sees a second self who declares almost mockingly, "I will be the Chinese you." Whether she's paralleling the lives of two sisters or a woman dealing with male trouble and a jellyfish escaping from her faucet, Chau writes with an energetic, layered-on, lyrical physicality that vivifies the act of getting dressed for work, successfully links a sexual fling to a bird flung against glass, shows someone "emerging out of the cobbling-together-five-restaurant-jobs chrysalis," and points out that "after five hours of inhaling invisible cat, my lungs feel scraped and hollow."
VERDICT Vivid, visceral, and an eye-opener; for all serious readers.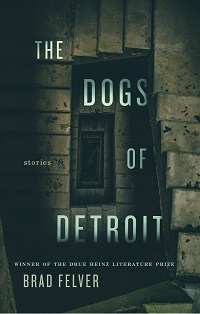 Felver, Brad. The Dogs of Detroit: Stories. Univ. of Pittsburgh. Sept. 2018. 200p. ISBN 9780822945420. $21.95. F
DEBUT In this accomplished collection, justifiably the winner of the Drue Heinz Literature Prize, Felver delivers a powerful, haunting sense of life's hard contours in clear-eyed language that never, ever stoops to gratuitous violence or self-conscious drama. "We were mean kids. We knew it and we celebrated it" starts "Throwing Leather," in which the meanest kid does get his comeuppance at the end. In "Evolution of the Mule," long-standing drought drives a family into ever harder choices, including streaking themselves with blood and dung to win the pity of traveling salesmen, but it all ends in tragedy. The narrator of "Out of the Bronx" declares, "We hunted the rats because we were so poor," and as he watches them burn confides, "Nothing quite so helpless as an animal in pain, even a rat." The opening story, "Queen Elizabeth," effectively encompasses a couple's entire relationship, from first date and marriage through the loss of a child and divorce; when they meet later, the wife muses, "It's hard to know that you've used up all the good parts of your life so early." Remarkably, this story ­captures in under 25 pages what some novels can't manage in hundreds.
VERDICT Highly recommended.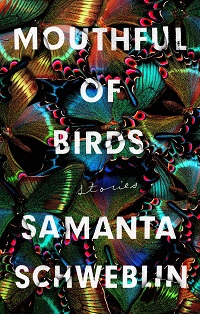 Schweblin, Samanta. Mouthful of Birds: Stories. Riverhead. Jan. 2019. 240p. tr. from Spanish by Megan McDowell. ISBN 9780399184628. $26; ebk. ISBN 9780399184642. LITERARY
Before Schweblin's debut novel, Fever Dreams, was short-listed for the Man Booker International Prize, the Buenos Aires–born, Berlin-based author was grabbing honors like the Juan Rulfo Story Prize for her short stories. Here's a collection that reveals why. Take the first story, "Headlights," about brides abandoned on a highway by their new husbands when they get out to use the bathroom. There are hundreds of forlorn brides at this spot, including a nasty older woman impatient with their moaning; the atmosphere is nightmarish, and the ending is a slug in the gut. In other stories, a father bemoans a daughter who has taken to eating live birds, a teenager with a temper grows up to become an esteemed painter of heads being smashed into concrete, and a vacationer who's rented a remote shore house finds a man who insists he's been hired to dig a hole in the yard. Women's subjugation, our insatiable (perhaps bestial) urges, art as mediation, how little we control—Schweblin ponders weighty issues while spooking her readers.
VERDICT Surreal, disturbing, and decidedly original, these pieces aren't easy reading but will enthrall literati and sophisticated readers of fantasy and horror. [See Prepub Alert 7/16/18.]
Tan, May-Lan. Things To Make and Break: Stories. Coffee House. (Emily). Oct. 2018. 224p. ISBN 9781566895279. pap. $16.95; ebk ISBN 9781566895354. F
DEBUT A Berlin-based author with a background in fine arts, Tan looks at relationships with a satisfying honesty, neither too sentimental nor too darkly cynical; characters move their way through life and make their peace with it. The writing is mostly bright, loose-limbed, and engaging even though the subjects aren't always sparkly. A mother's date night out brings forth a daughter's wistfulness, a boy whose mother committed suicide believes he hears her voice when he and his father have a car accident, two sisters each get pregnant, but only one has the baby. In the emblematic opening story, a young woman becomes obsessed with her caddish boyfriend's former girlfriend, Holly—the only one in a long string of flings whose name he mentions—and secretly seeks her out. When she moves out after their breakup, she realizes, "I'm one of them now, a blade in the guts of some future girl." There's something vulnerable yet finally tough about this character, as there is about the protagonist of "Candy Glass," who's starring in a romcom-thriller that "arrive[s] in Miami a month behind schedule and four million over budget" and becomes fascinated by her stunt double.
VERDICT Entertaining reading from a writer worth watching.
Williams, Diane. The Collected Stories of Diane Williams. Soho. Oct. 2018. 784p. ISBN 9781616959821. $28; ebk. ISBN 9781616959838. F
Flash fiction: it's the short short story, a vignette, a portrait, a moment in time that at its best imparts a flash (so to speak) of insight or frisson of recognition. Williams is a past master of the form, indeed, a cult author whose followers will be celebrating the arrival of this volume. The stories range from 1990's This Is About the Body, the Mind, the Soul, the World, Time, and Fate to 2016's Fine, Fine, Fine, Fine, Fine, with a dozen new pieces (e.g., "The Beauty and the Bat") serving as the cherry on top. As those titles suggest, Williams is witty, incisive, and broad-ranging in her interests; what else could you say about a collection with pieces that include "Orgasms" and "The Meaning of Life," "My Defects" and "The Mermaid Pose." Unlike many examples in this genre, these are fully formed, even if a speaker says presciently at one point, "I am the size of a pin."
VERDICT Important for serious literature collections.