Peter Asher on the Beatles, Jeanine Basinger on Hollywood musicals, Robyn Crawford on Whitney Houston, Ari Herstand on making it in the music business, Sheila Weller on Carrie Fisher, and much more.
Asher, Peter. The Beatles from A to Zed: An Alphabetical Mystery Tour. Holt. Nov. 2019. 288p. ISBN 9781250209597. $27; ebk. ISBN 9781250209580. MUSIC
A singer, musician, record producer, and writer with stacks of Grammy Awards to his name, Asher met the Beatles in 1963 and was there at the creation of some of the world's greatest pop music. (Sixties folks, you remember Peter and Gordon, right? And that Paul McCartney penned their great hit, "A World Without Love"?) More meditation than memoir or chronology, this book draws on 26 episodes of his

current and highly popular radio show From Me to You on the Beatles Channel of SiriusXM.
Basinger, Jeanine. The Movie Musical! Knopf. Nov. 2019. 656p. ISBN 9781101874066. $40; ebk. ISBN 9781101874073. Downloadable. FILM
You're in good hands with this in-depth analysis of the Hollywood musical. Basinger is founder of the department of film studies at Wesleyan University and curator of its cinema archives, as well as the award-winning author of nearly a dozen books on film, including American Cinema: One Hundred Years of Filmmaking, the companion book for a ten-part PBS series. The 219 illustrations will be a big draw; with a 25,000-copy first printing.
Crawford, Robyn. A Song for You: My Life with Whitney Houston. Dutton. Nov. 2019. 320p. ISBN 9781524742843. $28; ebk. ISBN 9781524742867. Downloadable. MUSIC
Since their teen years in East Orange, NJ, Crawford was a close friend of Whitney Houston, and she became a key confidante and business collaborator as Houston's fame skyrocketed. But except for a brief eulogy upon Houston's death in 2012, she has not spoken about their relationship. Now here is Crawford's insider look at Houston's life and their relationship.
Douglas, Cameron. Long Way Home. Knopf. Nov. 2019. 400p. ISBN 9780525520832. $27.95; ebk. ISBN 9780525520849. lrg. prnt. Downloadable. MEMOIR/FILM
The grandson of Kirk Douglas, the son of Michael Douglas, and himself an actor, Douglas seemingly had it made. But by 30, he had become a drug addict and thief, and after a DEA drug bust, he spent almost eight years in prison, two of them in solitary. Finally, he began to confront his demons. This account of his downfall and ongoing transformation has the support of his family. With a 75,000-copy first printing.
Flea. Acid for the Children: A Memoir. Grand Central. Nov. 2019. 400p. ISBN 9781455530533. $28; ebk. ISBN 9781455530526. CD/downloadable. MEMOIR/MUSIC
Celebrated bassist and cofounder of Red Hot Chili Peppers, Flea here relates the coming of age of a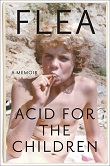 young musician. His story moves from Australia to New York and finally to the crucial 1970s and 1980s in Los Angeles, where he sought refuge from his chaotic family life with a group of outlier musicians, artists, and junkies, partying and committing petty crimes until music became his salvation. With a 400,000-copy first printing; hints abound about a 2019 album release.
Herstand, Ari. How To Make It in the New Music Business: Practical Tips on Building a Loyal Following and Making a Living as a Musician. Liveright: Norton. Nov. 2019. 416p. ISBN 9781631494796. $29.95. PERFORMING ARTS/BUSINESS
A musician who has played over 700 shows, charted in the top 10 on iTunes, performed on the Ellen DeGeneres Show, and had his music featured on TV, film, and commercials, Herstand started the music business advice blog Ari's Take. In 2016, he also wrote a guide to making it in the music business that was called "the best how-to book of its kind" (Music Connection) and "indispensable" (Forbes). Things move fast in this industry, and here's a second edition to please reader wherever music is performed.
Kashner, Sam & Ash Carter. Life Isn't Everything: Mike Nichols As Remembered By 103 Of His Closest Friends. Holt. Nov. 2019. 304p. ISBN 9781250112873. $30; ebk. ISBN 9781250112866. CD. MEMOIR/FILM
Kashner, a contributing editor at Vanity Fair and the author of Sinatraland, among other titles, joins with Esquire senior editor Carter to paint a portrait of the distinguished filmmaker that draws on conversations with family and friends ranging from Meryl Streep and Natalie Portman to Lorne Michaels and Stephen Sondheim.
Keys, Alicia. More Myself: A Journey. Flatiron: Macmillan. Nov. 2019. 320p. ISBN 9781250153296. $29.99; ebk. ISBN 9781250153302. CD. MEMOIR/MUSIC
The 15-time Grammy Award–winning musical artist and all-round actor, producer, and activist isn't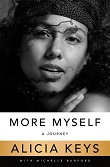 content just to write about her career and those she has worked with on her rise to the top. She also examines how little she valued herself at the beginning and how much she had to learn regarding who she really was and what mattered to her the most. Lessons for everyone.
Phair, Liz. Horror Stories. Random. Oct. 2019. 256p. ISBN 9780525511984. $28; ebk. ISBN 9780525511991. Downloadable. MEMOIR/MUSIC
The two-time Grammy-nominated singer-songwriter whose early 1990s cassettes became the groundbreaking album Exile in Guyville, Phair offers not so much a chronological recount of her life and rise to fame as a collection of meditative moments on her struggles as a woman artist trying to make it in a man's world. Her "horror stories" range from the shattering sense of responsibility for the stranger passed out at a party to that awful is-this-really-it feeling at her first photo shot. Look for a new album and a world tour in 2019.
Selleck, Tom with Ben Greenman. Untitled. Dey Street: HarperCollins. Nov. 2019. 320p. ISBN 9780062945761. $27.99; ebk. ISBN 9780062945785. lrg. prnt. CD. MEMOIR/FILM
Utterly recognizable as the hero of the durable Eighties TV hit Magnum, P.I. and currently New York City Police Commissioner Frank Reagan on Blue Bloods, Selleck chronicles a career that spans five decades. From the beginning, he worked with big names like Mae West, Frank Sinatra, and Marlon Brando, so this memoir should be a dizzying look at Hollywood as well as a probe of his personal life. With a 200,000-copy first printing.
Ward, Ed. The History of Rock & Roll, Volume 2: 1964–1977: The Beatles, the Stones, and the Rise of Classic Rock. Flatiron: Macmillan. Nov. 2019. 336p. ISBN 9781250165190. $29.99; ebk. ISBN 9781250169976. MUSIC
After serving for 30 years as the rock 'n' roll historian on NPR's Fresh Air, Ward published the rave-reviewed predecessor of this volume, which took rock seriously enough to travel back to its roots in the 1920s, when blues and country music filled the air. This new volume opens when the Beatles landed in New York in 1964—of course!—and works its way through the Stones, Jimi Hendrix, Bob Dylan, Aretha Franklin, Elton John, and more to show how classic rock was made.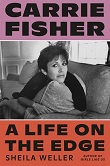 Weller, Sheila. Carrie Fisher: A Life on the Edge. Sarah Crichton: Farrar. Nov. 2019. 416p. ISBN 9780374282233. $28; ebk. ISBN 9780374717728. BIOGRAPHY/FILM
The New York Times best seller Girls Like Us: Carole King, Joni Mitchell, Carly Simon—and the Journey of a Generation takes on another iconic woman—Carrie Fisher, the daughter of Hollywood royalty. Weller moves from her debut in Shampoo and her Star Wars triumph through the travails of bipolar disorder and a drug addiction to her emergence as a best-selling author and spokeswoman for mental illness and her untimely death in 2016.