Four novels about the complexity of relationships.
Archer, Jeffrey. Turn a Blind Eye. St. Martin's. Apr. 2021. 320p. ISBN 9781250200808. $28.99. CD. SAGA
Even as Detective Inspector William Warwick goes undercover to investigate corruption in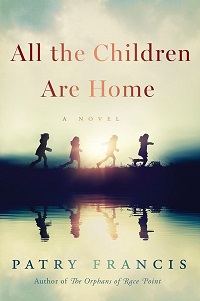 the Metropolitan Police Force, William's father and sister lead the prosecution as drug baron Ahmed Rashidi stands trial. Meanwhile, William's wife—now the mother of twins—befriends the former wife of his onetime archrival. Third in a series from the mega-best-selling author; with a 100,000-copy first printing.
Francis, Patry. All the Children Are Home. Harper. Apr. 2021. 448p. ISBN 9780063065079. $26.99; pap. ISBN 9780063045453. $16.99. lrg. prnt. COMING OF AGE
Living in small-town Massachusetts in the 1950s and 1960s, Dahlia and Louie Moscatelli are happily raising foster children Jimmy, Zaidie, and Jon when their social worker begs them to take in six-year-old Agnes, an Indigenous child who had been horrifically abused. Agnes's arrival actually strengthens the family, whose members learn to contend with outside forces that would upend them. From three-time Pushcart Prize nominee Francis (The Liar's Diary); with a 150,000-copy paperback and 20,000-copy hardcover first printing.
Heiny, Katherine. Early Morning Riser. Knopf. Apr. 2021. 336p. ISBN 9780525659341. $26.95. Downloadable. WOMEN'S
Having seen her sales and reputation rise with Standard Deviation and Single, Carefree, Mellow, Heiny returns with the story of Jane, who falls for genial charmer Duncan—as have the many other women with whom he's been involved. Jane runs into them everywhere, and Duncan's ex-wife even has him mow her lawn. Then there's Duncan's omnipresent coworker Jimmy. With so many people in Duncan's life, is there any room for her?
Tompkins, JoAnne. What Comes After. Riverhead. Apr. 2021. 432p. ISBN 9780593085998. $28. Downloadable. FAMILY LIFE
Isaac lives on Washington's rainy coast, mourning the death of his teenage son. His next-door neighbor, single working mother Lorrie, mourns her own son's terrible act of violence. They're brought together when pregnant 16-year-old Evangeline wanders in from the woods, in need of their help. A debut novel from a former mediator and judicial officer that bears watching.