Social justice is intrinsic to Jarrett Dapier's work as a young adult librarian, first at Evanston Public Library, IL (2009–14), and now at Skokie PL. Before coming to libraries, Dapier was a legal assistant for the American Civil Liberties Union (ACLU) of Illinois, where he was drawn to cases that involved teens and young adults. At the same time, he was active in the Chicagoland theater scene, directing and acting in productions that, he says, "almost always involved young people coming of age, falling in love, striving to be authentic in a cruel, prejudicial, and violent culture."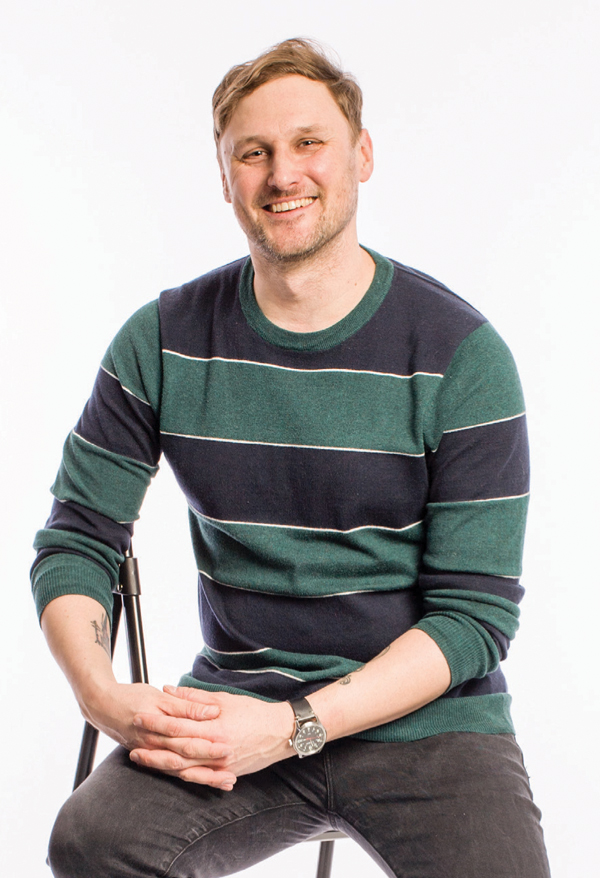 CURRENT POSITION
Young Adult Librarian, Skokie Public Library, IL
DEGREE
MLIS, University of Illinois at Urbana-Champaign, 2015
HONORS
John Phillip Immroth Memorial Award, American Library Association Intellectual Freedom Roundtable, 2016
FOLLOW
@brownbatheart; jarrettdapier (Instagram)
Photo ©2019 Matt Lawrence Photography

Setting the Stage
Social justice is intrinsic to Jarrett Dapier's work as a young adult librarian, first at Evanston Public Library, IL (2009–14), and now at Skokie PL. Before coming to libraries, Dapier was a legal assistant for the American Civil Liberties Union (ACLU) of Illinois, where he was drawn to cases that involved teens and young adults. At the same time, he was active in the Chicagoland theater scene, directing and acting in productions that, he says, "almost always involved young people coming of age, falling in love, striving to be authentic in a cruel, prejudicial, and violent culture."
Librarianship allows Dapier to combine his creative bent and his passion to empower teens to grapple with complex issues such as bias and violence. In addition to his 2016 theatrical adaptation of Chris Crutcher's YA novel The Sledding Hill, which the American Library Association's Office for Intellectual Freedom has made available for free download, Dapier has produced both his own original work and adaptations starring local teens, who are recruited for roles and crew positions in the library's teen volunteer program.
In 2018, working in partnership with the Illinois Holocaust Museum and Education Center, Dapier wrote and produced We Are the White Rose: Teen Voices of Resistance. Teen actors told the stories of "ten real teens throughout history who risked their lives or reputations to combat human rights abuses, speak out against injustice, and challenge the status quo," says Taryn Fisher, local attorney, Dapier's nominator, and assistant director for the production. In addition to performances at the library and local schools, the cast and crew brought the show to the museum for an audience of 230, including several Holocaust survivors who spoke with the cast in a "talk back" session. Dapier also organized a Skype event with peace advocate Nadja Halilbegovich (dramatized in the play), who, as a teen, lived through the Bosnian war in the early 1990s.
Dapier's first 2019 production, a stage adaptation of Andrea Davis Pinkney's poetic tribute to Martin Luther King's life and death, Martin Rising: Requiem for a King, is scheduled to include several postshow discussions with the author. While continuing the partnership with the Holocaust Museum, Dapier also received a $10,000 grant to partner with Skokie's nonprofit Northlight Theater. The funds went to the hiring of a social justice and antiracist-minded local playwright and professional theater directors to work with the teens on the show.
"I do theater in a library environment to give teens the experience of creating independent theater separate from the pressures and competition of their school's drama departments," says Dapier. "What's important is that they all get a chance to contribute and provide a service to their fellow citizens."