In 2016, Nashville Maplewood High School English teacher Jarred Amato read an article with his class about book deserts, neighborhoods with limited access to books. "We were outraged," he says. "We thought: 'What can we do together to solve this problem?'"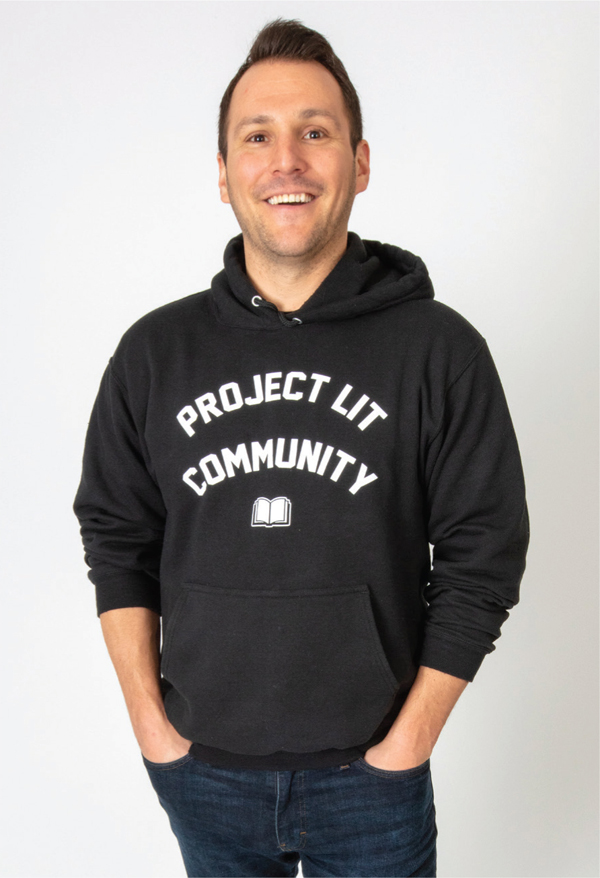 CURRENT POSITION
English Teacher, Middle College High School, Nashville Metro Public Schools
DEGREE
EdD, Lipscomb University, 2018
HONORS
Inspiring Educator Award, Nashville Public Education Foundation, 2018; Penguin Random House Educator of the Year, 2017
FOLLOW
@jarredamato; @ProjectLITcomm; jarredamato.wordpress.com
Photo by Bob Schatz

Nurturing Teen Reading
In 2016, Nashville Maplewood High School English teacher Jarred Amato read an article with his class about book deserts, neighborhoods with limited access to books. "We were outraged," he says. "We thought: 'What can we do together to solve this problem?'"
Amato and his students organized a book drive and set up kiosks using converted USA Today newsstands in community centers and YMCAs across Nashville to make 15,000 books available to families. But they realized this wasn't enough. Students needed access to high-quality books that would engage them and spark deeper conversations. They had to be culturally relevant to the predominantly African American readership in their community. "Most of our students had never seen themselves reflected in the curriculum," says Amato.
Amato and his students created a monthly book club to discuss and celebrate texts that held great meaning for them. This was the origin of the student-driven Project LIT. From these modest beginnings, the project has grown to include more than 1,300 chapters across 48 states. "It's amazing to know that we're helping thousands of students fall in love with reading," Amato says, "and nurturing the next generation of artists, authors, poets, activists, teachers, and entrepreneurs."
At Amato's current school, there are two Project LIT book clubs—one at lunch, the other after school. Students vote on what they want to read, with input from chapters all over. The 2019–20 titles were announced last May—20 middle grade and 20 YA selections. The 2020–21 titles will be released in two waves, says Amato, in late April/early May and August/September "to generate excitement as we kick off the school year." The project also has a large social media presence, with students and advisors sharing inspiration and recommending books online. The face-to-face Project Lit Summit, where students, educators, and authors come together, is canceled this year due to COVID-19; virtual PD and community building for chapter leaders is in the works.
Amato says the keys to engaging students in reading are giving them choice, access, time, and community. "Young people crave belonging and connection," he says. "Reading, too often, is a solitary experience, and our Project LIT community makes it a shared one. We've got to acknowledge that the traditional model of English class isn't working for many students, and ... be willing to try something different."