Issue-oriented books like Michelle Bowdler Is Rape a Crime? and DW Gibson's 14 Miles (of border wall). A strong showing in science (from evolution and neurology to nature and astrophysics). Some intriguing art titles, including coverage of pianos in Siberia. Titles to help and inspire, like Pittsburgh Steeler James Conner's Fear Is a Choice. Plus Gerald Marzorati's Seeing Serena. All big June nonfiction.
Issues
Bowdler, Michelle. Is Rape a Crime?: A Memoir, an Investigation, and a Manifesto. Flatiron: Macmillan. Jun. 2020. 256p. ISBN 9781250255631. $27.99; ebk. ISBN 9781250255754. CD. SEXUAL ABUSE AND HARASSMENT
Cervini, Eric. The Deviant's War: The Homosexual vs. the United States of America. Farrar. Jun. 2020. 592p. ISBN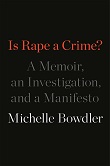 9780374139797. $35; ebk. ISBN 9780374721565. SOCIAL HISTORY/LGBTQ
Garber, Marjorie. Character: The History of a Cultural Obsession. Farrar. Jun. 2020. 464p. ISBN 9780374120856. $30; ebk. ISBN 9780374709372. ETHICS/PHILOSOPHY
Gibson, DW. 14 Miles. S. & S. Jun. 2020. 320p. ISBN 9781501183416. $28; ebk. ISBN 9781501183423. CD. IMMIGRATION
Lawson, Shayla. This Is Major: Notes on Diana Ross, Dark Girls, and Being Dope. Harper Perennial. Jun. 2020. 336p. ISBN 9780062890597. pap. $16.99; ebk. ISBN 9780062890603. ESSAYS
Stebenne, David. Promised Land: How the Rise of the Middle Class Transformed America, 1929–1968. Scribner. Jun. 2020. 320p. ISBN 9781982102708. $28; ebk. ISBN 9781982102722. HISTORY
Veitch, James. Dot Con: The Art of Scamming a Scammer. Hachette. Jun. 2020. 192p. ISBN 9780306874598. $17; ebk. ISBN 9780306874581. Downloadable. HUMOR/INTERNET
In Is Rape a Crime? Pushcart–nominated Bowdler, executive director of Health & Wellness at Tufts University, draws on her own rape in 1980s Boston to examine the nature and legal status of what is the least reported major felony and least successfully prosecuted, with fewer than three percent of rapists ever serving time for their crime. Cervini's The Deviant's War draws on firsthand accounts, newly declassified FBI records, and 40,000 personal documents to chronicle the pre-Stonewall case of Frank Kameny, who was dismissed from his work as an astronomer for the U.S. government for being homosexual—and fought back. Distinguished for her work in a wide range of topics, Harvard professor Garber applies philosophical rigor as she examines the enduring concept of Character and considers whether or not it is fixed. Award-winning journalist Gibson recounts the construction of 14 Miles of wall—that is, the steel-ribbed border wall at San Diego soaring 18 feet into the blue—and the issues surrounding its existence (60,000-copy first printing). In This Is Major, poet Lawson offers a series of personal essays celebrating black girl culture and examining stereotypes, microaggressions, and issues like the virtual invisibility of black women to AI (50,000-copy first printing). In Promised Land, prominent commentator Stebenne (e.g., NPR, Huffington Post) explores how the middle class boomed with New Deal reforms mid-20th-century and started shrinking again when Sixties politics began highlighting issues (white privilege, environmental degradation) middle-class success reinforced (50,000-copy first printing). Former Apple Store Genius and viral comedian Veitch, whose TED talk "This Is What Happens When You Reply To Scam Email" is the third most viewed TED talk ever (and projected to be the first by October 2020), goes Dot Com to reveal what really happens when you reply (which, wittily, he did) to those annoying scams (40,000-copy first printing).
Science
Dolin, Eric Jay. A Furious Sky: The Five-Hundred-Year History of America's Hurricanes. Liveright: Norton. Jun. 2020. 384p. ISBN 9781631495274. $29.95; ebk. ISBN 9781631495281. HISTORY/HURRICANES
Gessner, David. Leave It As It Is: A Journey Through Theodore Roosevelt's American Wilderness. S. & S. Jun. 2020. 288p.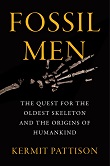 ISBN 9781982105044. $26; ebk. ISBN 9781982105068.
Gupta, Sanjay. Keep Sharp: Build a Better Brain at Any Age. S. & S. Jun. 2020. 336p. ISBN 9781501166730. $28; ebk. ISBN 9781501166754. NEUROSCIENCE
Lyman, Monty. The Remarkable Life of the Skin: An Intimate Journey Across Our Largest Organ. Atlantic Monthly. June. 2020. 304p. ISBN 9780802129406. $27; ebk. ISBN 9780802147073. LIFE SCIENCES
Mack, Katie. The End of Everything: (Astrophysically Speaking). Scribner. Jun. 2020. 240p. ISBN 9781982103545. $26. ASTROPHYSICS
Masson, Jeffrey Moussaieff. Lost Companions: Reflections on the Death of Pets. St. Martin's. Jun. 2020. 256p. ISBN 9781250202239. $27.99; ebk. ISBN 9781250202246. PETS
Pattison, Kermit. Fossil Men: The Quest for the Oldest Skeleton and the Origins of Humankind. Morrow. Jun. 2020. 352p. ISBN 9780062410283. $32.50; ebk. ISBN 9780062410306. EVOLUTION
Slaght, Jonathan C. Owls of the Eastern Ice: A Quest To Find and Save the World's Largest Owl. Farrar. Jun. 2020. 368p. ISBN 9780374228484. $27; ebk. ISBN 9780374718091. NATURE/BIRDS
Best-selling author Dolin shows how A Furious Sky—that is, hurricanes—have shaped American history, starting with the Age of Discovery, when their raw winds buffeted Columbus's ships, through a 19th-century Jesuit priest's brilliant predictions, to the horrors wrought by Hurricane Maria. New York Times best-selling author Gessner argues for the continued protection of public land, treading the paths taken by spearheading conservationist Theodore Roosevelt while asking us to heed Roosevelt's advice to Leave It As It Is (50,000-copy first printing). New York Times best-selling author Gupta (Chasing Life), CNN's Emmy Award–winning chief medical correspondent, uses science to explain how to Keep Sharp as we age. In The Remarkable Life of the Skin, already inspiring raves in Britain, world-class dermatologist Lyman explores our largest and fastest-growing organ. MIT astrophysicist Mack's The End of Everything (Astrophysically Speaking) suggests five way the universe could end billions of years from now (125,000-copy first printing). New York Times best-selling author Masson wisely argues that with three-quarters of Americans sharing their homes with pets, we need better ways to mourn our Lost Companions when they die. Journalist Pattison's Fossil Men recounts the 1994 discovery in Ethiopia of a human skeleton now classified as Ardipithecus ramidus that proved to be 4.4 million years old, more than a million years older than famous Lucy, then the oldest known human ancestor (150,000-copy first printing). Russia and Northeast Asia Coordinator for the Wildlife Conservation Society, Slaght recaps his adventurous five years (drinking vodka with hermits, rushing across thawing rivers) as he studies the elusive Blakiston's fish owl, largest of its genus and appropriately called Owls of the Eastern Ice as they are found only in far northeastern Russia, Korea, and Japan.
Arts
Basbanes, Nicholas A. Cross of Snow: A Life of Henry Wadsworth Longfellow. Knopf. Jun. 2020. 464p. ISBN 9781101875148. $35; ebk. ISBN 9781101875155. LITERATURE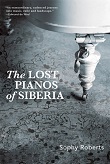 Roberts, Sophy. The Lost Pianos of Siberia. Grove. Jun. 2020. 448p. ISBN 9780802149282. $26. MUSIC/HISTORY
Schoenbaum, David. The Lives of Isaac Stern. Norton. Jun. 2020. 256p. ISBN 9780393634617. $30; ebk. ISBN 9780393634624. MUSIC
Talley, Andre Leon. The Chiffon Trenches: A Memoir. Ballantine. Jun. 2020. 256p. ISBN 9780593129258. $28; ebk. ISBN 9780593129265. Downloadable. MEMOIR/DESIGN
Basbanes, whose A Gentle Madness was a National Book Critics Circle finalist, investigates the life of durable American poet Longfellow in Cross of Snow. Tracking down The Lost Pianos of Siberia, journalist Roberts explores the role played by the piano in icy, ghost-haunted Siberia, allowing townsfolk, exiled revolutionaries, and prisoners of the Gulag to make the music so deeply embedded in Russian culture. Historian Schoenbaum (The Violin) offers The Lives of Isaac Stern, a first biography on the centennial of his birth. And fashion icon and former Vogue creative director Talley's visit to The Chiffon Trenches can only be a vivid overview of recent fashion history.
Help and Inspiration
Conner, James. Fear Is a Choice: Tackling Life's Challenges with Dignity, Grit, and Determination. Harper. Jun. 2020. 224p. ISBN 9780062938435. $27.99; ebk. ISBN 9780062938442. MEMOIR/SPORTS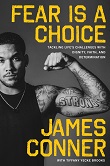 Grace, Nancy with John Hassan. Don't Be a Victim: Fighting Back Against America's Crime Wave. Grand Central. Jun. 2020. 384p. ISBN 9781538732298. $30; ebk. ISBN 9781538732274. CD/downloadable. SELF-HELP
Lindstrom, Martin. The Ministry of Common Sense: How to Eliminate Bureaucratic Red Tape, Bad Excuses, and Corporate BS. Houghton Harcourt. Jun. 2020. 256p. ISBN 9780358272564. $28; ebk. ISBN 9780358275015. BUSINESS/MANAGEMENT
Marshall, Capricia Penavic. Protocol: Why Diplomacy Matters and How To Make It Work for You. Ecco. Jun. 2020. 336p. ISBN 9780062844460. $28.99; ebk. ISBN 9780062844477. DIPLOMACY
Rooney, Dan, Lt. Col. Fly Into the Wind: How To Harness Faith and Fearlessness on Your Ascent to Greatness. Dey Street: HarperCollins. Jun. 2020. 256p. ISBN 9780062966070. $25.99; ebk ISBN 9780062966094. lrg. prnt. SELF-HELP
Conner, a shining-bright Pittsburgh Steelers running back and ACC Player of the Year, relates conquering Hodgkin's lymphoma during his junior year as a major player at the University of Pittsburgh by declaring Fear Is A Choice. Award-winning legal journalist Grace, who was initially motivated to become a felony prosecutor by murder of her fiancé shortly before their wedding, offers straightforward information on protecting yourself from assaults, car-jacking, and more in Don't Be a Victim (100,000-copy first printing). In The Ministry of Common Sense, top business author Lindstrom explains how businesses—and folks generally—can avoid implementing procedures that are supposed to move things along but instead prove nonsensical, from needlessly wordy reports to wire-crossed conference-room booking protocols (75,000-copy first printing). In Protocol, Marshall, social secretary to the Clintons and Obama's former White House chief of protocol, explains the importance of etiquette—on the world stage and elsewhere (100,000-copy first printing). And in Fly into the Wind, F-16 fighter pilot Rooney, winner of the White House Volunteer Service Medal and named one of ABC World News's Persons of the Year, shares a positive philosophy using the aeronautical term Ceiling and Visibility Unrestricted to cope with the inevitable stresses of being in military service (125,000-copy first printing).
And Don't Miss…
Marzorati, Gerald. Seeing Serena. Scribner. Jun. 2020. 320p. ISBN 9781982127886. $26; ebk. ISBN 9781982127909. CD. SPORTS
Former editor of the New York Times Magazine and winner of the PEN/Martha Albrand Award, Marzorati follows Serena Williams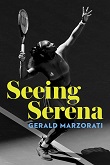 during her 2019 tour season, when she returned to tennis after giving birth to a daughter and battled age, injuries, and far younger opponents to prove why she remains one of the world's best athletes—and a cultural icon as well (75,000-copy first printing).