There's something for every history buff in August's variegated lineup.
Click here for additional new Prepub Alert columns
Bergen, Peter L. The Rise and Fall of Osama bin Laden: The Biography. S. & S. Aug. 2021. 320p. ISBN 9781982170523. $30. HISTORY
Eder, Mari K. The Girls Who Stepped Out of Line: Untold Stories of the Women Who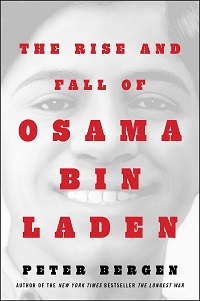 Changed the Course of World War II. Sourcebooks Landmark. Aug. 2021. 400p. ISBN 9781728230924. $26.99. HISTORY
English, Charlie. The Gallery of Miracles and Madness: Insanity, Modernism, and Hitler's War on Art. Random. Aug. 2021. 336p. ISBN 9780525512059. $28. Downloadable. HISTORY
Evans, Siân. Maiden Voyages: Magnificent Ocean Liners and the Women Who Traveled and Worked Aboard Them. St. Martin's. Aug. 2021. 368p. ISBN 9781250246462. $28.99. HISTORY
Kavanagh Julie. The Irish Assassins: Conspiracy, Revenge and the Phoenix Park Murders That Stunned Victorian England. Atlantic Monthly. Aug. 2021. 416p. ISBN 9780802149367. $28. HISTORY
Levine, Robert S. The Failed Promise: Reconstruction, Frederick Douglass, and the Impeachment of Andrew Johnson. Norton. Aug. 2021. 256p. ISBN 9781324004752. $26.95. HISTORY
Ngai, Mae. The Chinese Question: The Gold Rushes and Global Politics. Norton. Aug. 2021. 480p. ISBN 9780393634167. $30. HISTORY
Quilligan, Maureen. When Women Ruled the World: Making the Renaissance in Europe. Liveright: Norton. Aug. 2021. 320p. ISBN 9781631497964. $29.95. HISTORY
Raab, Scott & Joe Woolhead. Once More to the Sky: The Rebuilding of the World Trade Center. S. & S. Aug. 2021. 352p. ISBN 9781982176143. $35. HISTORY
Ronald, Susan. The Ambassador: Joseph P. Kennedy at the Court of St. James's 1938–1940. St. Martin's. Aug. 2021. 464p. ISBN 9781250238726. $29.99. HISTORY
Rooney, David. About Time: A History of Civilization in Twelve Clocks. Norton. Aug. 2021. 304p. ISBN 9780393867930. $28.95. HISTORY
Sabin, Paul. Public Citizens: The Attack on Big Government and the Remaking of American Liberalism. Norton. Aug. 2021. 224p. ISBN 9780393634044. $26.95. HISTORY
Drawing on fresh documents and exclusive interviews with family members and associates, CNN analyst Bergen (The United States of Jihad) limns The Rise and Fall of Osama bin Laden (60,000-copy first printing). From retired U.S. Army Major General Eder, The Girls Who Stepped Out of Line chronicles 15 mostly unacknowledged women, from a Dutch resistance fighter to an American tennis champion, who made a difference during World War II. In The Gallery of Miracles and Madness, former Guardian journalist English shows how a Weimar-era doctor's collection of artwork by psychiatric patients inspired emerging artists, which led to a Nazi backlash against so-called degenerate art and the patient-artists themselves, who were removed from their institutions and gassed in a run-up to the Final Solution. Evan's Maiden Voyages moves from celebrities in first class to professional women in second class to desperate émigrés in steerage—not to mention crew members—to reveal how the Golden Age of ocean liner travel changed women's lives (60,000-copy first printing). As seen in Costa biography finalist Kavanaugh's The Irish Assassins, republican militants in 1882 Dublin murdered Lord Frederick Cavendish and Thomas Burke—Britain's chief secretary and undersecretary for Ireland, respectively—which ended their secret negotiations to achieve peace and independence for Ireland. Distinguished University Professor at the University of Maryland, College Park, Levine details the battle that raged between Frederick Douglass and President Andrew Johnson as The Failed Promise of Reconstruction became evident. Lung Family Professor of Asian American Studies at Columbia University, Ngai (Impossible Subjects) shows how Chinese immigration to California, Australia, and South Africa during the late 19th-century gold rush helped create new racist stereotypes and raised The Chinese Question: should such immigration be banned? In When Women Ruled the World, Quilligan shoves aside hoary notions of rancor to show that the great women rulers of the Renaissance, particularly Catherine de' Medici, Mary Tudor, Elizabeth I, and Mary, Queen of Scots, instead cultivated mutual respect. In Once More to the Sky, Raab collects the ten Esquire pieces he wrote between 2005 and 2015 about the construction of One World Trade Center, adding an epilog and including Woolhead's four-color photographs throughout. In The Ambassador, British American biographer Ronald ( Condé Nast) digs deep into Joseph P. Kennedy's controversial tenure as U.S. Ambassador to the Court of St. James's (75,000-copy first printing). Former curator of timekeeping at the Royal Observatory Greenwich and director of the Antiquarian Horological Society, Rooney is the author to tell us About Time—that is, the history of timekeeping worldwide. Director of the Yale Environmental Humanities Program, Sabin argues in Public Citizens that the new social crusaders who emerged from Sixties protests to decry corrupt government (e.g., Jane Jacobs and Ralph Nader) ironically undermined big-government liberalism and paved the way for Reaganism.
Click here for additional new Prepub Alert columns