The history of a bejeweled family, businessmen aiming to do good, schooldays split between Africa and an elite education, and the military dog that helped bring down Osama bin Laden, recalled by his handler.
Brickell, Francesca Cartier. The Cartiers: The Untold Story of the Family Behind the Jewelry Empire. Ballantine. Oct. 2019. 352p. ISBN 9780525621614. $30; ebk. ISBN 9780525621621. Downloadable. MEMOIR/HISTORY
To craft this insider's account of the world-renowned jeweler Cartier, founded in Paris by her great-great-great grandfather in 1847, Brickell searched through family archives and spent hours interviewing her grandfather, Jean-Jacques Cartier. Thus she sails through four generations, from the time of Napoleon III to the 1960s, placing at the heart of her story three brothers who took the firm international in the early 20th century. Sparkly color illustrations, too.
Chesney, Willard & Joe Layden. No Ordinary Dog: My Partner from the SEAL Teams to the Bin Laden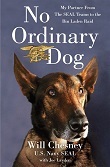 Raid. St. Martin's. Nov. 2019. 352p. ISBN 9781250176950. $28.99; ebk. ISBN 9781250176967. CD. MEMOIR
After Navy SEALs eliminated Osama bin Laden at his Pakistan compound in May 2011, the name of only one participant was made public: that of military dog Cairo, a Belgian Malinois. Here, handler Chesney tells Cairo's story, from his work with Cairo in the DEVGRU canine program, starting in 2008; to the many critical missions they undertook, including the bin Laden operation; to the grenade explosion that left Chesney with a brain injury and PTSD, when Cairo eased his pain as modern medicine could not. And Chesney was there at the end for Cairo, too. What a story!
Dorenbos, Jon with Larry Platt. Life Is Magic: An Extraordinary True Story of Trauma and Transformation. Avid: S. & S. Nov. 2019. 288p. ISBN 9781982101244. $27. MEMOIR
Dorenbos isn't just an NFL All-Pro, a topnotch magician who made the finals of America's Got Talent, and a motivational speaker for Fortune 500 companies. He's also a survivor of terrible tragedy: in 1992, when he was 12, his father murdered his mother, and Dorenbos got through his pain by turning to football and magic. Then, in 2017, just after he was traded to the New Orleans Saints, he was diagnosed with a life-threatening heart condition. His advice for coping: "Talk to yourself, don't listen to yourself"—and choose happiness. With a 100,000-copy first printing.
Emerson, Clint. The Right Kind of Crazy: My Life as a Navy SEAL, Covert Operative, and Boy Scout from Hell. Atria. Nov. 2019. 272p. ISBN 9781501184161. $28. MEMOIR
Author of the best-selling 100 Deadly Skills, retired Navy SEAL Emerson is the only SEAL inducted into the International Spy Museum. His career blended intelligence with operations, requiring subterfuge and high-tech surveillance tools, and the code he lived by isn't for Sunday school: "if you aren't cheating, you aren't trying" and "it's only illegal if you get caught." With a 100,000-copy first printing.
Prince, James. The Art & Science of Respect: A Memoir. Amistad. Nov. 2019. 320p. ISBN 9780062959874. $25.99; ebk. ISBN 9780062959898. MEMOIR/BUSINESS
How do you get to be a leading Hip Hop magnate and CEO of Rap-A-Lot Records, hugely influencing the music world today? (One of his great successes: international superstar Drake.) And a boxing manager boasting talents like Floyd Mayweather and Andre Ward? And a parent raising seven children while remaining actively engaged in your hometown, Houston's Fifth Ward? You follow Prince's advice: "I was taught that you must believe in something bigger than yourself in order to get something bigger than yourself." With a 65,000-copy first printing.
Roberts, Keena. Wild Life: Dispatches from a Childhood of Baboons and Button-Downs. Grand Central. Nov. 2019. 352p. ISBN 9781538745151. $28; ebk. ISBN 9781538745144. lrg. prnt. Downloadable. MEMOIR
Like a real-life Cady Heron from Mean Girls, Roberts grew up dividing her time between a camp in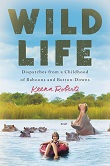 Botswana, where her famous primatologist parents studied a baboon colony, and a prestigious Philadelphia private school where the top-echelon snobs were a lot more intimidating than Africa's lions, elephants, and hippos. It took a while, but she's finally figured out where she fits in: having worked for the U.S. Department of Health and Human Services in HIV/AIDS and LGBT health policy, she now tracks consumer health for an international market research company in more than 100 countries worldwide.
With a 25,000-copy first printing.Sagan, Sasha. For Small Creatures Such as We: Rituals for Finding Meaning in Our Unlikely World. Putnam. Oct. 2019. 288p. ISBN 9780735218772. $26; ebk. ISBN 9780735218789. Downloadable. MEMOIR
Daughter of the astronomer Carl Sagan and the writer and producer Ann Druyan and herself a TV producer, filmmaker, editor, and speaker, Sagan was raised in a secular household and found when her own daughter was born that she wanted a new set of rituals for honoring births, deaths, anniversaries, and more. Here she explains how she sought the basis for such rituals in natural phenomena. The result is reportedly a warm and open-hearted memoir/self-help blend.
Stack, Ed. It's How We Play the Game: Build a Business, Take a Stand, Make a Difference. Scribner. Nov. 2019. 320p. ISBN 9781982116910. $28. MEMOIR
Started in 1948 by Stack's father, Richard, as Dick's Bait and Tackle, DICK's Sporting Goods is now America's largest sporting goods retailer, boasting over 800 locations and close to $9 billion in sales. Chairman and CEO Stack has always thought of DICK's not just as a business but as a force for good in the community, which is why after the 2018 Marjory Stoneman Douglas High School in Parkland, FL, DICK's became the first major retailer to pull all semi-automatic weapons from its shelves and raise the age of gun purchase to 21. Stack also destroyed $5 million of assault-type rifles then in the inventory. A lot more than a memoir; with a 125,000-copy first printing.