A senator, a refugee, and a performer tell their stories.
Hirono, Mazie K. Heart of Fire: An Immigrant Daughter's Story. Viking. Apr. 2021. 352p. ISBN 9781984881601. $28. Downloadable. MEMOIR/POLITICAL
The first Asian American woman and the only immigrant serving in the U.S. Senate,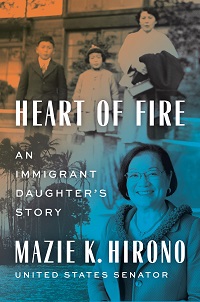 Hirono was raised on a Japanese rice farm until age seven, when her mother walked out on an abusive husband and set sail for Hawaii. Through her five decades of public service, Hirono has been a progressive but soft-spoken presence but has recently risen to prominence as a critic of the current administration and is ready to tell her story.
Mbolela, Emmanuel. Refugee: A Memoir. Farrar. Apr. 2021. 256p. tr. from German by Charlotte Collins. ISBN 9780374240929. $28. MEMOIR/SOCIAL ACTIVISTS
Born in the Democratic Republic of the Congo, Mbolela fled his country in 2002 after being imprisoned for his political activities and sojourned through West Africa, the Sahara, and Morocco before obtaining asylum in the Netherlands in 2008. Here he recounts his odyssey and his activism.
Zauner, Michelle. Crying in H Mart: A Memoir. Knopf. 256p. ISBN 9780525657743. $26.95. lrg. prnt. Downloadable. MEMOIR/CULTURAL HERITAGE
A singer/guitarist who performs shoegaze-inspired indie pop under the name Japanese Breakfast, Zauner recalls being the only Asian American in her school in Eugene, OR, then progressing to an East Coast college, a career, and marriage, getting the life she wanted yet moving away from her Korean identity. Her mother's diagnosis of terminal cancer brought her home. Spun from a 2018 New Yorker essay that went viral.