What we're doing wrong about hurricanes, how we can stop aging, how human and other animal adolescents are alike, and how much dogs love us.
Gaul, Gilbert M. The Geography of Risk: Epic Storms, Rising Seas, and the Cost of America's Coasts. Sarah Crichton: Farrar. Sept. 2019. 304p. ISBN 9780374160807. $28; ebk. ISBN 9780374718527. ENVIRONMENTAL POLICY
Twice winner of the Pulitzer Prize and four times a finalist, investigative reporter Gaul gives us one serious wrinkle in the perfect storm of bad weather accompanying climate change. Five of the costliest hurricanes in U.S. history have made landfall since 2005, and with the oceans continuing to warm, we could soon be seeing the $250 billion hurricane. The problem: given federal subsidies, tax breaks, low-interest loans, and government flood insurance, Americans have blithely built $3 trillion worth of property in dangerous spots like barrier islands and coastal floodplains. It's got to stop.
Natterson-Horowitz, Barbara & Kathryn Bowers. Wildhood: The Epic Journey from Adolescence to Adulthood in Humans and Other Animals. Scribner. Sept. 2019. 288p. ISBN 9781501164699. $27; ebk. ISBN 9781501164712. LIFE SCIENCES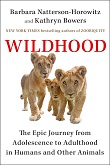 Coauthors of the New York Times best-selling Zoobiquity, Natterson-Horowitz, MD, professor of Medicine/Cardiology at UCLA and a visiting professor at Harvard, joins with science journalist Bowers to tie together adolescent humans and other animals by citing the four challenges they face: how to be safe, how to navigate hierarchy, how to court potential mates, and how to feed themselves. And they do so by chronicling four animals: Ursula, a young king penguin; Shrink, a tops-in-the-crowd hyena; Salt, a ruling-mom humpback whale; and Slavc, an ever-wandering European wolf. How cool is this! With a 100,000-copy first printing.
Sinclair, David. Lifespan: The Revolutionary Science of Why We Age—and Why We Don't Have To. Atria. Sept. 2019. 352p. ISBN 9781501191978. $28; ebk. ISBN 9781501191992.
Genetics professor at Harvard Medical School and founding director of Harvard's Paul F. Glenn Center for the Biological Mechanisms of Aging, Sinclair offers the perk-up-your-ears news that we have far more control over aging than we ever thought. Globally, scientists are now trying to understand how to slow, stop, and even reverse aging, and here's the inside story. With a 150,000-copy first printing.
Wynne, Clive D.L. Dog Is Love: Why and How Your Dog Loves You. Houghton Harcourt. Sept. 2019. 288p. ISBN 9781328543967. $28; ebk. ISBN 9781328543981. PETS
Founding director of the wonderfully named Canine Science Collaboratory at Arizona State University, Wynne used to wonder whether dogs really had a unique ability to understand humans. Then he adopted an adorable mutt named Xephos and through work and play can now argue that dogs are our perfect companions because they actually can love. Coulda told yah! With a 75,000-copy first printing.