The 2020 Pulitzer Prizes were announced on YouTube on Monday, May 4, by Pulitzer administrator Dana Canedy. Here, this year's poetry winner talks about reading what's on the page and a love for verse that started in the library.
"The best way to read a poem is from left to right," declares 2020 Pulitzer Prize winner Jericho Brown (The Tradition, Copper Canyon), "the same way everybody reads email, the same way they read nonfiction, the same way they read fiction, the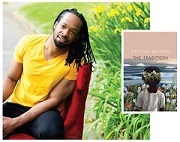 same way they read a brochure." That the elegant, immediately affecting lines in Brown's own poetry make reading him from left to right a smooth-sailing pleasure is less the point than his firm belief that while poetry can deliver meaning and resonance, we should not start by tearing it apart in search of what's presumably buried.
"I really want to get rid of the idea that poetry is something that you must decode every step of the way as you are reading," Brown said in a phone interview with LJ. Typically, he explains, he asks students in his "Introduction to Poetry" class to read the first line or sentence of a poem—say, "The man walked outside and lowered his eyes to look at the sidewalk"—and tell him what just happened. "The answer I often get is, 'It reminds me of my grandmother'—like, why? A man walked outside and looked at the sidewalk, and somehow or another this student has been taught to do something other than to take that information as fact. And the only reason they've been taught that is because it's a poem."
Brown counts himself lucky that he didn't come to poetry with the need to be so analytical. When he was a child, his mother ("an improvisational genius") would drop him off at the library on her way to doing errands. There were no computers to play with at the time, but of course there were books. Though he confesses that he was intimidated by prose ("how is it possible that you finish this thing with all these words?"), he found poetry collections, with their slender page count and ample white space, enchantingly approachable. And so he devoured Walt Whitman and Emily Dickinson, Langston Hughes and Phillis Wheatley, Gwendolyn Brooks and Robert Pinsky, Sylvia Plath and Anne Sexton.
"I didn't understand a word of them, and I didn't care," Brown confides cheerfully. "I could disinterestedly and distractedly read just for the sound of the poems and the beauty of the images, not knowing that poems could be read in a way that people like to read them, for explication." As he points out, the librarians weren't necessarily intimate with poetry but knew a verse-famished boy when they saw one and were happy to hand him whatever they had on the shelves—even a Sexton collection including the poem "Wanting To Die." "So let me tell you why that is good," says Brown. "It's good that they didn't know what the poems were about because I was reading the best poems I could possibly read and they weren't trying to censor my reading."
A librarian today would likely hesitate to hand a ten-year-old that collection, but for Brown the experience was profound. "I really felt like I had company," he insists. "Although I didn't understand the poem, I understood the title and I understood that the poem must have been about this feeling that I had as a kid." When he first reported to his mother that he'd finished a poetry collection, the look on her face and her excited "My baby read a booookkk"—delivered at a pitch that "would have put Mariah Carey's whistle register to shame"—kept Brown reading. But what made him a poet was that moment of recognizing what Sexton's poem conveyed—and that that was something poetry could do. "As a poet," he says, "I'm always trying to re-create that moment for other people and for myself."
Hand a troubled ten-year-old or curious 53-year-old a copy of The Tradition, and in keeping with his suspicion of code-breaking, Brown wants them to approach it "just that someone is telling them a story, and they only have to follow along and hear the story that's being told." Not that he sees himself as a narrative poet, though he professes a fondness for folklore, or "porch talk," the gossipy information that people like his grandmother traded with neighbors across the way, leaving out the darker bits when the children were in earshot. (The left-out bits remain exactly what intrigues him as a poet.)
Instead of storytelling, explains Brown, he aims to create an environment or atmosphere—"because poems are about the atmosphere that makes us feel that a story has been told." He likens poetry to catching a conversation unfolding on the other side of a wall. Initially, everything is out of context, but a certain resonance soon sets in, and readers start creating their own context. Similarly, because "they're not searching for meaning every step of the way in the lyrics," people often can't sing their favorite song straight through. But that doesn't keep them from cherishing the song and knowing what it's about. With poetry, if readers would only follow along and let themselves see what's there, then a feeling, an outline, a sense of happenstance—and finally the poem itself—will emerge.
To create that tell-tale ambience, to re-create that remembered moment harking back to the library, Brown follows his own advice, working line by line in an act of discovery. "I try to write lines that for whatever reason surprise me or that interest me in their music or that seem paradoxical or clever or ironic," he says, "and I put them together at first not thinking about their meaning or their narrative propensity." Then he begins pulling some sort of coherence from that jack-straws jumble—"if you have any mess in front of you, you try to make sense of it because you are a human being"—and moves toward something with a beginning, a middle, and an end.
The result is one of Brown's masterly poems, its lines still shimmering as they connect. Yet if he creates a seamless blend—because "I'm an art maker, and I like making things that feel they sink into you"—he also unsettles readers with spiky intimations of anxiety and racial disparity, sexual confusion and outsider status. "Do I think about making readers uneasy? No. Will I? Yes, if I am doing what I am supposed to do. If you read a poem that does not subvert your idea about how you've been living your life, then you have not read a poem."
Poetry knocks us aslant because it shows us the world aslant, and as Brown argues, it does so by telling the truth: "The truth makes people uneasy, and you know it makes people uneasy because when someone walks outside and looks at the sidewalk in a poem, my students want to tell me that it reminds them of their grandmother." Fortunately, readers come to poetry ready to be undone. "What we ask of poets we ask of no other writer, which is why people are so hard on poets and why poets are so hard on one another," concludes Brown. "We want poems to do this magic that no other writing is expected to do." And aren't we grateful for that.