Whether encountering a corpse in the ruins of Pompeii or trying to discover the identity of young women who may be human trafficking victims, this month's mystery protagonists go for blood.
Alexander, Tasha. In the Shadow of Vesuvius: A Lady Emily Mystery. Minotaur: St. Martin's. Jan. 2020. 304p. ISBN 9781250164735. $27.99; ebk. ISBN 9781250164759. CD. MYSTERY
In the ruins of Pompeii, Lady Emily Hargreaves (traveling with husband Colin and friend Ivy Brandon)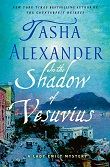 discovers a corpse whose sad state the police dismissively attribute to the work of local gangs. Emily immediately dismisses their lack of concern and, with the help of some archaeologists at the local dig, starts investigating. Next in the best-selling "Lady Emily" series.
Cox, Susan. The Man in the Microwave Oven: A Mystery. Minotaur: St. Martin's. Jan. 2020. 304p. ISBN 9781250116208. $27.99; ebk. ISBN 9781250116215. MYSTERY
In her second go-around, San Francisco shop owner Theo Bogart is just recovering from events in The Man on the Washing Machine, winner of the Minotaur Books/Mystery Writers of America First Crime Novel Competition, when friend Nat Moore finds a human finger in his coffee shop's microwave. What's more, Theo's grandfather, a former agent for the British Secret Service, is bringing trouble to her doorstep.
Dorsey, Tim. Naked Came the Florida Man. Morrow. Jan. 2020. 320p. ISBN 9780062796004. $26.99; ebk. ISBN 9780062795953. lrg. prnt. MYSTERY/PRIVATE INVESTIGATOR
In his latest outing, Serge A. Storms tours Florida's graveyards with good buddy Colman, visiting not only the resting place of the famous TV dolphin Flipper but, more soberly, a forgotten mass grave in Palm Beach County holding the remains of African Americans killed by the Great Hurricane of 1928. Children in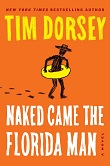 the area report that they've been running from a boogeyman hiding out in the surrounding sugar fields. Could this be the marauding Naked Florida Man of whom Serge has heard? With a 75,000-copy first printing.
Fellowes, Jessica. The Mitford Scandal. Minotaur: St. Martin's. Jan. 2020. 352p. ISBN 9781250316806. $26.99; ebk. ISBN 9781250316820. CD. MYSTERY
In this third in the well-received "Mitford Murder" series, lady's maid Louisa Cannon has accompanied Diana Mitford to the Continent after her marriage to fabulously wealthy Bryan Guinness. But when they land in 1931 Berlin, Louisa is disturbed by a death bearing resemblance to that of a maid back home two years previously, whose last good-bye at a fancy society party was whisked aside as an accident. Fellowes is a New York Times best-selling author for her Downton Abbey guides.
James, Miranda. Careless Whiskers. Berkley. Jan. 2020. 304p. ISBN 9780451491152. $26; ebk. ISBN 9780451491176. MYSTERY
Poor Charlie Harris. Daughter Laura is appearing in the debut of a play by a hot new author with local connections when the obnoxious actor she stars opposite—brought in from Hollywood with his hangers-on in tow—keels over dead onstage. Now Laura is accused of his murder, and Charlie must clear her name with the help of faithful feline Diesel. Next in the New York Times best-selling "Cat in the Stacks
Mystery" series.
Johansen, Iris & Roy Johansen. Hindsight. Grand Central. Jan. 2020. 368p. ISBN 9781538762929. $28; ebk. ISBN 9781538762912. lib. ebk. ISBN 9781538733073. CD/downloadable. MYSTERY
Dr. Kendra Michaels, blind for the first 20 years of her life before gaining her sight following a revolutionary surgical procedure, is famed as an investigator for senses made especially sharp from her years without sight. Here, two staff members have been murdered at a school for the blind where Kendra spent her youth, but they are so oddly dissimilar as to give Kendra pause. Next in the New York Times best-selling series from juggernaut authors.
Levy, Lawrence H. Near Prospect Park: A Mary Handley Mystery. Ballantine. Jan. 2020. 304p. ISBN 9780451498465. pap. $17; ebk. ISBN 9780451498472. MYSTERY
In late 1890s Brooklyn, Mary Handley has put her detective work behind her after marrying muckraking reporter Harper Lloyd and having given birth to their daughter, Josephine. But she turns sleuth again when her husband winds up dead while pursuing a big story, eventually teaming with Commissioner Teddy Roosevelt to track the culprits to the highest levels of society. Next in a series from the two-time Emmy-nominated Levy that opened with the LJ-starred Second Street Station.
Luna, Louisa. The Janes: An Alice Vega Novel. Doubleday. Jan. 2020. 368p. ISBN 9780385545518. $26.95; ebk. ISBN 9780385545525. MYSTERY
In this follow-up to the YA author's widely heeded first adult novel, Two Girls Down, the bodies of two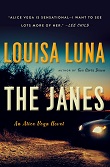 young women are found outside of San Diego. They carry no identification, and no one seems to be looking for them, leaving the police and the FBI deeply worried about the possibility of human trafficking. So they turn to unorthodox private investigator Alice Vega (with partner Max Caplan) to find out who these Janes really are. Topical chills from a rising star.
Meister, Ellen. Devil in the Details. Mira: Harlequin. Jan. 2020. 336p. ISBN 9780778309314. pap. $16.99; ebk. ISBN 9781488055317. MYSTERY
Surprised when she's picked as a Home Shopping Channel host after being fired from her previous job for being too mouthy, Dana Barry is equally flummoxed when Shopping Channel star Kitty Todd is shot dead in her office. She does know the prime suspect is innocent because they were enjoying themselves on the roof when the shot went off, and she's intrigued enough by ruggedly handsome Detective Marks to get further involved in the case. From the author of Dorothy Parker Drank Here; with a 75,000-copy first printing.
Melinek, Judy, M.D., & T.J. Mitchell. First Cut. Hanover Square: Harlequin. Jan. 2020. 336p. ISBN 9781335008305. $26.99; ebk. 9781488054389. MYSTERY
A former assistant medical examiner in San Francisco and now a forensic pathologist in Oakland, Melinek here joins with husband Mitchell, her coauthor on Working Stiff, for a debut novel featuring medical examiner Dr. Jessie Teska. Jessie suspects that an overdose case is actually a drug lord's coverup for murder, and though she's warned off the case she insists on investigating as more bodies pile up. With a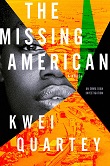 100,000-copy first printing.
Montgomery, Jess. The Hollows. Minotaur: St. Martin's. Jan. 2020. 320p. ISBN 9781250184542. $27.99; ebk. ISBN 9781250184559. MYSTERY
In this follow-up to her LJ-starred The Widows, set in 1926 Ohio, an elderly woman is killed walking along the tracks in Moonvale Tunnel, which cuts through the Appalachian hills. Newly elected Sheriff Lily Ross questions the brakeman's insistence that he saw a ghostly figure on the tracks beforehand, but where did the woman come from? No one has been reported missing. Second in the "Kinship" series.
Quartey, Kwei. The Missing American: An Emma Djan Investigation. Soho Crime. Jan. 2020. 432p. ISBN 9781641290708. $25.95; ebk. ISBN 9781641290715. MYSTERY
Born in Ghana and raised by a black American mother and a Ghanaian father, practicing physician Quartey launches a new series following his Darko Dawson mysteries. Again set in Accra, Ghana, it stars 26-year-old Emma Djan, who settles for a job at a private detective agency after realizing that she won't make it as a cop like her dad. Her case here is juicy, though: a middle-aged widower from Washington, DC, has come to Accra in search of the Ghanaian widow he has met in an online support group, and how he's missing.