Historical fiction ranging from a feminist retelling of Ariadne's story to different views on World War II.
Jenoff, Pam. The Woman with the Blue Star. Park Row: Harlequin. May 2021. 352p. ISBN 9780778311546. $28.99; pap. ISBN 9780778389385. $17.99. HISTORICAL
With the liquidation of the Kraków ghetto, 18-year-old Sadie Gault goes into hiding with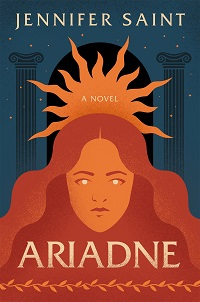 her pregnant mother in the city's sewers. One day, she locks eyes with wealthy Polish girl Ella Stepanek through the grate, and the two form a tentative friendship even though Ella is friendly with the occupying Germans. Trouble will come, but the friendship matters. With a 500,000-copy paperback and 10,000-copy hardcover first printing.
Lenze, Ulla. The Radio Operator. HarperVia. May 2021. 288p. tr. from German by Marshall Yarbrough. ISBN 9780063018389. $25.99. HISTORICAL
As war erupts in late 1930s Europe, German immigrant Joseph Klein enjoys the energy of his multicultural Harlem neighborhood in New York and his job as a shortwave radio operator. Too late he realizes that he is part of a Nazi spy ring, which leads to his deportation to Germany. But even as he flees to South America, he cannot escape his past. With a 75,000-copy first printing.
Rutherfurd, Edward. China. Doubleday. May 2021. 800p. ISBN 9780385538930. $35. HISTORICAL
Moving from the First Opium War through Mao's ascendance to the present day, Rutherfurd's narrative tracks the rising and falling fortunes of several Chinese, British, and American families to tell the larger story of China. Rutherfurd's historical sagas have sold millions.
Saint, Jennifer. Ariadne. Flatiron: Macmillan. May 2021. 304p. ISBN 9781250773586. $26.99. LITERARY
Like Madeline Miller's Circe, Saint's debut novel offers a feminist retelling of a classic Greek myth, this one centering on the princess who helped Theseus, Prince of Athens, slay the Minotaur. Here, Ariadne sees Theseus as a means of escaping her home, but she doesn't want to leave little sister Phaedra behind.
Spufford, Francis. Light Perpetual. Scribner. May 2021. 352p. ISBN 9781982174149. $27. LITERARY
In 1944, a crowd gathers at the Woolworths on London's Bexford High Street to gawk at a shipment of aluminum saucepans, a rare sight with most metal being melted down for the war effort. A fire that suddenly rips through the crowd claims numerous lives, with the narrative imagining how the lives of five dead children might have unfolded against the backdrop of a rapidly changing Britain. An esteemed writer of nonfiction, Spufford follows up his Costa, Ondaatje, and Desmond Elliot–winning first novel, Golden Hill.
Weir, Alison. Katharine Parr, The Sixth Wife. May 2021. Ballantine. 480p. ISBN 978 1101966631. $28.99. HISTORICAL
Weir wraps up her "Six Tudor Queens" series with the story of Katharine Parr, 30 years old and twice widowed, who is cornered into marriage with Henry VIII, then cornered by courtly intrigue after his death. There's romantic intrigue, too, as an old lover uses Katharine in his bid to marry Princess Elizabeth and become king.