From the dangers posed by the strong Black woman image and how imprisoned veterans are regaining confidence by training dogs to immune malfunction as the cause of exhaustion and the best way to do laundry.
Burnett-Zeigler, Inger. Nobody Knows the Trouble I've Seen: The Emotional Lives of Black Women. Amistad. Mar. 2021. 256p. ISBN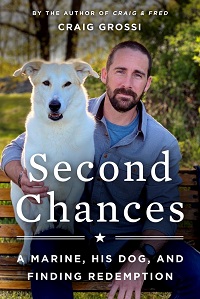 9780062959829. $25.99. PERSONAL GROWTH
Grossi, Craig. Second Chances: A Marine, His Dog, and Finding Redemption in Maine. Morrow. Mar. 2021. 224p. ISBN 9780063009523. $25.99.
Gundry, Steven R., M.D. The Energy Paradox: How To Stop Being Sick and Tired and Finally Feel Good Again. Harper Wave. Mar. 2021. 384p. ISBN 9780063005730. $29.99.
LePera,Nicole. How To Do the Work: Recognize Your Patterns, Heal from Your Past, and Create Your Self. Harper Wave. Mar. 2021. 288p. ISBN 9780063012097. $27.99
Nicodemus , Ryan & Joshua Fields Millburn. Love People Use Things: Because the Opposite Never Works. Celadon: Macmillan. Mar. 2021. 320p. ISBN 9781250236517. $26.
Richardson, Patric & Karin B. Miller. Laundry Love: Finding Joy in a Common Chore. Flatiron: Macmillan. Mar. 2021. 208p. ISBN 9781250235190. $25.99.
In Nobody Knows the Trouble I Have Seen clinical, psychologist Burnett-Zeigler explores the price Black women pay for submerging their pain behind the conventional image of Black female strength (65,000-copy first printing). Following Craig & Fred, which detailed former U.S. Marine Grossi's rescue of a shaggy stray from Afghanistan, Second Chances lets him introduce the inmates—mostly veterans—who redirect their lives by training dogs in the nonprofit America's Vet Dogs at Maine State Prison (50,000-copy first printing). Director of the International Heart and Lung Institute, Gundry continues his best-selling "Paradox" series with The Energy Paradox, explaining that we are exhausted and brain-fogged owing to immune malfunction (150,000-copy first printing). Boasting more than two million Instagram followers, holistic psychologist LePera offers a path to self-healing using tools of mental, physical, and spiritual health to show us How To Do the Work. Known as the Minimalists to the millions of fans who follow their website, podcasts, and Netflix presentations, Nicodemus and Millburn pose a simple question in Love People Use Things: How might your life be better with less? Known as the Laundry evangelist—he owns the Mona Williams boutique at Mall of America, where he holds Laundry Camp—Richardson shares his sought-after tips on cleaning clothes while showing that doing laundry can be fun. Laundry Love! Okay, I'd rather be reading, but clean laundry is great (125,000-copy first printing).