Roya Hakakian limns the immigrant experience, Pulitzer Prize worthies cover leading issues, the president of Emily's list explains campaigning, and a just-dropped-in September title considers the political consequences of pandemic.
Cox, John Woodrow. Children Under Fire. Ecco. Jan. 2021. 320p. ISBN 9780062883933. $28.99. SOCIAL SCIENCE
Expanding on his 2018 Pulitzer Prize finalist series on how gun violence is affecting the nation's children, Cox explores tragedies from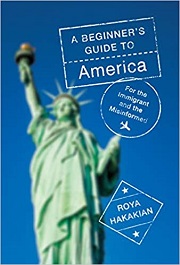 Columbine to Marjory Stoneman Douglas while assessing the effectiveness of gun reforms. He also stresses that the victims of gun violence are not just those who died but those who bore witness. He weaves in the story of seven-year-old South Carolinan Ava, who saw her friend killed in a school shooting and later wrote a letter to eight-year-old Tyshaun in Washington, DC. Tyshaun saw his father shot outside his elementary school, and Ava thought they could help each other.
Hakakian, Roya. A Beginner's Guide to America: For the Immigrant and the Misinformed. Knopf. Jan. 2021. 240p. ISBN 9780525656067. SOCIAL SCIENCE/MEMOIR
Author of Assassins of the Turquoise Palace, a New York Times Notable Book, as well as two poetry collections in Persian (she's taught at Yale's writing workshop, THREAD), Hakakian offers a guide to the new immigrant that draws on her own experience. She also forthrightly communicates what the newly arrived love and hate about the country and shows that while some Americans can be indisputably cruel others are kind and generous.
Meier, Barry. Spooked: The Trump Dossier, Black Cube, and the Rise of Private Spies. Harper. Jan. 2021. 352p. ISBN 9780062950680. $28.99. POLITICAL SCIENCE
A former New York Times reporter and a member of the paper's team that won the 2017 Pulitzer Prize for International Reporting, Meier here exposes the big business that is private spying today, serving the needs of business, political parties, and the powerful. Want dirt on your enemies? No problem! It's cheaper and easier than ever, as these spies stare into our private lives, checking out our emails and shaping what we see on social media, and dangerously influence political elections.
Micklethwait, John & Adrian Wooldridge. The Wake-Up Call: Why the Pandemic Has Exposed the Weakness of the West, and How To Fix It. HarperVia. Sept. 2020. 112p. ISBN 9780063065291. $18. POLITICAL SCIENCE
This just in: Micklethwait, the editor in chief of Bloomberg News, joins with Wooldridge, the Economist's Washington, DC, correspondent, to argue that the COVID-19 pandemic has demonstrated the life-and-death difference that government can make. As they show, many governments are not doing brilliantly during the pandemic, and the authors set forth how we can better prepare for future disruption, particularly as global leadership looks to be passing from the United States.
Schriock, Stephanie with Christina Reynolds. Run To Win: Lessons in Leadership for Women Changing the World. Dutton. Jan. 2021. 336p. ISBN 9781524746803. $27. POLITICAL SCIENCE
For 35 years, Emily's List has battled to help progressive women running for office. The election of 2016 brought a surge candidates: thousands by Thanksgiving and nearly 50,000 two years later. President of Emily's List since 2010, Schriock joins with Emily's List VP of communications and perennial Democratic campaign worker Reynolds to tell women how they can run—and win.