In fiction, William Gibson offers futuristic thrills, Joe Ide continues the saga of Isaiah Quintabe (IQ), and Jayne Ann Krentz launches a new romantic suspense trilogy. In nonfiction, Nicholas D. Kristof and Sheryl WuDunn address working-class America; Orenstein, the issue of boys and sex today; and Ravitch, the failure of privatizing schools.
Gibson, William. Agency. Berkley. Jan. 2020. 416p. ISBN 9781101986936. $28; ebk. ISBN 9781101986950. Downloadable. TECHNOLOGICAL THRILLER
In the present, talented techie Verity Jane signs on with a shadowy San Francisco startup to beta-test a digital assistant named Eunice accessed through a pair of plain-looking glasses and soon senses that Eunice has a face, a backstory, and keen combat skills. Meanwhile, a century hence in London, Wilf Netherton is just trying to survive the slow-moving apocalypse called the jackpot, even as his boss investigates alternate pasts to direct folks to their final destinations. And that's where Verity and Eunice come in. A sequel to the New York Times best-selling novel The Peripheral; Hugo, Nebula, and Philip K. Dick award winner's last five books have all been New York Times top tenners.
Ide, Joe. Hi Five. Mulholland: Little, Brown. Jan. 2020. 336p. ISBN 9780316509534. $27; ebk. ISBN 9780316509527. lib. ebk. ISBN 9780316426107. CD/downloadable. MYSTERY
Ide launched big, having won the Anthony, Macavity, and Shamus awards for his sensationally gritty and
morally probing IQ, and fans will be lining up to find out what Sherlock-like private eye Isaiah Quintabe (aka IQ) is up to next. Having just survived a beating by a bunch of former Abu Ghraib thugs working as paramilitary contractors, IQ just wants to settle down with new girlfriend Grace, but surely his South Central Los Angeles environs won't oblige. With a 45,000-copy first printing.
Krentz, Jayne Ann. The Vanishing. Jan. 2020. 320p. ISBN 9781984806437. $27; ebk. ISBN 9781984806451. ROMANTIC SUSPENSE
The New York Times best-selling queen of romantic suspense launches a new trilogy set in Fogg Lake, WA, where an underground explosion 40 years previously released mysterious gases that have left residents susceptible to strange visions and voices. This peculiar gift helps local investigators Catalina Lark and Olivia Dayton with their work—though not when Olivia disappears and Cat feels compelled to join forces with the perhaps untrustworthy scientist Slate Trevelyan to find her. Soon, it's apparent that someone is tracking down witnesses to a murder in town that Cat and Olivia saw as teens but cannot prove happened.
Kristof, Nicholas D. & Sheryl WuDunn. Tightrope: Americans Reaching for Hope. Knopf. Jan. 2020. 320p. ISBN 9780525655084. $27.95; ebk. ISBN 9780525655091. lrg. prnt. SOCIAL SCIENCE
Joint winners of the Pulitzer Prize for their coverage of China (Kristof won another Pulitzer for his coverage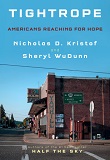 of Darfur) and authors of best-selling works like Half the Sky and A Path Appears, Kristof and WuDunn continue their investigation of crucial issues by looking at the hardships confronting working-class America today. Stories ranging nationwide include an account of Kristof's Oregon home, where a quarter of the kids on his old school bus route are now dead from drugs, alcohol, suicide, or reckless accidents even as blue-collar jobs fade away. The authors highlight policy lapses and success stories, too, reaching for the "hope" in their title.
Orenstein, Peggy. Boys & Sex: Young Men on Hookups, Love, Porn, Consent, and Navigating the New Masculinity. Harper. Jan. 2020. 320p. ISBN 9780062666970. $27.99; ebk. ISBN 9780062666994. FAMILY/TEENAGERS
Having stirred up a dust storm with New York Times best sellers like Girls & Sex and Cinderella Ate My Daughter, Orenstein looks at the other side of the sexual equation: how boys are shaped by damaging cultural pressures about male dominance and female desirability. Frat parties, pornography as sex education, the hookup culture, and locker room talk—it's all here, drawing on interviews with young men as well as psychologists and academics, to get a better picture of where things stand and how to move beyond damaging behavior. With a 100,000-copy first printing.
Ravitch, Diane. Slaying Goliath: The Passionate Resistance to Privatization and the Fight to Save America's Public Schools. Knopf. Jan. 2020. 352p. ISBN 9780525655374. $27.95. EDUCATION
Celebrated expert and historian on education, serving as Research Professor of Education at New York University, Ravitch challenges the concept of privatizing schools and running them as a business, with students as both consumers and products. She shows that privatized schools don't lead to higher scores, that Common Core promises have not materialized, and that the "Resisters" to the efforts of the Kochs, DeVoses, and Zuckerbergs of the world range nationwide from students, parents, teachers, religious leaders, bloggers, and more.