Top June fiction with authors ranging from veterans Lionel Shriver and Beatriz Williams to newcomer Tom Lin.
Galchen, Rivka. Everyone Knows Your Mother Is a Witch. Farrar. Jun. 2021. 272p. ISBN 9780374280468. $26. LITERARY/HISTORICAL
New Yorker 20 Under 40 novelist Galchen draws on historical documents and real-life characters to tell the story of a woman accused of being a witch in 1618 Württemberg.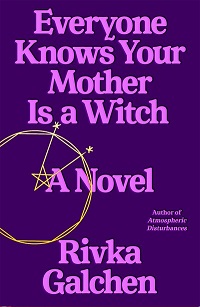 Widowed Katharina may be illiterate, but her excellent understanding of herbs helps her treat sick neighbors—until the jealous Ursula (aka the Werewolf) accuses Katharina of sickening her with a bitter drink. With Katharina facing execution, her eldest son, Johannes, the Imperial Mathematician and celebrated for his work on the laws of planetary motion, comes to her rescue. With a 50,000-copy first printing.
Lin, Tom. The Thousand Crimes of Ming Tsu. Little, Brown. Jun. 2021. 288p. ISBN 9780316542159. $28. Western/Asian American
The orphaned son of Chinese immigrants, Ming Tsu is taken in by the leader of a California crime syndicate and trained to be his fiercest enforcer. Eloping with Ada, the daughter of a railroad magnate, promises Ming a fresh start but brings trouble: the magnate's henchmen kidnap Ada and put Ming to work on the Union Pacific Railroad. Only by joining forces with a Sight-blessed old man called the Prophet and a troupe of magic-show performers sometimes exhibiting supernatural powers can Ming get Ada back and exact revenge. An intriguing debut billed as a thriller, a romance, a Chinese American–inflected Western, and an 1860s-set redemption story with Cormac McCarthy overtones; how cool is that?
Shriver, Lionel. Should We Stay or Should We Go. Harper. Jun. 2021. 288p. ISBN 9780063094246. $26.99. LITERARY
New York Times best-selling and famously punch-in-the-gut author Shriver returns with the story of a couple who vow to commit suicide together on the wife's 80th birthday. Kay saw her dignified father crumple over ten years from Alzheimer's, a scenario her doctor husband, Cyril, found unbearable. Cyril is able to secure the necessary pills, and they tuck them away for the future. They have decades to go, but as the fateful day approaches, they begin to reassess the wisdom of their decision and how the frailties of old age are intimately wound up with its gifts. With a 50,000-copy first printing.
Taddeo, Lisa. Animal. Avid Reader: S. & S. Jun. 2021. 336p. ISBN 9781982122126. $27.99. LITERARY
The author of Three Women, a study of sometimes corrosive sexual intimacy that was a No. 1 New York Times best seller and best-booked by 30-plus venues, Taddeo returns with a debut novel. Its protagonist, Joan, has endured countless cruelties from men and finally witnesses an act of violence from one of them that sends her fleeing from New York to Los Angeles. There she meets with Alice, a figure from her past who can help her plumb terrible memories from her childhood. And that leads to violence against men. With a 150,000-copy first printing.
Williams, Beatriz. Our Woman in Moscow. Morrow. Jun. 2021. 448p. ISBN 9780063020788. $27.99. HISTORICAL
Masterly historical fiction author Williams returns with a story opening in 1948, as Iris Digby disappears from her London home with her diplomat husband and two children. Rumors abound that they were eliminated by Soviet intelligence—or that they defected to Moscow with precious military secrets. Four years later, after receiving a postcard from twin sister Iris, whom she has not seen since the beginning of the war, Ruth Macallister poses as the wife of a counterintelligence agent to travel to Moscow and whisk the Digbys from behind the Iron Curtain. With a 100,000-copy first printing.