Durable New York Times columnist Gail Collins on women growing older in America, award-winning New York Times reporters on Julie Hirschfeld David and Michael D. Shear on Trump's anti-immigration stance, and former Under Secretary for Public Diplomacy and Public Affairs Richard Stengel on disinformation.
Collins, Gail. No Stopping Us Now: A History of American Women, Age, and Expectations Defied. Little, Brown. Oct. 2019. 352p. ISBN 9780316286541. $30; ebk. ISBN 9780316286497. lib. ebk. ISBN 9780316414722. lrg. prnt. CD/downloadable. WOMEN'S STUDIES
Women and aging: as subjects go, it's a combination akin to oil and water—or maybe oil and a lit match. The celebrated New York Times columnist here explores how attitudes toward older women have shifted in America, from the Plymouth Colony view that women were marriageable if "civil and under fifty years of age" to quiet dismissal of post-reproductive females to woman's role as perpetual caretaker (even when she might need caretaking) to the first female nominee for president. Accept aging or fight it—but read the book.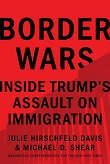 Davis, Julie Hirschfeld & Michael D. Shear. Border Wars: Inside Trump's Assault on Immigration. S. & S. Oct. 2019. 320p. ISBN 9781982117399. $28; ebk. ISBN 9781982117412. IMMIGRATION
A congressional correspondent for the New York Times and a White House correspondent at the paper's Washington, DC, bureau, respectively, Davis and Shear have covered the Trump administration from the beginning. Here they see Trump's anti-immigration stance as his core policy, using heretofore unreported stories as they chronicle his efforts to block asylum seekers, separate families, and deny the important role played by immigrants in American life. With a 75,000-copy first printing.
Stengel, Richard. Information Wars. Atlantic Monthly. Oct. 2019. 320p. ISBN 9780802147981. $28. POLITICAL SCIENCE
Disinformation keeps coming at us, facilitated by the increasing dominance of social media, and Stengel should know. As Under Secretary for Public Diplomacy and Public Affairs in the Obama administration, he was charged with countering ISIS's terrorist rants and Russia's spread of fake news. Then he saw disinformation invade the 2016 presidential campaign. Here Stengel articulates America's role in battling disinformation in a narrative that ranges from Washington, DC, to Russia, Ukraine, Saudi Arabia, and Iraq. Crucial reading from the former editor of Time.