Volumes featuring Nabokov's uncollected prose pieces, poet/essayist Thomas Lynch's best and most recent essays, and actress/comedian Slate's whimsies join Darryl Pinckney's Busted in New York and Other Essays (see this week's Picks) and a bumper crop of essay collections this fall. Plus Hardwick/Lowell correspondence and a biography of Elizabeth Bishop.
Hardwick, Elizabeth & Robert Lowell. The Dolphin Letters, 1970–1979: Elizabeth Hardwick, Robert Lowell, and Their Circle. Farrar. Nov. 2019. 624p. ed. by Saskia Hamilton. ISBN 9780374141264. $50. LITERATURE
Distinguished poet Hamilton edits the correspondence of two American literary icons, penned during the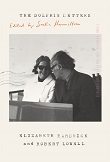 last years of Lowell's life, when he was writing the sonnet sequence The Dolphin (drawing on Hardwick's letters) and she was writing Sleepless Nights. The letters include those exchanged with other distinguished writers, e.g., Elizabeth Bishop, Mary McCarthy, and Adrienne Rich, and reveal the breakup of Hardwick and Lowell's marriage and their subsequent reconciliation. A treat for literati, though watch the price.
Lynch, Thomas. The Depositions: New and Selected Essays on Being and Ceasing To Be. Norton. Nov. 2019. 352p. ISBN 9781324003977. $27.95. LITERATURE/ESSAYS
The author of five collections of poetry (starting with the wonderful Skating with Heather Grace) and four collections of essays, including National Book Award finalist The Undertaking, Lynch is also a small-town funeral director. Here he offers the best of his previous essay collections and new essays bringing his life's work together by investigating the deaths of poets, the funerals of friends, the loss of neighbors, and the steady decline and passing of a beloved dog.
Nabokov, Vladimir. Think, Write, Speak: Uncollected Essays, Reviews, Interviews, and Letters to the Editor. Knopf. Nov. 2019. 576p. ed. by Brian Boyd & Anastasia Tolstoy. ISBN 9781101874912. $30; ebk. ISBN 9781101874929. LITERATURE/ESSAYS
Two Nabokov experts scan the archives to present nonfiction from the master appearing for the first time in book form (and sometimes in English), opening with an essay about Nabokov's life at Cambridge and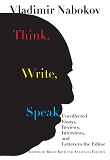 moving through his final interviews in 1977. Included here are book reviews from Nabokov's émigré period in Europe; interviews appearing in Life, the New York Post, Esquire, and other publications; letters to the editor; and wide-ranging essays on all manner of topics. With a 15,000-copy first printing.
Slate, Jenny. Little Weirds. Little, Brown. Nov. 2019. 240p. ISBN 9780316485340. $27; ebk. ISBN 9780316485357. lib. ebk. ISBN 9780316492652. CD/downloadable. LITERATURE/ESSAYS
Actress/comedian Slate, star of Obvious Child and author of two New York Times best-selling children's books featuring Marcel the Shell, here talks about heartbreak, honeysuckle, haunted houses, a French-kissing rabbit, and a spiritual guide dog appearing in her dreams, among other "little weirds."
Travisano, Thomas. Love Unknown: The Life and Worlds of Elizabeth Bishop. Viking. Nov. 2019. 400p. ISBN 9780525428817. $32; ebk. ISBN 9780698191624. Downloadable. LITERARY BIOGRAPHY
Founding president of the Elizabeth Bishop Society, Hartwick English professor Travisano looks at a subject he's studied for a lifetime, drawing on new interviews and recently discovered manuscript materials to paint the portrait of a poet who wrote chiseled poetry and led a quietly fiery life. Bishop is experiencing an interesting resurgence; see also Liza Wieland's Paris, 7 A.M., a fictional reconstruction of the poet's years in late 1930s France.