Women's fiction includes the popular Elin Hilderbrand and Cecily von Ziegesar, while historical fiction includes two novels in translation, David Diop's At Night All Blood Is Black and Annette Hess's The German House, that treat World War I and World War II, respectively.
Alpsten, Ellen. Tsarina. St. Martin's. Oct. 2020. 480p. ISBN 9781250214430. $27.99. CD. HISTORICAL
Alpsten's debut reimagines the other Catherine—Catherine Alexeyevna, wife of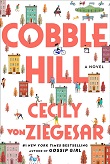 Peter the Great, who took over the empire after her husband's death in 1725 (and his torture and murder of his son, the heir apparent). The 100,000-copy first printing bespeaks in-house confidence.
Beatty, Pete. Cuyahoga. Scribner. Oct. 2020. 256p. ISBN 9781982155551. $27. CD. FAMILY LIFE
A local hero in 1830s Ohio City, husky, handsome Big Son heads to rival Cleveland to make his fortune so that he can marry the (admittedly somewhat reluctant) Cloe. The results, as narrated by Medium Son, are hilarious. A debut with an impressive 75,000-copy first printing and six-city tour.
Borman, Tracy. Fallen Angel. Atlantic Monthly. Oct. 2020. NAp. ISBN 9780802157614. $27. HISTORICAL
Suspected of witchcraft and hiding her Catholicism, Frances Gorges has nimbly navigated the court of King James. By 1614 she's had enough, but in this trilogy wrap-up (following The King's Witch and The Devil's Slave), she and her husband must counter threats from a handsome, dangerous stranger who intrigues the king.
Bush, Keisha. No Heaven for Good Boys. Random. Oct. 2020. 336p. ISBN 9780399591969. $27. Downloadable. COMING OF AGE
When six-year-old Ibrahimah leaves the countryside for Dakar to study the Qur'an with esteemed teacher Marabout Ahmed, he and cousin Etienne are instead forced to beg. Survival is tough; inspired by stories debut novelist Bush heard from beggar children when she lived in Dakar.
Darke, Minnie. The Lost Love Song. Ballantine. Oct. 2020. 288p. ISBN 9780593160336. pap. $17. WOMEN'S
Even as Australian Arie mourns the death of longtime fiancée Diana, a world-skimming concert pianist, Scottish lass Evie decides her poetry is going nowhere and looks to settle down. Arie and Evie are finally linked by a song Diana wrote for Arie, passed from musician to musician. From the author of Star-Crossed; a Random House Book Club selection.
Diop, David. At Night All Blood Is Black. Farrar. Oct. 2020. 160p. tr. from French by Anna Moschovakis. ISBN 9780374266974. $25. HISTORICAL
Fighting for France during World War I, Senegalese Alfa Ndiaye is so shattered by friend Mademba Diop's death—and his own refusal to spare Mademba further pain by delivering the coup de grâce—that he sneaks behind enemy lines each night and brings back a German's severed hand. His comrades begin to think he's a sorcerer. The second novel by Paris-born, Senegalese-raised Diop.
Gaynor, Hazel. When We Were Young and Brave. Morrow. Oct. 2020. 448p. ISBN 9780063034839. $27.99; Morrow Paperbacks. ISBN 9780062995261. $17.99. lrg. prnt. HISTORICAL
During World War II, when the Japanese intern everyone at a British-run missionary school in northern China, teacher Elspeth Kent inspires her charges—especially ten-year-old Nancy Plummer—by instituting the Girl Guide patrol. Inspired by real events; with a 100,000-copy paperback and 30,000-copy hardcover first printing.
Goodman, Joanna. The Forgotten Daughter. Harper. Oct. 2020. 416p. ISBN 9780062998309. $27.99; pap. ISBN 9780062998316. $17.99. lrg. prnt. WOMEN'S
In early 1990s Quebec, Véronique Fortin holds hard to the radical separatism of her father, convicted of murdering a prominent politician in 1970. Yet she falls for journalist James Phénix, who opposes a national split. From the author of The Home for Unwanted Girls; with a 200,000-copy paperback and 10,000-copy hardcover first printing.
Harlowe, Amanda. Consensual Hex. Grand Central. Oct. 2020. 320p. ISBN 9781538752203. $27. Downloadable. COMING OF AGE
Raped without redress, first-year Smith student Lee forms a coven with three other students in her "Gender, Power, and Witchcraft" seminar. Soon they realize that Amherst frat boys are using magic to cover up sexual violence and swing contentiously toward vigilante justice. A genre-blending debut with upmarket writing; a 45,000-copy first printing.
Hess, Annette. The German House. HarperVia. Oct. 2020. 336p. tr. from German by Elisabeth Lauffer. ISBN 9780062910301. pap. $16.99. HISTORICAL
In this fiction debut from German screenwriter Hess, set in the early 1960s, 24-year-old Eva Bruhns hardly thinks about the war until she is hired to translate for some former Polish prisoners. She's disturbed enough by what she learns to join the prosecutors' team in what would become the Frankfurt Auschwitz Trials of 1963. With 75,000-copy first printing.
Hilderbrand, Elin. Troubles in Paradise. Little, Brown. Oct. 2020. 272p. ISBN 9780316435581. $28. CD/downloadable. WOMEN'S
In Winter in Paradise, Irene Steel learned that her recently deceased husband had been leading a double life on sunny St. John. In What Happens in Paradise, she and her two grown sons are looking for answers there. Here, they're getting answers—and find their lives transformed. With a 250,000-copy first printing.
Kingsbury, Karen. Truly, Madly, Deeply. Atria. Oct. 2020. 384p. ISBN 9781982104382. $26. CD. CHRISTIAN ROMANCE
When Tommy announces plans to become a police officer, his father is proud and his mother, remembering her own father's death on 9/11, is opposed. But Tommy's plans splinter after senior prom when the girl he wants to marry becomes mysteriously ill. From the No. 1 New York Times best-selling inspirational author; with a 200,000-copy first printing.
von Ziegesar, Cecily. Cobble Hill. Atria. Oct. 2020. 320p. ISBN 9781982147037. $27. WOMEN'S
In Brooklyn's charmed Cobble Hill, four couples wrestle with ego and want. There's Mandie, uninterested in her kids, and hubby Stuart, once-upon-a-time boyband uninterested in Mandie; school nurse Peaches and earphone-wearing husband Greg; British novelist Roy and energized wife Wendy; and shy industrial designer Tupper, still courting out-of-reach wife Elizabeth. From celebrated Gossip Girl von Ziegesar; with a 60,000-copy first printing.