Leading off with a thriller from Stacey Abrams that publishes in May, this list offers 13 recent fiction discoveries, publishing in April through June.
Abrams, Stacey. While Justice Sleeps. Doubleday. May 2021. 384p. ISBN 9780385546577. $28.95. lrg. prnt. Downloadable. THRILLER
Abrams takes a break from her considerable political responsibilities to craft a legal thriller featuring Avery Keene, who clerks for swing-voting Supreme Court Justice Wynn.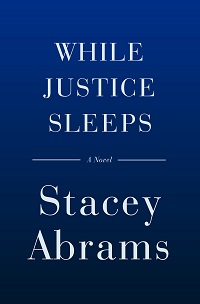 When Wynn falls into a coma, she learns that he made her his legal guardian and immediately becomes enmeshed in a case he was surreptitiously investigating involving the possible merger of an American biotech company and an Indian genetics firm. Plus, Wynn has her worried about a possible conspiracy at the highest levels of government.
DeMille, Nelson. The Maze. S. & S. Jun. 2021. 448p. ISBN 9781501101786. $28.99. CD. THRILLER
Having appeared in six best-selling DeMille novels, retired NYPD Homicide Detective John Corey is hanging out at his uncle's waterfront estate on Long Island when he heeds the call to help find a serial killer who is dispatching prostitutes and burying them along the beach. Based on the unsolved Gilgo Beach murders; with a 500,000-copy first printing.
Gray, Philip. Two Storm Wood. Norton. Jun. 2021. 384p. ISBN 9780393541885. $27.95. HISTORICAL
Searching for her fiancé, missing and presumed dead as the Great War ends, Amy Vanneck seeks out an open-air morgue near the battlefields of the Somme and stumbles upon what appears to be a mass murder. She also stumbles upon evidence that her fiancé may not be dead. From Patrick Lynch, coauthor of numerous best-selling thrillers, writing under a pseudonym.
Griffiths, Elly. The Night Hawks. Houghton Harcourt. Jun. 2021. 352p. ISBN 9780358237051. $27. MYSTERY
As head of archaeology at the University of North Norfolk, Ruth Galloway is understandably angered by those obsessive metal detectorists called the Night Hawks who can disrupt archaeological sites and even plunder key findings. But here they assist the police when they discover a dead body on the shore and subsequently the murder-suicide of a scientist and his wife at their farmhouse. From recent Edgar Award winner Griffiths; with a 25,000-copy first printing.
Hummel, Maria. Lesson in Red. Counterpoint. Jun. 2021. Jun. 2021. 320p. ISBN 9781640094314. $27. THRILLER
In this companion to Still Lives—a Reese's Book Club x Hello Sunshine selection and multiple best-of-month and best-of-year pick—Maggie Richter faces another artworld mystery when promising young provocateur Brenae Brasil is found dead on the campus of the prestigious Los Angeles Art College after completing a documentary about female bodies, coercion, and self-defense.
Joshi, Alka. The Secret Keeper of Jaipur. Mira: Harlequin. Jun. 2021. 384p. ISBN 9780778331858. $27.99. MYSTERY
The protagonist of Joshi's debut, the New York Times best-selling The Henna Artist, Lakshmi has left Jaipur to work at a clinic in Shimla but remains worried about her former assistant, Malik. She has secured him an apprenticeship at Jaipur's palace, where he assists on the building of a movie theater, but then tragedy strikes, Malik gets caught up in smuggling, and as keeper of Jaipur's secrets, Lakshmi must intervene. With a 150,000-copy first printing.
Massey, Sujata. The Bombay Prince. Soho Crime. Jun. 2021. 360p. ISBN 9781641291057. $27.95. MYSTERY
In the third mystery starring Perveen Mistry, the only female lawyer in 1920s Bombay, Edward VIII, Prince of Wales, leaves violence in his wake as he tours the subcontinent; who wants British rule, after all? Among the incidents is the death of 18-year-old female Parsi student Freny Cuttingmaster, who suffers a suspicious fall from a balcony as the prince sweeps by her college, just days after she has consulted Perveen. With a 150,000-copy first printing.
Rimmer, Kelly. The Warsaw Orphan: A WWII Novel. Graydon House: Harlequin. Jun. 2021. 352p. ISBN 9781525811531. $28.99.
Inspired by Irena Sendler, the real-life Polish nurse who smuggled Jewish children out of the Warsaw ghetto, Rimmer's latest features Elzbieta Rabinek, who learns of the horror unfolding behind the ghetto's walls and uses the credentials of a nurse on her apartment floor to help the family of Roman Gorka. But even as love blooms between Elzbieta and Roman, he is stirred to resistance against the Germans. With a 150,000-copy paperback and 10,000-copy hardcover first printing.
Sharpson, Neil. When the Sparrow Falls. Tor. Jun. 2021. 336p. ISBN 9781250784216. $26.99. SF/ACTION & ADVENTURE
The Caspian Republic is the only place in the world not completely taken over by artificial intelligence, but though it espouses humanity, it's deeply authoritarian: act even remotely interested in the machine world, and the state rushes in to correct you. When a recently deceased propagandist is discovered to be a machine, State Security Agent Nikolai South is assigned the dangerous task of chaperoning his wife. A debut from Irish playwright Sharpson; with a 100,000-copy first printing.
Silber, Joan. Secrets of Happiness. Counterpoint. May 2021. 288p. ISBN 9781640094451. $27. LITERARY
Young Manhattan-based lawyer Ethan is upended when he learns that his father has always had a secret second family—a Thai wife and two children living in Queens. In response, his mother is spending a year working abroad, and Ethan gets involved with his half-brothers even as he's caught up in a love triangle of his own. Following Improvement, a winner of the National Book Critics Circle Award and the PEN/Faulkner Award
Starford, Rebecca. An Unlikely Spy. Ecco. Jun. 2021. 352p. ISBN 9780063037885. $27.99. lrg. prnt.
Graduating from Oxford in 1939, scholarship student Evelyn Varley is promptly recruited into an elite MI5 counterintelligence unit and tasked with infiltrating a secret society in Britain sympathetic to the Nazis. In the end, protecting her loved ones while serving her country proves to be her biggest challenge. From the cofounder and publishing director of the writing community Kill Your Darlings; with a 125,000-copy first printing.
Tucker, Karen. Bewilderness. Catapult. Jun. 2021. 288p. ISBN 9781646220243. $26.
After one more lousy night serving up beer at the local pool hall, 19-year-old Irene joins charismatic coworker Luce on a joy ride through the mountains to wreak revenge on a particularly obnoxious customer. Thus starts a dark female friendship that leads to low-level scams and eventually opioid addiction—until Luce abandons Irene after finding a boyfriend who wants her to get clean. Tinglingly relevant.
Walsh, S. Kirk. The Elephant of Belfast. Counterpoint. Apr. 2021. 336p. ISBN 9781640094000. $27. HISTORICAL
Mourning her father's desertion and the death of her sister, 20-year-old Hettie Quin could use a friend—and she finds one in Violet, a three-year-old elephant at Belfast's Bellevue Zoo, where she works as zookeeper in the early years of World War II. Then, in April 1941, the Germans drop 674 bombs on Belfast in only five hours, killing almost 1,000 civilians, and Hettie must fight to protect Violet. Walsh based her debut on a true story.