A CIA poisoner, an heiress who joined the OSS, and a mudlarking Englishwoman, plus a century of Palestine history and Maoism worldwide.
Finn, Peter. A Guest of the Reich: The Story of American Heiress Gertrude Legendre and Her Dramatic Captivity and Daring Escape from Nazi Germany. Pantheon. Sept. 2019. 256p. ISBN 9781524747336. $27.95; ebk. ISBN 9781524747343. Downloadable. HISTORY
Gertrude "Gertie" Legendre didn't lead the life of a typical heiress; after joining the OSS, she was the first American woman in uniform to be captured by the Germans. But she never broke under interrogation and boldly escaped in 1945. From the co author of The Zhivago Affair, a finalist for the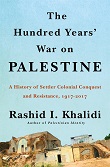 National Books Critics Circle Award.
Khalidi, Rashid. The Hundred Years' War on Palestine: A History of Settler Colonial Conquest and Resistance, 1917–2017. Metropolitan: Holt. Sept. 2019. 352p. ISBN 9781627798556. $30; ebk. ISBN 9781627798549. HISTORY
The Edward Said Professor of Modern Arab Studies at Columbia University, Khalidi (Palestinian Identity) opens this history with a letter written by his great-great-uncle, the mayor of Jerusalem, to Zionist Theodore Herzl, pleading that Palestine had an indigenous people who did not want to be displaced. He then moves from the 1917 Balfour Declaration to the 1948 founding of Israel to Israel's 1982 invasion of Lebanon to today.
Kinzer, Stephen. Poisoner in Chief: Sidney Gottlieb and the CIA Search for Mind Control. Holt. Sept. 2019. 320p. ISBN 9781250140432. $30; ebk. ISBN 9781250140449. CD. HISTORY
Award-winning foreign correspondent Kinzer (The Brothers) examines the life and work of chemist Sidney Gottlieb, who used a secret drug to direct harsh mind-control experiments for the CIA at secret prisons worldwide during the 1950s and 1960s. But he lived what he considered a spiritual life in a cabin without running water, surrounded by goats and oblivious to the lives he had destroyed. Mind-blowing.
Lovell, Julia. Maoism: A Global History. Knof. Sept. 2019. 624p. ISBN 9780525656043. $37.50; ebk. ISBN 9780525656050. Downloadable. HISTORY
Professor of Chinese History and Literature at Birkbeck College, University of London, and author of the 2012 Jan Michalski Prize–winning The Opium War, Lovell here explains that despite appearances Maoixm is alive and well in China. She goes on to clarify its global influence from the Vietnam War and Cambodia's Killing Fields to anticolonial resistance movements in Africa, terrorism in Germany and Italy, and wars and uprisings in Peru, India and Nepal that reverberate today.
Maiklem, Lara. Mudlark: In Search of London's Past Along the River Thames. Liveright: Norton. Sept. 2019. 320p. ISBN 9781631494963. $27.95. HISTORY
In her spare time, British editor Maiklem goes mudlarking, tromping along the banks of the River Thames to discover all manner of odds and ends revealing London's history, all the way back to the Roman Empire. Lots of promotion, lots of fun.