Old hands like Donna Andrews and Louise Penny are joined by rising stars Naomi Hirahara, Camilla Trinchieri, and more.
Click here for additional new Prepub Alert columns
Andrews, Donna. Murder Most Fowl: A Meg Langslow Mystery. Minotaur: St. Martin's. Aug. 2021. 320p. ISBN 9781250760166. 26.99. MYSTERY
Claudel, Philippe. Dog Island. Little, Brown. Aug. 2021. 208p. ISBN 9780316705233. $27.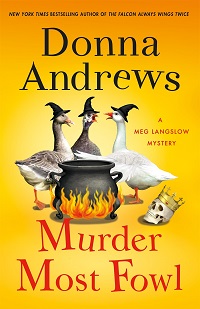 Downloadable. MYSTERY
Hirahara, Naomi. Clark and Division. Soho Crime. Aug. 2021. 312p. ISBN 9781641292498. $27.95. MYSTERY
Krueger. William Kent. Lightning Strike. Atria. Aug. 2021. 336p. ISBN 9781982128685. $27. MYSTERY
Muller, Marcia. Ice and Stone. Grand Central. Aug. 2021. 272p. ISBN 9781538733165. $28. Downloadable. MYSTERY
Penny, Louise. The Madness pf Crowds. Minotaur: St. Martin's. Aug. 2021. ISBN 9781250145260. $28.99. MYSTERY
Schaffhausen, Joanna. Gone for Good. Minotaur: St. Martin's. Aug. 2021. 304p. ISBN 9781250264602. $27.99. MYSTERY
Trinchieri, Camilla. The Bitter Taste of Murder. Soho Crime. Aug. 2021. NAp. ISBN 9781641292832. $27.95. MYSTERY
In multi-award-winning Andrews's Murder Most Fowl, Meg Langslow's husband is directing a production of Macbeth even as gung-ho reenactors erect an authentic medieval Scottish military camp nearby, which ends in the murder of the unpleasant filmmaker documenting the reenactment (40,000-copy first printing). A BAFTA and multiple mystery award winner, novelist/filmmaker Claudel limns the current refugee crisis, with the inhabitants of backwater Dog Island refusing to disrupt their age-old way of life when three unidentified men wash ashore, deciding instead to bury them. In Edgar Award winner Hirahara's 1944–set Clark and Division, 20-year-old Aki, who has moved with her parents to Chicago after their release from the Manzanar internment camp in California, refuses to believe that her sister Rose's death is a suicide. Lightning Strikes, a prequel to Krueger's "Cork O'Connor" series, features Cork's coming-of age in small-town 1963 Minnesota. In Muller's Ice and Stone, durable PI Sharon McCone is enlisted by the organization Crimes Against Indigenous Sisters when two more Indigenous women are brutally dispatched in what the police refuse to regard as a pattern (25,000-copy first printing). The Madness of Crowds, the next in Penny's sensational "Chief Inspector Gamache" series, sends the chief inspector home to Three Pines, Canada, after a sojourn in Paris. Author of the "Ellery Hathaway" mysteries, Schaffhausen launches a new series in Gone for Good with Det. Annalisa Vega facing down the Lovelorn Killer, who appears to be active again after two decades—though maybe he never left town (40,000-copy first printing). Following Trinchieri's well-received debut, Murder in Chianti, The Bitter Taste of Murder finds former NYPD Nico Doyle comfortably settled in his late wife's Tuscan hometown—until the ruthless wine critic who's just arrived is murdered.