Big new works from multi-award winners Margot Livesey and Ali Smith, Australian newbie Charlotte McConaghy, and translated authors Hans-Olav Thyvold and A.B. Yehoshua.

Livesey, Margot. The Boy in the Field. Harper. Aug. 2020. 272p. ISBN 9780062946393. $26.00; ebk. ISBN 9780062946416. LITERARY
In this latest from the New York Times best-selling, L.L. Winship/PEN New England Award–winning author of The Flight of Gemma Hardy, three teen siblings move one big step closer to adulthood after they rescue an unconscious child they find in a field. Eldest Matthew throws everything aside to find the assailant, Zoe begins sizing up all the men she passes on the streets of Oxford, and the adopted Duncan decides to find his birth mother—acts that both pull them together and shove them apart. With a 30,000-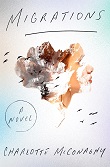 copy first printing.
McConaghy, Charlotte. Migrations. Flatiron: Macmillan. Aug. 2020. 272p. ISBN 9781250204028. $26.99; ebk. ISBN 9781250204011. CD. LITERARY
Despairing of the fate of nature, Franny Stone determines to travel to Greenland, locate the world's last flock of Arctic terns, and follow them on their final migration. To that end, she persuades the captain of the Saghani to take her onboard, arguing that in its travels the flock will lead the crew to fish. But Franny carries dark secrets, and as she starts to become unhinged, the crew worries that she's not so much going toward the light as running away. Australian author McConaghy's first adult literary fiction and first U.S. publication, timely indeed; with a 200,000-copy first printing.
Smith, Ali. Summer. Pantheon. Aug. 2020. 304p. ISBN 9781101870792. $26.95; ebk. ISBN 9781101870808. LITERARY
A winner of Costa and Baileys Women's Prize honors and short-listed four times for the Man Booker Prize, Smith wraps up her interlinked "Seasonal Quartet" with a nod to the golden months. No plot details yet, but the entire quartet ranges over eras, assessing the passage of time and the complexity of human relationships. The opener, Autumn, a multi-best-booked title, boasts over 56,000 copies in print.
Thyvold, Hans-Olav. Good Dogs Don't Make It to the South Pole. HarperVia. Aug. 2020. 320p. tr. from Norwegian by Marie Otsby. ISBN 9780062981653. $26.99; ebk. ISBN 9780062981677. LITERARY
When Major Thorkildsen dies, his devoted dog, Tassen, is lost to grief until he and Mrs. Thorkildsen start trekking to the library to study Roald Amundsen and the tough sled dogs that accompanied him to the South Pole. Those studies come surprisingly in handy when Mrs. Thorkildsen's son and daughter in-law arrive to claim the house as theirs. No wonder this is billed as a blend of A Man Called Ove and The Art of Racing in the Rain; with a 75,000-copy first printing.
Yehoshua, A.B. The Tunnel. Houghton Harcourt. Aug. 2020. 336p. tr. from Hebrew by Stuart Schoffman. ISBN 9781328622631. $24; ebk. ISBN 9781328622556. LITERARY
Seventy-plus Tel Aviv–based engineer Zvi Luria must quit his work on the tunnels of the Trans-Israel Highway because of creeping dementia. But he hopes to salvage his wits by serving as an unpaid assistant on a secret military project to build a road inside the Negev Desert's 25-mile-long Ramon Crater. One complication: a Palestinian family lives within the crater's dusty Nabatean ruins under the protection of a mysterious archaeological preservationist, so Zvi proposes a tunnel that will not dislodge them. From the multi-award-winning Israeli author.