Immediate eye-catchers for nonfiction readers today.
Abdurraqib, Hanif. A Little Devil in America: Notes in Praise of Black Performance. Random. Mar. 2021. 320p. ISBN 9781984801197. $27. MUSIC/HISTORY AND CRITICISM
From his award-nominated poetry collection, The Crown Ain't Worth Much; to his multi-best-booked essay collection, They Can't Kill Us Until They Kill Us; to his New York Times best-selling Go Ahead in the Rain: Notes to a Tribe Called Quest, Abdurraqib is a skyrocketing author. Here he investigates Black performance as defining Black community and more broadly American life, ranging as it does from music, sports, and writing to comedy, games, and grief.
Allende, Isabel. The Soul of a Woman. Ballantine. Mar. 2021. 160p. ISBN 9780593355626. $22. lrg. prnt. FEMINIST THEORY
Mega-best-selling novelist Allende says that she became a feminist in kindergarten, having watched her mother raise three small children after her husband's desertion, then joined with Sixties female journalists to write about women's issues with "a knife between their teeth." Now she considers what satisfies "the soul of a woman" today, from feeling safe to having control over one's body and one's life.
Archibald, John. Shaking the Gates of Hell: A Search for Family and Truth in the Wake of the Civil Rights Revolution. Knopf. Mar. 2021. 400p. ISBN 9780525658115. $26.95. Downloadable. SOCIAL ISSUES
A Pulitzer Prize–winning journalist and columnist for the Birmingham News, Archibald grew up the son and grandson of Methodist preachers in the Sixties South. He always thought of his father as a source of radiant moral calm during those turbulent times, but he finally realized that he never heard him speak out forcefully on the racial issues of the day—because he was told to tread softly to protect his family. But as Archibald wonders, Can a good person keep silent?
McCarthy, Jesse. Who Will Pay Reparations on My Soul?: Essays. Liveright: Norton. Mar. 2021. 320p. ISBN 9781631496486. $27.95. LITERATURE/ESSAYS
A Harvard assistant professor of English and African American studies who's catching fire as a cultural critic, McCarthy explores race, culture, identity, and politics in a series of essays that range from Ta-Nehisi Coates's case for reparations to the impact of rap music on American culture to Velázquez as a way of understanding Kehinde Wiley's paintings. And having been raised in France, he returns from a visit to reflect on how little the Bataclan massacre seems to have affected America.
McCormick, Ty. Beyond the Sand and Sea: One Family's Quest for a Country To Call Home. St. Martin's. Mar. 2021. 224p. ISBN 9781250240606. $28.99. BIOGRAPHY/SOCIAL ACTIVISM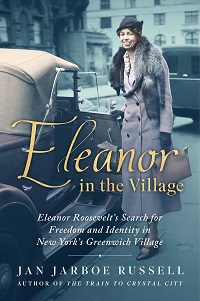 Born in a Kenyan refugee camp, young Somali Asad Hussein taught himself to read by scratching in the dirt with a stick, then progressed as a high school student to telling the story of his life in a piece published by the New York Times. Eventually, he won a full scholarship to Princeton, but struggling to bring his entire family together in America has proved to be a big challenge. McCormick, web editor at Foreign Affairs, tells the story of the young man he befriended. With a 50,000-copy first printing.
Russell, Jan Jarboe. Eleanor in the Village. Scribner. Mar. 2021. 384p. ISBN 9781501198151. $28. BIOGRAPHY
In 1920, Eleanor Roosevelt made a surprise (and surprisingly little-known) move: she left behind five children to live in New York's Greenwich Village. There she became involved with the so-called New Women, who agitated for unions, equal pay, and protection for child workers, and absorbed an ethos of untrammeled freedom and political subversion. New York Times best-selling author Russell (The Train to Crystal City) relates the details of Eleanor's stay and consequences in her later life. With a 60,000-copy first printing.
Villoro, Juan. Horizontal Vertigo: A City Called Mexico. Pantheon. Mar. 2021. 384p. tr. from Spanish by Alfred MacAdam. ISBN 9781524748883. $35. HISTORY
Multi-prize-winning Mexican novelist Villoro turns to nonfiction as he takes us on a visit to the world's largest Spanish-speaking city, traveling from ancient Indigenous times and Aztec preeminence to the Spanish conquest and Mexico City today, captured in chapters like "City Characters" and "Shocks, Crossings, and Ceremonies." The "horizontal vertigo" comes from the city's having built outward rather than upward owing to the threat of earthquake.