A range of books about women, friendship, family life, touring authors, and take-charge animals, with two books starring librarians.
Click here for additional new Prepub Alert columns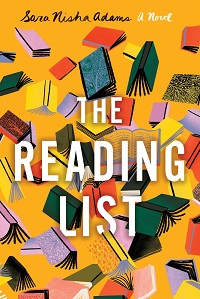 Adams, Sara Nisha. The Reading List. Morrow. Aug. 2021. 384p. ISBN 9780063025288. $27.99. FRIENDSHIP
Working at the library in the London Borough of Ealing, teenager Aleisha is intrigued by a scrunched-up reading list she discovers and reads every title. Then she gives the list to a widower named Mukesh, who's trying to find a way to relate to his book-obsessed granddaughter. Dying to know what's on that list; a debut with a 75,000-copy first printing.
Adkins, Mary. Palm Beach. Harper. Aug. 2021. 304p. ISBN 9780063011373. $26.99. WOMEN'S
Getting-nowhere New York actor Mickey grabs a job managing a multimillionaire household in Palm Beach, then ups his salary by signing on with billionaire venture capitalist Cecil Stone. His freelance journalist wife is shocked—she often writes about income inequality—but soon takes a job as ghostwriter to Cecil's wife. A study of class and compromise from the author of the LJ-starred Privilege.
Alderton, Dolly. Ghosts. Knopf. Aug. 2021. 320p. ISBN 9780593319857. $26.95. WOMEN'S/ROMANCE
Alderton follows up Everything I Know About Love, a Sunday Times best seller and National Book Award (UK) winner for Autobiography of the Year, with a debut novel about finding true love—and getting ghosted. British readers cheered on protagonist Nina Dean as she puzzled about handsome, stable Max's inexplicable disappearance, but be forewarned that one contrarian review stirred some dust.
Bell, Marcela. The Wildest Ride. HQN. Aug. 2021. 384p. ISBN 9781335773227. pap. $16.99. ROMANCE/MUTLICULTURAL
Undefeated rodeo champion AJ Garza is close to retirement (at 36!) but still competing in the new closed-circuit rodeo tour; he wants the million-dollar prize money to save his beloved Houston rodeo program from bankruptcy. His tough female rival is Lilian Sorrow Island, desperate to save her family's ranch. Is this a head-on collision toward love? With a 75,000-copy first printing.
Buxton, Kira Jane. Feral Creatures. Grand Central. Aug. 2021. 368p. ISBN 9781538735244. $28. POP/ANIMALS
Remember S.T., the fabulously cheeky Crow who starred in Buxton's astute, entertaining, and multi-best-booked Hollow Kingdom? He's back, winging his way to a new adventure—parenthood—and he's bringing a whole new cast of animal characters with him. With a 50,000-copy first printing.
Gideon, Melanie. Did I Say You Could Go. S. & S. Aug. 2021. 368p. ISBN 9781982142124. pap. $16.95. WOMEN'S
When money-to-burn divorcee Ruth agrees to host the Hillside Academy kindergarten meet-and-greet, everyone is put off by her pretentiousness except for widowed Gemma, whom Ruth ends up charming with invitations to lavish events. But this friendship is destined to crash. With a 150,000-copy first printing.
Gregory, Daryl. Revelator. Knopf. Aug. 2021. 352p. ISBN 9780525657385. $26.99. GOTHIC
In the 1930s Smoky Mountains, nine-year-old Stella meets Ghostdaddy, personal god to her family, then turns away from their secret religion. After 15 years, she arrives back home as a successful moonshiner and encounters a powerful little girl with mysterious links to her own past. From Spoonbenders author Gregory, winner of Shirley Jackson and World Fantasy honors.
Halperin, Hanna. Something Wild. Viking. Aug.2021. 320p. ISBN 9781984882066. $27. Downloadable. WOMEN'S
While helping their mother pack up their childhood home, sisters Tanya and Nessa Bloom come to the horrendous realization that she is in an abusive relationship. And that brings up a painful issue from their past. A debut with a 40,000-copy first printing.
Jio, Sarah. With Love from London. Ballantine. Aug. 2021. 240p. ISBN 9781101885086. $28. WOMEN'S
As a teenager, Seattle-based librarian Valentina Baker was abandoned by her mother, who returned to her native London. Now she's inherited her mother's Primrose Hill apartment and the deed to the Book Garden bookshop, and Valentina starts over with a fight to save the bookstore's life.
Lange, Tracey. We Are the Brennans. Celadon: Macmillan. Aug. 2021. 288p. ISBN 9781250796226. $26.99. FAMILY LIFE
All bashed up after the drunk driving accident she caused, almost-30 Sunday Brennan returns from Los Angeles to New York. Now she must explain to both family and ex-fiancé why she abandoned them five years ago, even as she realizes that they really need her. A debut with a 100,000-copy first printing.
Mott, Jason. Hell of a Book. Dutton. Aug. 2021. 336p. ISBN 9780593330968. $27. BLACK LIFE/POP
Switching from big-hit dystopias in print and on screen, Mott sends his Black protagonist on a cross-country book tour that he should know so well. Paralleling this account is the story of Soot, a young Black boy from the recent past, and a perhaps imaginary character called the Kid.
Quinn, Julia (text) & Violet Charles (illus.). Miss Butterworth and the Mad Baron. Morrow Paperbacks. Aug. 2021. ISBN 9780062958594. $19.99. GN/ROMANCE
As Quinn is the author of numerous No. 1 New York Times best-selling historical romances, including the Bridgerton novels of current huge-hit Netflix fame, romance readers should be thrilled by her first graphic novel, illustrated by her sister. The story here is first introduced in It's in His Kiss, the seventh book in the Bridgerton series, and hinted at in other series as well. With a 50,000-copy first printing.
Steel, Danielle. Complications. Delacorte. Aug. 2021. 256p. ISBN 9781984821492. $28.99. WOMEN'S
Closed for a four-year renovation and still adjusting to the death of its celebrated manager, Paris's glamorous Hotel Louis XVI has now reopened. Olivier Bateau, the nervous new manager, finds all manner of complications erupting in the first few days, from an art consultant risking love again to a suicidal guest who saves another's life.
Click here for additional new Prepub Alert columns