Two summer romances with the same title move their couples from friendship to happily ever after.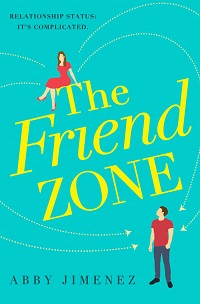 Jimenez, Abby. The Friend Zone. Forever: Grand Central. Jul. 2019. 352p. ISBN 9781538715604. pap. $14.99; ebk. ISBN 9781538715628. CONTEMPORARY ROMANCE
DEBUT There's nothing like a fender bender to get a relationship off to a smashing start, but discovering that the guy who rear-ended your borrowed truck (gently, to be honest), firefighter Josh Copeland, is the best man to your maid of honor at your best friend's wedding makes it worse. Snark flies, but the attraction can't be denied—an attraction that Kristen Petersen is determined to keep at bay for a number of reasons. "Friends only" is the order of the day—until it isn't. A hero who wants a big family and a heroine who probably can't have children struggle to understand what love really means and what they both want in a realistic story that cuts to the quick. ­
VERDICT Zingy dialog, laugh-out-loud humor, and plenty of sass temper the heartbreak of infertility in this modern, well-grounded debut that is sure to satisfy readers. Jimenez is a baking expert and former Food ­Network champion; she lives in ­Minnesota.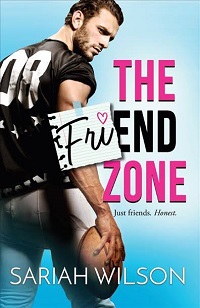 Wilson, Sariah. The Friend Zone. Montlake Romance: Amazon. Jun. 2019. 304p. ISBN 9781542094290. pap. $12.95. CONTEMPORARY ROMANCE
With his football dreams in shreds when his Texas Division I team kicks him out his senior year because of anger management issues, quarterback Logan Hunt is surprised when a coach he's always wanted to play for offers him a second chance—at a small college in Seattle. Logan accepts, determined to play to win, graduate with a 4.0 GPA, and stick to Coach Oakley's rigid rules: no drugs, no alcohol, and no women. Then Logan falls for Jess Oakley, the coach's daughter and also his math tutor. Keeping their budding relationship firmly within the Friend Zone becomes more untenable than either could have conceived. Honor, forgiveness, and making peace with the past are themes in this highly readable escapade.
VERDICT Snappy banter, palpable sexual tension, and a lively sense of fun combine with deeply felt emotional issues in a sweet, upbeat romance that will appeal to both the YA and new adult markets. ­Wilson (Awestruck) lives
in Utah.