Exciting new works from award-winning authors Natalie Haynes, Ladee Hubbard, Sarah Moss, and Todd Robert Petersen and rising-star debut novelist Robert Jones Jr.
Haynes, Natalie. A Thousand Ships. Harper. Jan. 2021. 368p. ISBN 9780063065390. $27.99. LITERARY
Short-listed for Britain's Women's Prize for Fiction and best-booked by the Guardian and the Times Literary Supplement, this reimagining of the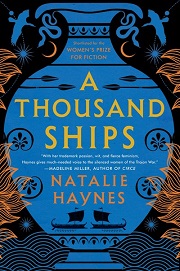 Trojan war from the women's perspective displays goddesses, warrior princesses, and women who wait with sharp-tongued feminist bravura. As Haynes says, "This is the women's war, just as much as it is the men's," and you gotta love an author who has spent her time in lockdown doing a web series called #OvidNotCovid. With a 50,000-copy first printing.
Hubbard, Ladee. The Rib King. Amistad. Jan. 2021. 384p. ISBN 9780062979063. $27.99. LITERARY
Hubbard follows up The Talented Ribkins, winner of the Ernest J. Gaines Award for Literary Excellence and the Hurston/Wright Legacy Award for Debut Fiction, with a story set in late 19th-century Chicago but uncomfortably resonant today. The wealthy white Barclays, who have taken in much of their all-Black staff from the local orphanage, are on hard times and plan to earn cash by marketing their cook's scrumptious rib sauce with a caricature of groundskeeper August on the label. Trapped by a ten-year contract, August seethes—and tragedy is inevitable. With a 30,000-copy first printing.
Jones, Robert Jr. The Prophets. Putnam. Jan. 2021. 400p. ISBN 9780593085684. $27. lrg. prnt. Downloadable. LITERARY
At a Southern plantation so grim the enslaved have dubbed it Empty, Isaiah and Samuel tend the animals and love each other deeply. Their relationship is quietly accepted by their community until the desire to curry favor with white folks in the Big House sets one old man to preaching the gospel. Debut novelist Jones is already gaining traction; he was recently featured in T Magazine's cover story, "Black Male Writers of Our Time."
Moss, Sarah. Summerwater. Farrar. Jan. 2021. 176p. ISBN 9780374105938. $25. LITERARY
Following Ghost Wall, a multiply best-booked title also long-listed for the Women's Prize for Fiction, Moss visits a group of holiday cabins in damp Scotland on the longest day of the year. The vacationers are strangers to one another but subtly linked; a woman seeking momentary respite from her children is watched by a grumpy retiree who then goes for a drive with his wife, his politics pondered by a young woman needing her own break from an overly solicitous boyfriend. These little intrusions mount to a big explosion as the sun finally sets. With a 30,000-copy first printing.
Petersen, Todd Robert. Picnic in the Ruins. Counterpoint. Jan. 2021. 352p. ISBN 9781640093225. $16.95. LITERARY
In this latest from AWP Intro/Utah Arts–winning author Petersen, following It Needs To Look Like We Tried, ambitious grad student Sophia Shepard is studying the impact of tourism on key cultural sites along the Utah/Arizona border when she gets entangled with two minor crooks tasked with stealing a map from a local self-styled collector whose pothunting disrupts efforts to conserve Indigenous art and life. An edgy black comedy examining crucial issues of appropriation and antiquities theft in America.