Day of Dialog's "Fiction Makes History" featured Alice Hoffman, Karl Marlantes, Maaza Mengiste, and Téa Obreht.
While her third panel of the day was titled "Fiction Makes History," moderator Barbara Hoffert's authors were equally invested in the ways that history shaped their novels. Leading off, Téa Obreht recalled discovering the story that inspired Inland (Random, Aug. 2019) while researching the American West. An account of the experimental U.S. Camel Corps brought in from the Ottoman Empire to serve as pack animals, and the Middle Eastern drovers who accompanied them, inspired her tale of 1800s Arizona territory. The true story, said Obreht, offered "constraints of reality in which I had to operate" to spin her own tale—inspired, as well, by her own grandmother—about people taken places against their will, from camel riders to homesteaders' wives. "I knew how it ended and I knew how it began," she said, leaving her to develop the interior of the story, and the interiority of her characters' lives.
Karl Marlantes's novel of Finnish immigrants in the Pacific Northwest, Deep River (Atlantic Monthly Pr., Jul. 2019), also grew from his own family history and the logging town where he grew up. Logging was a dangerous business, he recalled, leading to accidents and deaths as a regular occurrence "so that we can have 2x4s…. That kind of irony was always in the back of my mind." His interest in Finnish mythology also came into play, reimagined as a family saga where everyday choices came down to working and providing for your family or staying safe—a constant collision of power and powerlessness. As far as giving his characters their own power to choose while still staying rooted in history, Marlantes said he believed people always have some form of free will, adding, "I'm a bit of an existentialist."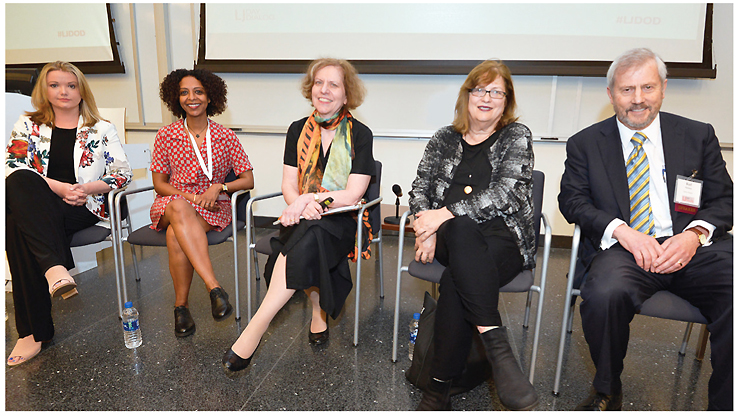 Fiction Makes History panel: l.-r.: Téa Obreht, Maaza Mengiste, Barbara Hoffert, Alice Hoffman, and Karl Marlantes
For Maaza Mengiste, The Shadow King (Norton, Sept. 2019), set during Mussolini's 1935 invasion of Ethiopia, began with the family stories she heard growing up and her questions about where the women were in these accounts. That curiosity led her to Rome, to research the history of Ethiopian women during World War II, where she discovered a photograph of a woman in Ethiopian traditional dress holding a rifle. When she called home to report her find, her mother happened to mention that her great grandmother had fought in the war. (Mengiste wondered, "Why didn't you tell me this? You could have saved me a trip to Italy.") That picture opened the way for dramatic interwoven narratives of women at war, what Hoffert described as "a cross between a Greek chorus and a family dinner."
Alice Hoffman's inspiration behind The World That We Knew (S. & S., 2019) sprung from a combination of the fairy tales she grew up with, which she felt were able to get at a certain emotional truth, and her encounters with Holocaust survivors. "If you don't tell this story," one woman advised her, "people are going to forget," and the 2016 election spurred Hoffman to begin writing her tale of women and children in flight during wartime. She incorporated the character of a female golem—a magical creature from Jewish mythology—created to protect the young protagonist, and who becomes a key player herself; Hoffman said she was interested in the theme of a beast who experiences humanity in contrast with humans who are beasts.
All four authors were struck by parallels between the history that became part of their novels and current events. Although she began researching her book before the election, Obreht said, what surprised her was how familiar the 19th-century rhetoric felt, including the ways "boom and bust cycles" were used to drive fear of outsiders. Mengiste also began writing before the election and found herself researching fascism as it once again became a topic of discussion. One question that drove her writing, she said, was asking herself, "What is my responsibility, not only to myself, but to my neighbors and family?" Hoffman concurred, adding that with this book, she felt she was narrating past and present history simultaneously—and that the mandate to remember is equally important now. Marlantes noted similar dynamics when it came to politics and the ways families accommodate each other even when members of a household clash.
Still, the panel ended on a promising note. As Obreht said, "Hopefully the stories that we tell…allow us to see that, though we exist in these cycles that continue, there's always a way out."
Photos by William Neumann