When trouble starts close to home.
Click here for additional new Prepub Alert columns
Collins, Megan. The Family Plot. Atria. Aug. 2021. 320p. ISBN 9781982163846. $27. CD. THRILLERS/PSYCHOLOGICAL
Raised on a remote island in a true crime–crazed family—her mother loved reenacting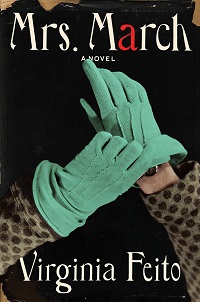 notorious murders for the children—26-year-old Dahlia Lighthouse reluctantly returns home for her father's burial. Shockingly, the body of Dahlia's long-vanished twin, Andy, is found in what was to have been the father's grave, his skull neatly divided by an axe, and Dahlia starts wondering what this murder has to do with her family's singular obsession. With a 60,000-copy first printing.
Feito, Virginia. Mrs. March. Liveright: Norton. Aug. 2021. 256p. ISBN 9781631498619. $26. THRILLER/PSYCHOLOGICAL
Upper East Sider Mrs. March is delighted with the success of her husband's latest novel—until a shopkeeper insinuates that the sketchy main character is based on Mrs. March herself. That sets the polished-to-perfection matron careening toward psychosis that may disclose both buried secrets and the identity of a killer. A buzzing debut already optioned for a feature film starring Elizabeth Moss.
Fielding, Joy. Cul-de-Sac. Ballantine. Aug. 2021. 384p. ISBN 9781984820259. $28. Downloadable. SUSPENSE
High-aspiring wife Maggie and her underwhelming husband, Craig; accomplished medical professionals Nick and Dani, hiding secrets; elderly widow Julia and her just-moved-in grandson, who brought chaos in his wake; heavy-drinking, suddenly jobless Sean, envious of successful wife Olivia; and recently married Aiden and Heidi, already having trouble. These families all live in a Florida cul-de-sac whose quiet night air will soon be shattered by gunshot—because everyone here is troubled, and they all have guns.
Jones, Sandie. The Guilt Trip. Minotaur: St. Martin's. Aug. 2021. 320p. ISBN 9781250265586. $27.99. CD. THRILLER/DOMESTIC
Friends since university, Rachel and Noah are now married to Jack and Paige, respectively, and now that Jack's brother Will is marrying wild-child Ali, it's time for everyone to get together at a destination wedding. Small tensions might be inevitable, but the weekend is ripped open when Rachel discovers something truly shocking about the bride-to-be. With a 100,000-copy first printing; from the author of The Other Woman, a Reese Witherspoon x Hello Sunshine Book Club pick.
Pomare, JP. The Last Guests. Mulholland: Little, Brown. Aug. 2021. 336p. ISBN 9780316462983. $28. Downloadable. THRILLER/DOMESTIC
Newlyweds Lina and Cain don't get out to their vacation home on New Zealand's Lake Tarawera as much as they'd like, so they decide to earn some extra cash by renting it out on weekends. Alas, they have some secrets they want to keep buried, and unsettling events at the vacation home suggests that someone is digging them up. With a 50,000-copy first printing; from the author of the LJ-starred Call Me Evie, winner of the Ngaio Marsh Award for best first novel.
Stage, Zoje. Getaway. Mulholland: Little, Brown. Aug. 2021. 368p. ISBN 9780316242509. $28. SUSPENSE
Best friends since high school, Tilda and sisters Imogen and Beck have drifted apart and have decided to bandage up that split by hiking together through the Grand Canyon's backcountry (hey, wouldn't you?). Little differences arise, of course, but when supplies start disappearing, the three women know that something dark is going on. Not so surprising from the author of the best-selling, horror-touched Baby Teeth; with a 30,000-copy first printing.
Winstead, Ashley. In My Dreams I Hold a Knife. Sourcebooks Landmark. Aug. 2021. 368p. ISBN 9781728229881. $26.99. THRILLER/PSYCHOLOGICAL
When Jessica Miller attends her 10th college reunion, she's peacock-proud about her accomplishments, but she has no idea that a trap awaits to discover who murdered a member of her once-close group of friends while they were all in college. Damnably, at the time, one of the group was accused of the murder. First in a two-book deal.