A standalone from Nevada Barr, a series starter from Anne Perry, and the continuation of multiple popular series.
Barr, Nevada. What Rose Forgot. Minotaur: St. Martin's. Sept. 2019. 304p. ISBN 9781250207135. $28.99; ebk. ISBN 9781250208033. CD. MYSTERY
In this detour from Barr's New York Times best-selling Anna Pigeon series, sixtyish Rose Dennis wakes up in an Alzheimer's unit at a nursing home and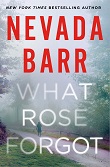 hears an administrator opining that she won't make it through the week. Her mind is fine, so why did her relatives commit her? Craftily plotting her escape and convinced after a break-in at her home that someone wants her dead, Rose relies on her reclusive computer-genius sister Marion, 13-year-old granddaughter Mel, and Mel's friend Royal to figure out what's up.
Camilleri, Andrea. The Other End of the Line. Penguin. (An Inspector Montalbano Mystery). Sept. 2019. 272p. tr. from Italian by Stephen Sartarelli. ISBN 9780143133773. pap. $16; ebk. ISBN 9780525505617. MYSTERY
In this next in a best-selling series, both here and abroad, the Sicily-based Inspector Montalbano and his team have been assigned to his fictional town's port to help the refugees arriving in increasing numbers. But when the local seamstress is murdered, the inspector's workload gets out of hand.
Johnson, Craig. Land of Wolves. Viking. Sept. 2019. 336p. ISBN 9780525522508. $28; ebk. ISBN 9780525522515. MYSTERY
In this next in Johnson's Longmire mysteries, inspiration for the popular Netflix original series, Wyoming Sheriff Walt Longmire is trying to determine whether a shepherd's hanging is suicide even as he ducks a murderous Basque family with little love for the local sheriffs when a huge wolf appears in the Big Horn Mountains. And he kind of feels for the wolf.
Lindsey, Erin. A Golden Grave: A Rose Gallagher Mystery. Minotaur: St. Martin's. Sept. 2019. 400p. ISBN 9781250180674. pap. $17.99; ebk. ISBN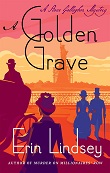 9781250180681. CD. MYSTERY
In this follow-up to the LJ-starred Murder on Millionaire's Row, the "Bloodbound" fantasy series author's first mystery, Rose Gallagher returns as a newbie Pinkerton agent in Gilded Age Manhattan who pursues paranormal-edged cases with handsome partner Thomas Wiltshire. Six politicians have been killed, with mayoral candidate Theodore Roosevelt looking to be the next in line, and Rose is just itching to prove herself by tracking down the assassins.
McKinlay, Jenn. Word to the Wise. Berkley. (A Library Lover's Mystery). Sept. 2019. 304p. ISBN 9780451492708. $26; ebk. ISBN 9780451492722. MYSTERY
Library director Lindsey Norris is about to get married, so it's more than annoying that googly-eyed town newcomer Aaron Grady seems to be pursuing her. When he's found stone cold dead and nastily staged in front of the library, it looks as if Lindsey's fiancé is the culprit. Next in former librarian McKinlay's New York Times best-selling "A Library Lover's Mystery" series.
Mayor, Archer. Bomber's Moon: A Joe Gunther Novel. Minotaur: St. Martin's. Sept. 2019. 320p. ISBN 9781250113306. $27.99. MYSTERY
A lowly drug dealer is knifed to death in a small Vermont town, a busy burglar is drawing media attention, and a private detective discovers more than just financial misbehavior at an elite school he's investigating. It all ends up as one big knot to untie for Joe Gunther and his team in the Vermont Bureau of Investigation. From the New York Times best-selling author.
Penny, Louise. A Better Man: A Chief Inspector Gamache Novel. Minotaur: St. Martin's. Aug. 2019. 400p. ISBN 9781250066213. $28.99; ebk. ISBN 9781466873711. MYSTERY
In Kingdom of the Blind, Chief Inspector Gamache's previous outing, Penny seemed to be pointing her top characters in new directions. No plot details yet, but I for one can't wait to see what happens here. From the CWA Dagger and six-time Agatha Award winner; note the late August pub date.
Perry, Anne. Death in Focus: An Elena Standish Novel. Ballantine. Sept. 2019. 304p. ISBN 9780525620983. $28; ebk. ISBN 9780525620990. MYSTERY
In this series starter from the celebrated Perry, set in pre–World War II Europe, late-twenties Elena Standish falls for Ian while vacationing in Italy and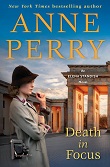 travels back to England with him. When tragedy strikes, Elena alone must deliver a key message to Berlin, even as her diplomat father and her grandfather (once secretly the head of MI6) make trouble on the world stage.
Todd, Charles. A Cruel Deception: A Bess Crawford Mystery. Morrow. Sept. 2019. 336p. ISBN 9780062859839. $26.99; ebk. ISBN 9780062859860. lrg. prnt. MYSTERY
Even as the armistice is being drawn up post–World War I, nurse Bess Crawford is tasked with finding an officer in Paris who has abandoned his duties at the Peace Conference. When he turns up, much the worse for a laudanum addiction and utterly indifferent to whether he lives or dies, Bess must uncover the reason for his anguish. Bess's sales keep growing; with a 75,000-copy first printing.
Weaver, Ashley. A Dangerous Engagement. Minotaur: St. Martin's. Sept. 2019. 320p. ISBN 9781250159779. $27.99; ebk. ISBN 9781250159786. MYSTERY
Already on her sixth mystery, Amory Ames has sailed the seas to Prohibition-era New York for childhood friend Tabitha's wedding, where Milo is at loose ends (no liquor?) until a member of the wedding party is found murdered on the bride's doorstep. The victim had links to the underworld, and the groom seems to be harboring secrets, so Amory and Milo get busy. From the Edgar-nominated librarian.