Like Stephen Chbosky (Imaginary Friends), YA author Leigh Bardugo goes adult. Plus Hugo winner Liu Cixin offering Supernova Era, wrap-ups of popular series by Sebastien de Castell and Brent Weeks, and more.
Bardugo, Leigh. Ninth House. Flatiron: Macmillan. Oct. 2019. 448p. ISBN 9781250313072. $27.99; ebk. ISBN 9781250313089. CD. SUPERNATURAL/ THRILLER
Having decided that it's time to creep out adults, too, No. 1 New York Times best-selling YA author Bardugo introduces us to Galaxy "Alex" Stern, a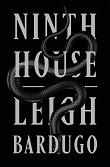 school dropout who inhabits Los Angeles's druggie underworld. So why, when she's the only survivor of a mysterious multiple murder, is she offered the chance to attend Yale, all fees paid? Because her benefactors want her to track the university's secret societies with an eye to some occult (and not so benevolent) doings. Major publicity.
de Castell, Sebastien. Crownbreaker. Orbit: Hachette. Oct. 2019. 400p. ISBN 9780316525954. pap. $15.99; ebk. ISBN 9780316525930. lib. ebk. ISBN 9780316525947. FANTASY
The multi-nominated author of two fantasy series, "The Greatcoats" and "Spellslinger," de Castell wraps up the latter, a six-volume series featuring Kellen Argos, who hasn't quite got what it takes to be a magician but manages to be a hero in other ways. Spellslinger, which appeared just last summer, was long-listed for the CILIP Carnegie Medal, so hustle to keep up.
Jacobs, John Hornor. A Lush and Seething Hell: Two Tales of Cosmic Horror. Harper Voyager. Oct. 2019. 304p. ISBN 9780062880826. $19.99; ebk. ISBN 9780062880840. HORROR
The Bram Stoker– and David Gemmell–nominated Jacobs offers two pieces not yet seen in print, the already praised novella "The Sea Dreams It Is the Sky," which chronicles the horrors of a South American dictatorship through the journal of an exiled poet, and the newly minted "My Heart Struck Sorrow." Here a librarian discovers a recording from the Deep South that may spill forth music from the Devil himself. With a 40,000-copy first printing.
Khan, Ausma Zehanat. The Blue Eye. Harper Voyager. (The Khorasan Archives, Bk. 3). Oct. 2019. 384p. ISBN 9780062459237. pap. $17.99; ebk. ISBN 9780062459244. FANTASY
In this third in the series from the multi-threat Khan—she has a degree in international law, founded a magazine for Muslim girls, and authors the mystery series featuring Detectives Esa Khattak and Rachel Getty—the Companions of Hira continue their struggle against the patriarchal Talisman. Arian leads a breakoff group searching for the ancient, all-important book called The Bloodprint, but she ends up seeking new recruits with people she doesn't trust. With a 35,000-copy first printing.
Krueger, Paul. Steel Crow Saga. Del Rey: Ballantine. Oct. 2019. 528p. ISBN 9780593128220. $27; ebk. ISBN 9780593128237. Downloadable. FANTASY
An embittered soldier named Tala lost her family to the empress's army, which makes Prince Jimuro nervous about seeking her help in rebuilding the shattered empire he has inherited. Meanwhile, wily detective Xiulan, a princess in disguise, would dearly love to hand over Jimuro to her father and asks petty thief Lee for her help. Filipino American writer Krueger draws on his family's postcolonial culture and his love of Asian culture to craft this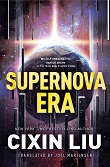 follow-up to the urban fantasy Last Call at the Nightshade Lounge. Love the magical animal companions.
Liu Cixin. Supernova Era. Tor. Oct. 2019. 352p. tr. from Chinese by Joel Martinsen. ISBN 9781250306036. $27.99; ebk. ISBN 9781250306043. CD. SF
In this latest from celebrated SF author Liu, a Hugo Award winner and multiple claimant to the Galaxy Award (the Chinese Hugo) and the Xing Yun Award (the Chinese Nebula), an exploding star eight light years away has visited deadly radiation upon Earth. Everyone over 13 will be dead within a year, but even as adults rush to communicate what they know, youngsters have their own ideas about the future (as they always have). With a national author tour.
Weeks, Brent. The Burning White. Orbit: Hachette. Oct. 2019. 650p. ISBN 9780316251303. $30; ebk. ISBN 9780316251280. lib. ebk. ISBN 9780316402873. FANTASY
In this wrap-up to the New York Times best-selling "Lightbringer" series, Kip Guile finally steps out of his family's shadow as he joins his companions for a last stand against the White King. Will the Lightbringer finally arrive? With a 150,000-copy first printing.