Studies of hearing and hearing loss, memory creation for happiness, and environmental economics, but we'll all love the cats and dogs on this list.
Bowen, James. The Little Book of Bob: Life Lessons from a Streetwise Cat. Thomas Dunne: St.Martin's. Oct. 2019. 176p. ISBN 9781250215369. $24.99; ebk. ISBN 9781250215376. PETS/CATS
In spring 2007, street busker Bowen rescued an injured orange tabby he found in the hallway of his shelter home in North London, and the rest is the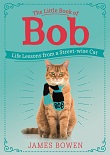 story of a beautiful friendship and an international phenomenon that began with A Street Cat Named Bob. Here we see what Bob has to say (so to speak) about caring, steadfastness, balance, and joy.
McAfee, Andrew. More From Less: The Surprising Story of How We Learned to Prosper Using Fewer Resources—and What Happens Next. Scribner. Oct. 2019. 320p. ISBN 9781982103576. $28. ENVIRONMENTAL ECONOMICS
Co-director of the MIT Initiative on the Digital Economy and author of the New York Times best-selling The Second Machine Age, which was a short-listed for the Financial Times/McKinsey Business Book of the Year, McAfee has good news. While global warming and overfishing remain issues, the consumption of natural resources such as metals, water, and timber has begun to decline despite increasing prosperity. With a 100,000-copy first printing.
Mitchell, Melanie. Artificial Intelligence: A Guide for Thinking Humans. Farrar. Oct. 2019. 352p. ISBN 9780374257835. $28; ebk. ISBN 9780374715236. COMPUTERS
A leading computer science whose Complexity: A Guided Tour, won the 2010 Phi Beta Kappa Science Book Award, among other honors, Mitchell gives us a history of artificial intelligence and a summation of its current state while asking pressing questions like how smart the best AI programs really are, how they work, how they fail, and how humanlike we can expect them to be.
Owen, David. Volume Control: Hearing in a Deafening World. Riverhead. Oct. 2019. 304p. ISBN 9780525534228. $28; ebk. ISBN 9780525534242. Downloadable. HEATLH & FITNESS
Where would we be without being able to hear Bach, rock, or a beloved's whispers? But millions of Americans suffer hearing loss, with many unwilling to admit it, so New Yorker staffer Owen steps in to explain how hearing works, how hearing aids have improved, and how those with hearing loss can and should seek treatment and protect the hearing that remains.
Stavrinides, Liz. Extraordinary Dogs: Stories from Search and Rescue Dogs, Comfort Dogs, and Other Canine Heroes. St. Martin's. Oct. 2019. 288p. ISBN 9781250201409. $27.99; ebk. ISBN 9781250201416. PETS/DOGS
From the photographer who gave us the celebrated Miracle Dogs, here are portraits of more than 50 heroic dogs, from Search and Rescue K-9 canine teams to the Department of Homeland Security's TSA dogs to the Lutheran Church Charities K-9 Comfort Dogs, and as the Boston Marathon bombing, Superstorm Sandy, and the mass shooting at Marjory Stoneman Douglas High School.
Wiking, Meik. The Art of Making Memories: How To Create and Remember Happy Moments. Morrow. Oct. 2019. 288p. ISBN 9780062943385. $19.99; ebk. ISBN 9780062943392. SELF-HELP
The CEO of the Happiness Research Institute in Copenhagen and author of the New York Times and international best seller The Little Book of Hygge, Wiking argues that the key to happiness is good memories. But how are memories made? And how do we make them lasting and meaningful? With a 100,000-copy first printing.