Next in the popular series after a seven-year wait.
Click here for additional new Prepub Alert columns
Gabaldon, Diana. Go Tell the Bees That I Am Gone. Delacorte. Nov. 2021. 912p. ISBN 9781101885680. $36. CD. HISTORICAL/TIME TRAVEL
It's been seven long years since the publication of Written in My Own Heart's Blood, but at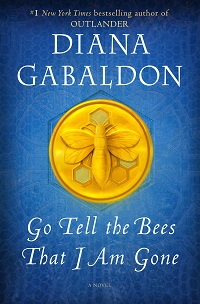 last here is the ninth entry in the enduringly popular "Outlander" series. Reunited 20 years after having been sundered by the Jacobite Rising in 1746, Jamie Fraser and Claire Randall now live in Revolutionary War–era America with daughter Brianna and her family. The North Carolina backcountry seems remote, but with loyalties split among their tenants, Jamie and Claire know they can't avoid the war forever, and Brianna and husband Roger begin to wonder whether returning to the past to escape the dangers of the 20th century was the wisest plan. Meanwhile, Jamie's son, William Ransom, must come to terms with his paternity. The sixth Starz season of Outlander is filming, and there's talk of the seventh, so read ahead.