Domestic suspense, missing persons, and contemporary global politics to keep readers thrilled during the holidays.
Click here for additional new Prepub Alert columns
Andrews, Brian & Jeffrey Wilson. W.E.B. Griffin Rogue Asset by Andrews & Wilson. Putnam. Dec. 2021. 432p. ISBN 9780399171215. $28. CD/downloadable. THRILLER
When the secretary of state is kidnapped from his Cairo hotel, President Natalie Cohen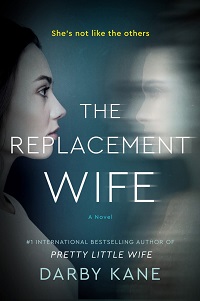 decides to revive the Presidential Agent program, calling Charley Castillo out of retirement to help. Charley is directing an agent fondly nicknamed Killer McCoy, and together they head to Egypt and thence to Sudan. U.S. Navy veterans Andrews and Wilson doing Griffin in contemporary mode.
Belle, Kimberly. My Darling Husband. Park Row: Harlequin. Dec. 2021. 352p. ISBN 9780778312116. $28.99; pap. ISBN 9780778311560. $16.99. CD. THRILLERS/PSYCHOLOGICAL
Successful restauranteurs Jade and Cam Lasky have a shock when Jade is confronted at home by a masked intruder who promises not to harm the children if she forks over $734,296. Called at work, Cam will have a hard time delivering that bizarrely precise amount given their sliced-thin margins, while Jade gets a feeling that she knows the intruder. From the author of Dear Wife and Marriage Lies, both optioned for film; with a 100,000-copy paperback and 10,000-copy hardcover first printing.
Ernshaw, Shea. A History of Wild Places. Atria. Dec. 2021. 368p. ISBN 9781982164805. $27. THRILLERS/SUSPENSE
Famed for his ability to locate people who have vanished, Travis Wren traces missing children's author Maggie St. James to Pastoral, a community so secluded that people think it no longer exists. He promptly vanishes himself, his abandoned truck found years later by a member of the community, and the community's corrosive secrets start emerging. From the author of the New York Times best-selling The Wicked Deep; with a 50,000-copy first printing.
Kane, Darby. The Replacement Wife. Morrow. Dec. 2021. 416p. ISBN 9780063119680. $27.99; Morrow Paperbacks. ISBN 9780063117808. $16.99. THRILLER/DOMESTIC
With one dead wife and one missing fiancée, brother-in-law Josh looks like a murderer to Elisa Wright, who's worried about both the fiancée (a good friend) and the well-being of the woman Josh is now dating. But even as incriminating evidence piles up, Elisa recalls a terrible incident from her past and wonders if she's simply losing her mind. From the author of the internationally best-selling Pretty Little Wife, a LibraryReads pick; with a 100,000-copy paperback and 30,000-copy hardcover first printing.
Woods, Stuart. Untitled. Putnam. Dec. 2021. 320p. ISBN 9780593331729. $28. lrg. prnt. CD/downloadable. THRILLER
The indefatigable Woods is back—look for Class Act in August and Foul Play in October—and he is giving Stone Barrington a 60th outing. No plot details, as usual, but fans keep clamoring.
Click here for additional new Prepub Alert columns