From Conquistadores to war in Afghanistan.
Click here for additional new Prepub Alert columns
Ackroyd, Peter. Innovation: History of England. St. Martin's. (History of England, Bk. 6). Sept. 2021. 400p. ISBN 9781250003669. $21.99. HISTORY
Argetsinger, Amy. There She Was: The Secret History of Miss America. One Signal: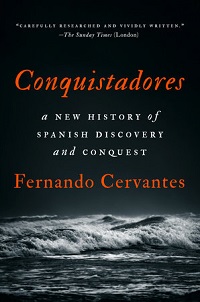 Atria. Sept. 2021. 320p. ISBN 9781982123390. $28. HISTORY
Cervantes, Fernando. The Conquistadores: The Untold History of Spanish Discovery and Empire. Viking. Sept. 2020. 496p. ISBN 9781101981269. $35. Downloadable. HISTORY
Cooper, Anderson & Katherine Howe. The Vanderbilts: An American Dynasty. Harper. Sept. 2021. 384p. ISBN 9780062964618. $28.99. HISTORY
Ferrer, Ada. Cuba: An American History. Scribner. Sept. 2021, 480p. ISBN 9781501154553. $32. HISTORY
Frankel, Rebecca. Into the Forest : A Holocaust Story of Survival, Triumph, and Love. St. Martin's. Sept. 2021. 304p. ISBN 9781250267641. $28.99. HISTORY
Guelzo, Allen C. Lee: A Biography. Knopf. Sept. 2021. 608p. ISBN 9781101946220. $35. HISTORY
Rubenstein, David M. The American Experiment: Creating a Nation. S. & S. Sept. 2021. 416p. ISBN 9781982165734. $30. HISTORY
Whitlock, Craig. The Afghanistan Papers: A Secret History of the War. S. & S. Sept. 2021. 416p. ISBN 9781982159009. $30. HISTORY
Novelist/historian Ackroyd's Innovation wraps up his long-running history of England, starting with the Boer War, then moving through the Bloomsbury Group, World War II, the rise of Labour, and the Swinging Sixties to Tony Blair and the Millennial Dome (30,000-copy first printing). The Washington Post's senior style editor, Argetsinger offers a 100-year retrospective of the Miss America pageant in There She Was (100,000-copy first printing). A specialist in early modern European history at the University of Bristol, Mexican historian Cervantes is also a descendant of a conquistador, and in The Conquistadores (originally scheduled for Nov. 2020), he takes a new approach to the Spanish conquest of the Americas that neither celebrates its adventurism nor condemns it as intentionally cruel. Great-great-great-grandson of Cornelius Vanderbilt, CNN anchor Cooper joins with novelist/historian Howe to tell the story of his famous—and famously disputatious—family in The Vanderbilts (300,000-copy first printing). Julius Silver Professor of History and Latin American and Caribbean Studies at New York University, Cuban-born, American-raised Ferrer assays 500 years of history as she highlights the ties binding Cuba and America. From Frankel, a former executive editor at Foreign Policy magazine, Into the Forest chronicles the Rabinowitz family's escape from a German killing squad in 1942 Poland and subsequent survival for two years in the Bialowieza Forest, followed by immigration to America (60,000-copy first printing). With Lee, three-time Lincoln Prize winner Guelzo profiles the many contradictions of the Confederate general. Rubinstein follows up the New York Times best-selling How To Lead and The American Story with The American Experiment, more conversations on American culture and ideas with the likes of Jill Lepore, David McCullough, and Rita Moreno as interlocutors (100,00-copy first printing). In The Afghanistan Papers, Whitlock, an investigative reporter for the Washington Post and three-time Pulitzer Prize finalist, examines the longest war in American history and how three successive administrations consistently misrepresented it to the American people (125,000-copy first printing).
Click here for additional new Prepub Alert columns