Science titles are stronger than ever, but Walter Isaacson's The Code Breaker rides especially high with a 500,000-copy first printing.
Science Today
Berger, Eric. Liftoff: Elon Musk and the Desperate Early Days That Launched SpaceX. Morrow. Mar. 2021. 288p. ISBN 9780062979971. $27.99. SCIENCE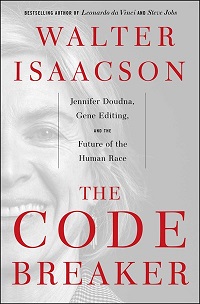 Isaacson, Walter. The Code Breaker: Jennifer Doudna, Gene Editing, and the Future of the Human Race. S. & S. Mar. 2021. 448p. ISBN 9781982115852. $30. SCIENCE/TECHNOLOGY
Tucker, Abigail. Mom Genes: Inside the New Science of Our Ancient Maternal Instinct. Gallery: S. & S. Mar. 2021. 288p. ISBN 9781501192852. $28.
In Liftoff, Pulitzer Prize finalist Berger recounts the first four flights launched by Elon Musk's SpaceX, which made it today's cutting-edge rocket company (75,000-copy first printing). In The Code Breaker, best-selling author (e.g., Steve Jobs) and former Aspen CEO Isaacson revisits the work of Berkeley biochemist Jennifer Doudna and her collaborators, who devised a simple tool called CRISPR that can edit DNA and thus regularly saves lives; it's been used in the fight against the coronavirus (500,000-copy first printing). New York Times best-selling author of The Lion in the Living Room, Tucker considers Mom Genes—that is, the biology behind what makes a mother act like one (75,000-copy first printing).
Neuroscience
Damasio, Antonio. Feeling and Knowing: A Manifesto on Consciousness. Pantheon. Mar. 2021. 224p. ISBN 9781524747558. $23. Downloadable. COGNITIVE NEUROSCIENCE
Klotz, Leidy. Subtract: The Untapped Science of Less. Flatiron: Macmillan. Mar. 2021. 304p. ISBN 9781250249869. $28.99. COGNITIVE SCIENCE
Vedantam, Shankar & Bill Mesler. Useful Delusions: The Power and Paradox of the Self-Deceiving Brain. Norton. Mar. 2021. 320p. ISBN 9780393652208. $27.95. COGNITIVE SCIENCE
From world-famous neuroscientist Damasio (it all started with Descartes' Error), Feeling and Knowing relies on recent discoveries in neurobiology, psychology, and AI to explain what consciousness really is. Copenhaver Associate Professor at the University of Virginia, Klotz argues that in problem solving (e.g., trying to make the perfect grilled cheese sandwich), we often mistakenly add instead of Subtract; often, considering what we shouldn't be doing rather than what more we could do might be best (125,000-copy first printing). The force behind the Hidden Brain podcast and public radio show and the New York Times best-selling The Hidden Brain, Vedantam argues for Useful Delusions, explaining that sometimes deceiving ourselves can actually assure well-being.
Nature
Hiss, Tony. 50 by '50: Protecting Half the Land To Heal the Earth. Knopf. Mar. 2021. 304p. ISBN 9780525654810. $27.95. Downloadable. CONSERVATION
Meiburg, Jonathan. A Most Remarkable Creature: The Hidden Life and Epic Journey of the World's Smartest Birds of Prey. Knopf. Mar. 2021. 384p. ISBN 9781101875704. $30. Downloadable. BIRDS
Nijhuis, Michelle. Beloved Beasts: Fighting for Life in an Age of Extinction. Norton. Mar. 2021. 320p. ISBN 9781324001683. $27.95. BIOLOGICAL DIVERSITY
Phoenix, Jess. Ms. Adventure: My Wild Explorations in Science, Lava, and Life. Timber: Workman. Mar. 2021. 393p. ISBN 9781643260037. $24.95. MEMOIR/SCIENCE
Wending his way from the North American Boreal Forest to Mexico, longtime New Yorker staffer Hiss presents the case made by engineers, geologists, biologists, botanists, oceanographers, ecologists, and other "Half Earthers" like himself: to save Earth, half the land must be protected by 2050—hence 50 by '50. A debuting nature writer who's also lead singer of the band Shearwater, Meiburg introduces us to A Most Remarkable Creature—the cheeky and curious striated caracara, a crowlike falcon first spotted by Darwin that wings about only among South America's southernmost islands. (Cultural context here; think Helen Macdonald's H Is for Hawk and Jonathan Slaght's Owls of the Eastern Ice.) In Beloved Beasts, award-winning science writer Nijhuis, a project editor at the Atlantic, tracks the movement to save animal species begun in the 19th century. A volcanologist and an extreme explorer, Phoenix—aka Ms. Adventure—relates her work in the field as executive director and cofounder of the environmental scientific research organization Blueprint Earth.