From political manifesto and Obamacare to the fall of civilizations, the dangers of tech-based hype, and the first all-Black team to win the National Interscholastic Polo championship.
Blow, Charles M. The Devil You Know: A Black Power Manifesto. Harper. Feb. 2021. 272p. ISBN 9780062914668. $26.99. lrg. prnt. RACE RELATIONS
In the face of ongoing violence and discrimination, New York Times Op-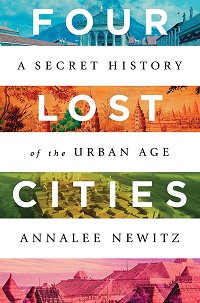 Ed columnist Blow (Fire Shut Up in My Bones) sets Black people a challenge: "The point here is not to impose a new racial hierarchy, but to remove an existing one. After centuries of waiting for white majorities to overturn white supremacy, it seems to me that it has fallen to Black people to do it themselves."
Bluestone, Gabrielle. Hype: How Scammers, Grifters, and Con Artists Took Over the Internet—and Why We Followed. Hanover Square: Harlequin. Feb. 2021. 352p. ISBN 9781335016492. $28.99.
Vice journalist, attorney, and Emmy-nominated producer of Netflix's Fyre, Bluestone reveals how scams are proliferating in the digital age—consider the startup based on fake blood tests and the millions of tickets sold for a concert that never was. Why is this happening, and how can consumers keep themselves from being outfoxed? With a 250,000-copy first printing.
Cohn, Jonathan. The Ten Year War: Obamacare and the Unfinished Crusade for Universal Coverage. St. Martin's. Feb. 2021. 320p. ISBN 9781250270931. $28.99. PUBLIC POLICY
A senior national correspondent at HuffPost, Cohn chronicles how the Affordable Care Act (i.e., Obamacare) came into being, how it has impacted Americans in all walks of life, and why it will continue to remain controversial. With a 50,000-copy first printing.
Ehrlich, Greta. Unsolaced: Along the Way to All That Is. Pantheon. Jan. 2021. 256p. ISBN 9780307911797. $26.95. TRAVEL/NATURE
Having examined nature's workings in nonfiction, fiction, and poetry, PEN Thoreau Award winner Ehrlich revisits weather, light and wind—the key earthly qualities she first cited in The Solace of Open Spaces—and the various places she has passed through in the last 35 years. She shows not only how these qualities have shaped her experiences but how she has come to value transience over permanence.
Miller, Reuben Jonathan. Halfway Home: Race, Punishment, and the Afterlife of Mass Incarceration. Little, Brown. Feb. 2021. 352p. ISBN 9780316451512. $29. SOCIAL SCIENCE
Chaplain at the Cook County Jail in Chicago and later a sociologist studying mass incarceration, Miller focuses on Chicago and Detroit—two cities with big post-prison populations—as he explores the realities of post-prison life. Often, that includes limited job and housing opportunities and restrictions on voting rights. Miller argues for acknowledging those who have paid their debt to society. With a 50,000-copy first printing.
Nesteroff, Kliph. We Had a Little Real Estate Problem. S. & S. Feb. 2021. 336p. ISBN 9781982103033. $27. HUMOR/CULTURE
"I'm from Wisconsin, of the Oneida Nation. … We used to be from New York, but we had a little real estate problem." So said Indigenous stand-up comedian Charlie Hill, furnishing the title for comedy historian Nesteroff's account of how Indigenous comics have greatly influenced the art form. Starting with the exploitative wild west shows, Nesteroff ranges up to contemporary performers like Ryan Red Corn, the Osage member of the comedy sketch group the 1491s, who says: "The American narrative dictates that Indians are supposed to be sad. It's not really true."
Newitz, Annalee. Four Lost Cities: A Secret History of the Urban Age. Norton. Feb. 2021. 304p. ISBN 9780393652666. $26.95. GEOGRAPHY
A noted sf novelist, adept science writer, founder of io9, and American studies professor at Berkeley, Newitz considers four civilizations—Çatalhöyük, a Neolithic site in Central Turkey; the Roman vacation town of Pompeii; Cambodia's medieval megacity, Angkor; and Cahokia, an Indigenous city on the Mississippi River where East St. Louis is today—showing how climate change and political upheaval combined to bring about their demise.
Rosser, Kareem. Crossing the Line: A Fearless Team of Brothers and the Sport That Changed Their Lives Forever. St. Martin's. Feb. 2021. 304p. ISBN 9781250270863. $28.99. MEMOIR/SPORTS
Growing up in a poverty-riven Philadelphia neighborhood, Rosser and his brothers discovered the Work To Ride stables while biking through the city's Fairmount Park and traded afterschool work for lessons. At Colorado State University, Rosser captained the first all-Black polo team to win the National Interscholastic Polo championship. Now he's a financial analyst—and executive director of Friends of Work To Ride. With a 60,000-copy first printing.