Two National Book Award finalists, a Miles Franklin Award winner, four promising debut novelists, and outstanding fiction in translation.
Award Worthies
Baxter, Charles. The Sun Collective. Pantheon. Nov. 2020. 336p. ISBN 9781524748852. $27.95. Downloadable. LITERARY
The mother of falling-star actor Tim Brettigan knows that he has disappeared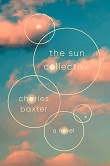 intentionally but still seeks him, finally discovering a community led by an ideal-ridden leader. Newbie drug addict Christina is led to the same community by a man with visions of revolution. Through these characters, National Book Award finalist Baxter (The Feast of Love) examines American excess and anxiety in a Minneapolis setting.
Krauss, Nicole. To Be a Man: Stories. Harper. Nov. 2020. 240p. ISBN 9780062431028. $26.99. SHORT STORIES
In this story collection, Krauss investigates mostly male characters, including fathers and sons, friends and lovers, moving worldwide as she touches on passion, violence, aging, generational differences, the ongoing search for self, and dreams dreamed, deferred, or destroyed. There are also some young women wrestling with their own desires. From the National Book Award and Los Angeles Times Prize finalist; with a 75,000-copy first printing.
Lukashenko, Melissa. Too Much Lip. HarperVia. Nov. 2020. 320p. ISBN 9780063032538. $26.99. LITERARY
Guilty of "too much lip," headstrong Kerry Salter is veering close to prison but still distancing herself from her Bundjalung homeland in Australia—until her father falls ill. She heads home on a stolen Harley, meaning to stay a day, but soon she enters the fight against building a prison on her family's spiritual homeland. Plus, a handsome white man steps into the picture. A Miles Franklin Award winner from Aboriginal writer Lukashenko, of Goorie and European heritage; with a 40,000-copy first printing.
Debuts
Gosling, Victoria. Before the Ruins. Holt. Nov. 2020. 288p. ISBN 9781250759153. $26.99. LITERARY
In this literary/thriller blend, four friends—self-destructive Andy; her boyfriend, Marcus; her best friend, Peter; and inscrutable Em—are sheltering in an abandoned manor house. Then charismatic, on-the-run David shows up, and Andy and Peter fall out in a bid for his attention. Meanwhile, a stolen diamond necklace may be somewhere on the premises. Gosling organizes writers' salons/retreats in Berlin, Italy, and Greece; with a 100,000-copy first printing.
Han, Simon. Nights When Nothing Happened. Riverhead. Nov. 2020. 272p. ISBN 9780593086056. $26. Downloadable. LITERARY
In an anticipated debut from Chinese-born, Texas-raised Han—he's won numerous fellowships and been published in venues from Guernica to Electric Literature—the Dallas-based Chengs are finally established enough to send for their son, still in China with his grandparents. But then little daughter Annabel starts sleepwalking, and the habit escalates dangerously to reveal family secrets and raise the question of trust.
Hopen, David. The Orchard. Ecco. Nov. 2020. 480p. ISBN 9780062974747. $27.99. LITERARY
Raised in ultra-Orthodox Brooklyn, Ari Eden experiences culture shock when his family moves to bright, jangly Miami and he's sent to an upscale Jewish academy loaded with rich, sybaritic kids. Classy Noah befriends him, but their entire in-crowd soon starts pushing all sorts of boundaries. Yale graduate Hopen offers a debut with a 50,000-copy first printing, which says something.
Masood, Syed M. The Bad Muslim Discount. Doubleday. Nov. 2020. 368p. ISBN 9780385545259. $27.95. Downloadable. LITERARY
Rebellious young Anvar's mother and brother remain rigorously devout after the family flees Pakistan's surging fundamentalism for California, but Anvar himself is tired of being a good Muslim. Soon, his story intersects with that of Safwa, who's escaped from war-shattered Baghdad with her conservative father. Karachi-born, Sacramento-based Masood has claimed citizenship in three countries and residency in nine cities; his YA novel, More Than Just a Pretty Face, publishes in August.
In Translation
Coelho, Paulo (text) & Christoph Niemann (illus.). The Archer. Knopf. Nov. 2020. 160p. tr. from Portuguese by Margaret Jull Costa. ISBN 9780593318270. $19.95. lrg. prnt. LITERARY
The next visionary work from the internationally best-selling author of The Alchemist features a boy who asks plenty of questions about life of Tetsuya, a famous archer who has withdrawn from public life. Tetsuya uses his bow and arrow to illustrate his answers, showing that thought and action must be linked. Backlit by German illustrator Niemann's art.
Khadra, Yasmina. Khalil. Nan A. Talese: Doubleday. Nov. 2020. 240p. tr. from French by John Cullen. ISBN 9780385545914. $26.95. Downloadable. LITERARY
Author of The Swallows of Kabul and The Attack, both short-listed for the IMPAC Dublin Literary Award, Khadra here introduces us to Belgian Moroccan Khalil, whose suicide vest fails to detonate as he stands outside the Stade de France in November 2015. He shimmies into the crowd and remains mum and glum about his failure, then learns that his ISIS affiliate had other plans for him all along. A French best seller.