Big-name veterans and big print-run debuters sweep through space and time during the dark winter months.
Chambers, Becky. The Galaxy, and the Ground Within. Harper Voyager. Feb. 2021. 368p. ISBN 9780062936035. $27.99. SF/SPACE OPERA
Author of the Hugo Award–winning "Wayfarers" series, Chambers visits a desolate planet in the Galactic Commons called Gora,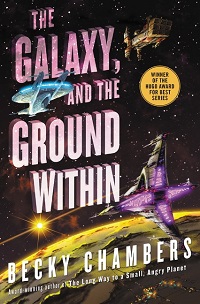 conveniently located near more appealing worlds and thus a handy waystation for travelers. All's well until a technological glitch halts traffic to and from Gora, stranding three strangers of different species—an exiled artist, a cargo runner, and mysterious do-gooder. With a 75,000-copy paperback and 30,000-copy hardcover first printing.
Chen, Mike. We Could Be Heroes. Mira: Harlequin. Jan. 2021. 384p. ISBN 9780778331391. $27.99. FANTASY/FRIENDSHIP
Cult favorite Chen follows up two LJ-starred genre-crossers (Here and Now and Then, A Beginning at the End) with the story of two people who meet in a memory-loss support group. Mind-reader Jamie holds up banks, while Zoe uses her special power to deliver fast food and clobber bad guys. Where is this friendship going? With a 25,000-copy first printing.
Gailey, Sarah. The Echo Wife. Tor. Feb. 2021. 256p. ISBN 9781250174666. $24.99. SF
In this follow-up to Magic for Liars, a Locus finalist for best first novel, Evelyn Caldwell's husband, Nathan, has been cheating on her with her genetically cloned replica. Now he's bleeding to death on the kitchen floor, and the two Evelyns have to think fast before they end up in jail. Already buzzing; with a 175,000-copy first printing.
Gornichec, Genevieve. The Witch's Heart. Ace: Penguin. Feb. 2021. 368p. ISBN 9780593099940. $26. Downloadable. MYTHOLOGY
In a debut drawing on Norse mythology, the witch Angrboda is set ablaze by Odin for refusing to tell him what the future will bring, then banished to the deep forest, her prophetic powers destroyed. There she falls in love with trickster god Loki and is determined to raise their three children far from Odin's grasp, but her slowly returning foresight reveals that trouble lies ahead. Good in-house attention.
Hamilton, Denise & others. Speculative Los Angeles. Akashic. Feb. 2021. 256p. ISBN 9781617758645. $25.95. SPECULATIVE FICTION
Echoing Akashic's popular city-specific "Noir" series, this first in what promises to be an intriguing new run of books looks at weirdly wonderful Los Angeles and sees changelings, dirigibles, jacaranda men, psychic death cults, robot nursemaids, a walled-in canyon for the rich, and an alternate city where Spanish land grants endured. With brand-new stories from Aimee Bender, Alex Espinoza, Francesca Lia Block, Charles Yu, Duane Swierczynski, and more.
Harris, Charlaine. The Russian Cage. Saga/Gallery: S.&S. Feb. 2021. 304p. ISBN 9781481494991. $27.99. CD. DARK FANTASY
A young gunslinger navigating the divided remains of mid-20th-century, Lizbeth (aka Gunnie) Rose faces down the Holy Russian Empire, which has her estranged partner, Prince Eli, in its clutches. Too bad in this alternate world her magic is a despised power; she'll need it. From the New York Times best-selling author of True Blood fame; with a 75,000-copy first printing.
Johansen, Erika. Beneath the Keep: A Novel of the Tearling. Dutton. Feb. 2021. 448p. ISBN 9781524742720. $27. FANTASY
Fans of Johansen's popular "Tearling" trilogy will be delighted to hear that there's a prequel afoot that will explain how the Tearling plunged into darkness. Trained assassin Lazarus, farm-girl Aislinn, and Crown Princess Elyssa heed the call to fight for a brighter world, with the dream of the True Queen sustaining them all.
Knox, Elizabeth. The Absolute Book. Viking. Feb. 2021. 656p. ISBN 9780593296738. $28. FANTASY/EPIC
A multi-award winner who instructs students in world building at Victoria University, Knox relates the story of Taryn Cornick, who tries to forget her sister's violent death yet finds herself questioned by policeman Jacob Berger about a cold case: a fire in the library at her grandparents' house that fails to destroy an ancient scroll box that has outlasted numerous blazes. That eventually takes Taryn and Jacob to other worlds.
McGuire, Seanan. Across the Green Grass Fields. Tor.com. Jan. 2021. 176p. ISBN 9781250213594. $19.99. FANTASY
Multi-award-wining McGuire, the first person to appear five times on the same Hugo ballot and to win the Alex Award three times, tells the story of young Reagan, who's discovered a portal to a world filled with centaurs, kelpies, and other mind-blowing equines. Problematically, however, visiting humans are expected to be heroic. With a 50,000-copy first printing.
Maxwell, Everina. Winter's Orbit. Tor. Feb. 2021. 352p. ISBN 9781250758835. $24.99. SF/SPACE OPERA
Least loved among the many grandchildren of the emperor, hapless Prince Kiem is expected to help cement ties with the empire's newest vassal planet by marrying Count Jainan, the recent widower of another prince of the realm. Himself suspected of murdering his consort, Count Jainan joins forces with Prince Kiem to find out what really happened. A debut with a 100,000-copy first printing.
Modesitt, L.E., Jr. Fairhaven Rising. Tor. Feb. 2021. 464p. ISBN 9781250265197. $29.99. FANTASY/EPIC
This may be the 22nd book in the "Saga of Recluse" series, but it's the first book in a new character arc. The adopted niece of one of Fairhaven's cofounders and a relatively untested white mage undercaptain in the town's Road Guards, Taelya is called upon to defend Fairhaven against a conspiracy spawned by those envious of its success. With a 50,000-copy first printing.
Neuvel, Sylvain. A History of What Comes Next: A Take Them to the Stars Novel. Tor. Feb. 2021. 304p. ISBN 9781250262066. $24.99. SF/THRILLER
For 99 generations, Mia's family has shaped human history through personal sacrifice, literally aiming at the stars. Now, it's Mia's turn: she must lure Wernher von Braun away from the Nazi party and into the American rocket program. From the best-selling author of Sleeping Giant; with a 100,000-copy first printing.
Okorafor, Nnedi. Remote Control. Tor.com. Feb. 2021. 160p. ISBN 9781250772800. $19.99. SF
An object tumbled from the sky and gave itself to Fatima, who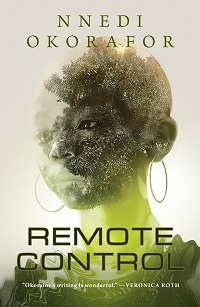 promptly forgot her name and became the daughter of Death. Now she searches for that object as she walks the earth as Sankofa, avoided because her touch kills and accompanied only by a friendly fox. From Hugo and Nebula winner Okorafor; with a 150,000-copy first printing.
Polk, C.L. Soulstar. Tor.com. Feb. 2021. 304p. ISBN 9781250203571. $17.99. FANTASY/GASLAMP
In Aeland, those blessed with magic once practiced it in secret lest they be sent to an insane asylum. But now they are being freed, and Robin Thorpe can emerge from the shadows in search of a better life while recalling a beloved lost years ago to the asylum system. Wrapping up the "Kingston Cycle," begun with the World Fantasy Award–winning Witchmark; with a 50,000-copy first printing.
Tidbeck, Karin. The Memory Theater. Pantheon. Feb. 2021. 240p. ISBN 9781524748333. $25.95. FANTASY
In a parallel universe called the Gardens, the feasting goes on forever, but Masters rule a desperate underclass and the young are punished for growing up. No wonder best friends Dora and Thistle decide to escape for a heady journey through time and space. Swedish author Tidbeck made her English-language debut with the World Fantasy short-listed Jagannath, which she translated herself; she wrote her new book originally in English.